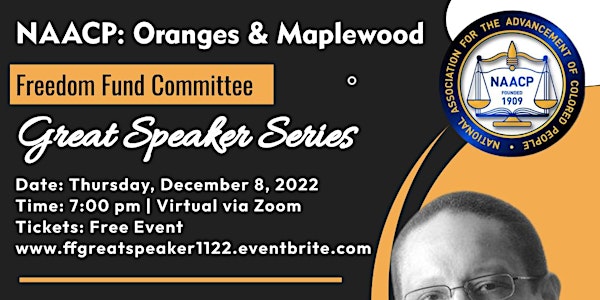 NAACP: Oranges & Maplewood Branch Great Speaker Series
NAACP Oranges & Maplewood, Freedom Fund Committee Great Speaker Livecast
About this event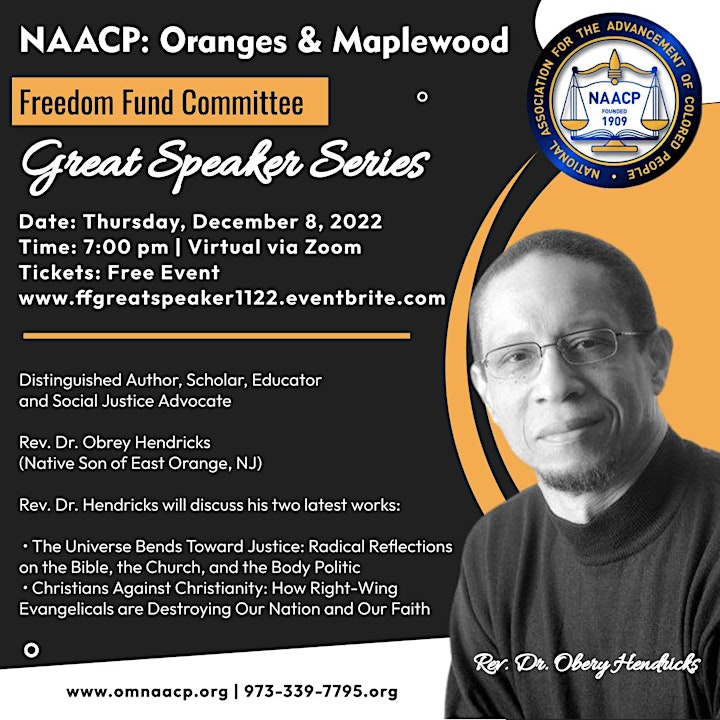 Join us for this auspicious occasion - The NAACP Oranges & Maplewood Branch, Freedom Fund Committee presents the Great Speakers Series Livecast. Featuring a Distinguished Author, Scholar, Educator and Social Justice Advocate Rev. Dr. Obrey Hendricks (Native Son of East Orange, NJ) Rev. Dr. Hendricks will discuss his two latest works:
• The Universe Bends Toward Justice: Radical Reflections on the Bible, the Church, and the Body Politic
• Christians Against Christianity: How Right-Wing Evangelicals are Destroying Our Nation and Our FaithThe zoom link for this event will be e-mailed when you purchase your ticket. We look forward to seeing you on Thursday, November 10th at 7:00pm.
Sponsors of the Great Speaker | Performance Series
Gold Sponsor - B3360
Silver Sponsor - Inglesino, Webster, Wyciskala & Taylor, LLC, Attorneys at Law
Gold Sponsor - Newark Beth Israel Medical Center | RWJ Barnabas
Silver Sponsor - Forman Family Foundation