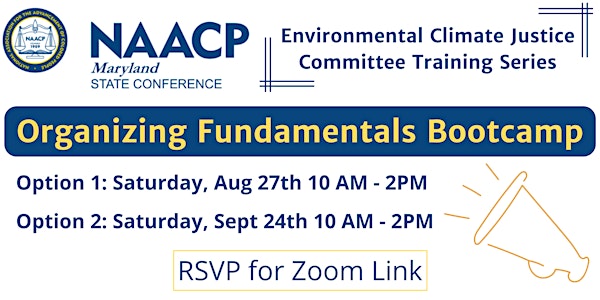 NAACP MSC ECJ Training Series: Organizing Fundamentals
Immerse yourself in fundamental organizing skills used by generations of change activists. Come away with your own plans to win.
About this event
In collaboration with the Environmental Climate Justice Committee of the Maryland State Conference of the NAACP, this weekend training boot camp will kick off our training series. We will cover the fundamental skills of political organizing that any change advocate needs to be successful. We will primarily discuss the ideas developed by Dr. Marshall Ganz, with some additional concepts from Dr. Jane McAlevey and labor activists.
We will cover:
- Public Narrative and Theory of Change (day 1 - Aug 27 and Sept 24)
- Building relationships and making asks (day 1 )
- Identifying leaders and coaching others (day 1)
- Strategy, tactics timeline (day 2 - Aug 28 and Sept 25)
- Structuring teams (day 2)
Please note: this training will repeat in August and September. The same information will be covered in August and September dates of this Organizing Fundamentals training, so you only need to attend one weekend.
PLEASE BE SURE TO REGISTER FOR BOTH DAYS OF EITHER THE AUGUST OR SEPTEMBER WEEKEND. The Zoom link will appear on the event page that is sent to your email inbox and will not be posted on this registration page for security purposes. The same link will be used for each session. If you have trouble finding the Zoom link, please email fremilymd@gmail.com.
Our main text will be Organizing: People, Power Change, which you can download for free at the provided link if you would like to review it beforehand.
Looking forward to seeing you there!