NAACP DeKalb will host a Virtual Veterans Day Event
About this Event
During this unexpected time of COVID-19 veterans have been faced with several challenges ranging from finances and finding medical providers to homelessness and obtaining approval of disability. Veterans have fought and died for this country and now they are asking questions about how they will be protected and how their well-being will be taken care of. The NAACP DeKalb "Virtual" Veterans Day Brunch is necessary to show support of our veterans and provide resources to help them thrive.
This "Virtual" Veterans Day Brunch will take place on Wednesday, November 11, 2020 at 11:00 am. Join us as we "Honor Our Veterans" and thank them for their service. The keynote speaker is Army Brigadier General Richard Dix who will inform the community on how veterans cope during the COVID-19 pandemic. In addition, we will have entertainment and a recognition of the military branches. Sponsorships are encouraged and Digital Advertisements are available at an affordable price.
All are welcomed to attend this special event. Admission is FREE but you MUST register to attend. For more information contact the branch at (404) 241-8006 or info@naacpdekalb.org.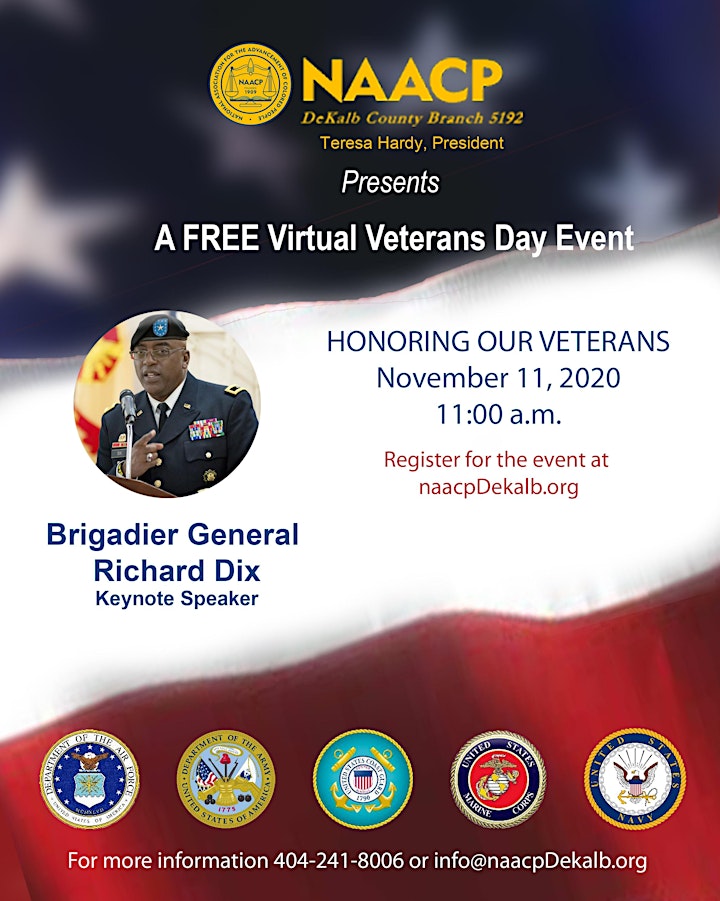 Date and Time
Location
Refund Policy