NAACP DeKalb - Healthy and Undefeated Virtual COVID-19 Health Forum
About this Event
Black, Indigenous and Latinx minority groups have been hit hardest by the coronavirus. Studies show that Black Americans have a higher number of hospitalizations, infections and are 2.5 times more likely than their white counterparts to die from COVID-19. The NAACP DeKalb Virtual COVID-19 Health Forum is necessary to educate us about ways to change the health and economic disparities that plague our communities.
This health forum will take place on Saturday, August 29, 2020 from 10:00 am to 1:00 pm. Join us as we help you stay "Healthy and Undefeated". This year's event will include a panel of medical experts who will inform the community on how to defeat COVID-19 via health facts, nutritional guides, and fitness techniques. In addition, we will keep you energized with music, fitness, and fun while we delight your senses with a live cooking demonstration and inspire you with poetry. Sponsorships and Digital Advertisements are available at an affordable price. HURRY! SPACE IS LIMITED.
All are welcomed to attend this empowering event. Admission is FREE but you MUST register to attend. For more information contact the branch at (404) 241-8006 or info@naacpdekalb.org.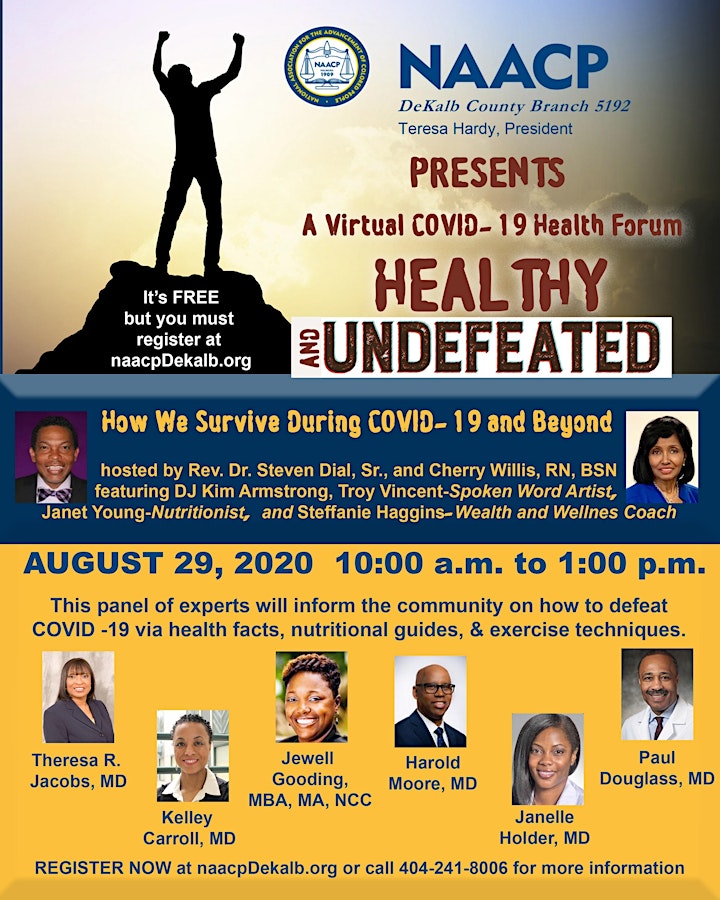 Date and Time
Location
Refund Policy