Join the NAAAP Cohort to start empowering your leadership skills through self awareness and eliminating negative Asian cultural biases.
About this Event
The NAAAP Cohort is a 9 session Asian Leadership program designed to significantly impact your life towards influence with personal and professional relationships.  In this series, we will examine your leadership communication and help you to become more intentional in speaking with your true Asian Leadership Voice and help you break out of your career glass ceiling.
Partnering with B-SPOKE's leadership development platform, NAAAP members that are enrolled in the BE HEARD coaching plan ($49/mo) will also get the NAAAP Cohort coaching at no additional charge ($100/mo value). Once registered in both this Eventbrite and B-SPOKE program, a calendar invite with a Zoom link will be emailed to you for the NAAAP exclusive leadership coaching sessions. Coupled together, you will experience a comprehensive and powerful program that are exclusively offered to management executives that cost ten times more.
Experience what it is like to be personally mentored by professional coaches with certifications from GiANT, bringing a collective 50+ years of transforming over 100 Asian American managers and executives. Tailored programming to address the needs of today's Asian American leadership; we offer flexible training and coaching schedules, self-learning on your time, and opportunities to engage/reflect with other NAAAP members throughout each Module.
See your biases. Start becoming influential.
Learn on your time, flexible training and coaching schedules, engage with other NAAAP members to address common Asian Leadership challenges together.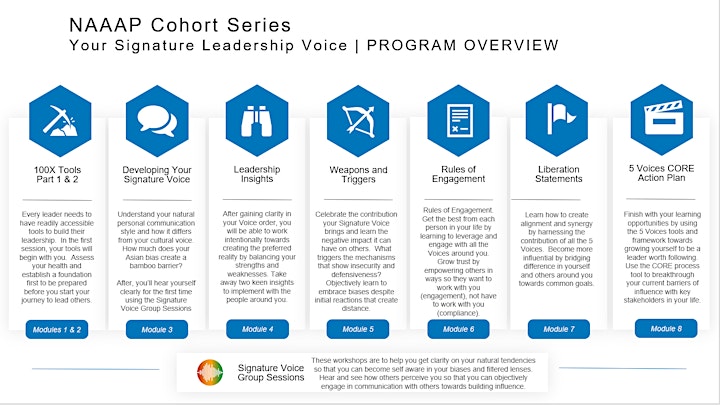 Click Here for a closer Look at the Program Overview
Every session builds upon the prior and is a hands on workshop designed to engage and relook at your life through an objective lense.  By being able to see the differences in your own personal biases, you will be able to lead others through influence, your managers will be able to hear your competencies, and gain trust from your peers.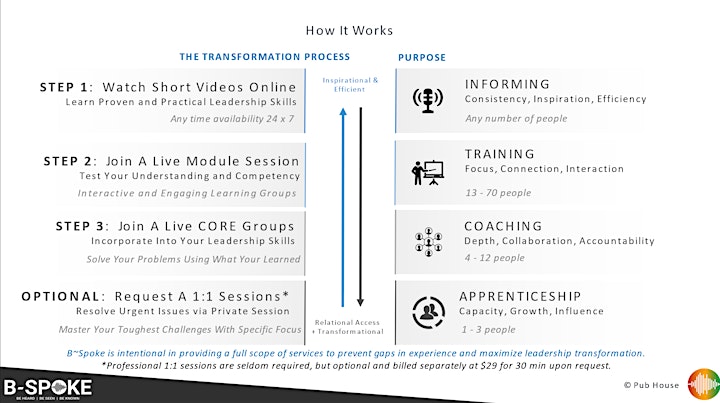 HOW THE COHORT WORKS:  The Approach
Click Here To Read Details To Intentional Transformation
For each of the 9 modules, we'll go step by step, to promote personal leadership transformation, not just presentation of information.  
STEP 1  INFORMING:  Included is access to our partner's video library on NAAAPtv. All members of this program will have access to 100s of videos on the NAAAPtv platform.   In your own time, you will navigate through a short, self-guided course of study.  Comprised of short videos and simple worksheets, you can watch as many times as you want, when you want.  You will also have access to 100's of leadership videos to provide the additional support you through this journey.  The goal is to have a background on the information.
STEP 2  TRAINING:  After watching the videos, you will join a Live Module Review Training Session to review the material taught.  Through this interactive webinar, you are encouraged to ask the instructor questions to test your understanding of the leadership skills so that you can begin to benefit from them.  The goal here is to start using the information. 
STEP 3  COACHING:  Before the next module, join a Live CORE Group coaching session to gain success using these skills.  A professional coach will work through participant's leadership challenges applying the module lesson into transformative results. The goal here is to successfully apply the information.
STEP 4 NAAAP COHORT COACHING: Every other week, NAAAP Cohort members will meet to discuss and process together with the applications of the modules in light of Asian cultural tendencies, and how to see and break the negative biases. These 1.5-hour private sessions are designed to create transformation within the community by comparing and contrasting our subjective experiences through an objective lens gained from steps 1, 2, and 3.
NAAAP COHORT ONLY COACHING SESSIONS:
Every other Tuesday From 5:00 PM - 6:30 PM Pacific Time
September 17, 2020 - Registration open
September 29, 2020 - Classes start
October 13, 2020 - Cohort Class 1
October 27, 2020 - Cohort Class 2
November 10, 2020 - Cohort Class 3
November 24, 2020 - Signature Voice Review
December 8, 2020 - Cohort Class 4
December 22, 2020 - Cohort Class 5
January 5, 2021 - Cohort Class 6
January 19, 2021 - Cohort Class 7
February 2, 2021 - Cohort Class 8
TESTIMONIALS FROM NAAAP COHORT ALUMNI
"Thanks again for being a great partner and part of the NAAAP-LA family. I believe that the impact that your program has made on members of many in this first cohort is transformative. Many of us involved on the board have waited months, if not years, for a program like this to come into our lives."
"Every week, Jim delivered excellent and engaging content, and built a space that drove authentic and genuine growth for all the participants. Jim is a talented facilitator and has a genuine love for developing others that shows in his attention to detail, and I highly recommend his work to anyone seeking growth!"
"I've taken my sales revenue to grow over 100% over Q1, because I've learned to find my voice and calibrate effective challenge."
"I was very impressed with Abraham Gin's ability to quickly point out my 5 voices and in the correct order - these coaching sessions have given me self-awareness of what are my core competencies and also my unconscious competencies. With this self-awareness I am more effective in my day to day job - for example my job function requires me to be very analytical as I have to maintain data integrity so now that I am aware that I do not have a strong "Guardian" voice - I now have to consciously work on this aspect in order to excel in my job. I highly recommend Abraham's coaching sessions if you are looking to go beyond the ordinary into the extraordinary potential that each one of us possess!"
"After years of people leadership, it is common for most leaders to form blind spots – what our true strengths are and how we are potentially sabotaging our own effectiveness. Over time, we practice our leadership approach more accidentally than intentionally. When I could no longer hear my own leadership voice, Jim helped me find those things I truly enjoy, how I best serve those I work with, and ways I can continue to grow working with a larger diverse population. Using the 5 Voices tool, Jim guided, challenged, and coached me through my own learning and growth. I've been searching for an effective leadership development program for me and, just when I was ready to give up, I was put in touch with Jim through NAAAP. I am once again energized and engaged in my leadership path thanks to him."
"Prior to learning about my foundational voices, I often questioned my own rationale behind many of my decisions both personally and professionally. This led to outcomes that I may or may not have had the foresight to expect to come to fruition. I often thought that whatever action that I took, I'd let myself live with the results. Jim has helped me to discover clarity around my tendencies and behaviors that are the base of reasoning behind my actions or lack thereof. Whether its leading myself or others, having this clarity allows me to anticipate outcomes better in a way where I am able to take appropriate action intentionally as opposed to fortuitously. The experience of discovering your own foundational voices, alongside others who may or may not share the same foundational voices, has been fun and engaging. In just a short couple of months, I learned how to use a powerful tool that equips me to handle many challenges in life that will come my way. This is something that isn't really taught in schools. I highly recommend Jim to be in your corner to support your goals in leadership and in life."
*A $35, 1 Year NAAAP membership will be collected for non-members
In partnership with the National Association of Asian American Professionals, a non-profit, 501(c)(3), all-volunteer, Pan-Asian American professional organization that promotes the career advancement and leadership. Their mission is to cultivate and empower leaders for professional excellence, connect accomplished professionals for mutual success, and engage and participate with the community-at-large.