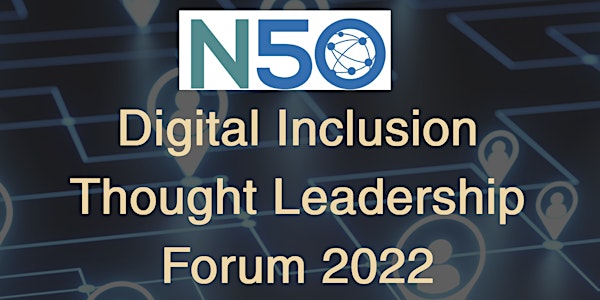 N50 Digital Inclusion Thought Leadership Forum 2022
2-day Thought Leadership Forum on Digital Inclusion
About this event
The N50 Project is an official affiliate of NDIA (National Digital Inclusion Alliance) and is participating in NDIA's Digital Inclusion Week, which is an annual week of awareness, recognition, and celebration. We are one of many organizations and individuals across the country hosting special events and campaigns to promote digital equity in their communities and we are proud to share a special 2-day Thought Leadership Forum on Digital Inclusion.
Thursday October 6th will feature sessions open to the public which will include an overview of N50 and how to join our efforts.
On Friday, October 7th we will have an expanded partner meeting which will extend into the day with purposefully designed sessions just for partners of N50. (Not an N50 partner yet? Learn more & Join the N50 here: https://www.n50project.org/join)
Please visit the N50 event webpage for continued updates on the event, the full program, speakers and ways to share with your networks to increase participation:
https://www.n50project.org/n50-forum
We look forward to your attendance to this Forum!!!