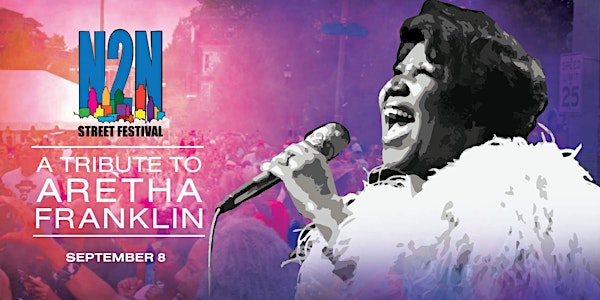 N2N Festival 2018: A Tribute to Aretha Franklin
Description
For 23 years, the N2N (Neighborhood to Neighborhood) Festival has unified thousands of families from the Southeastern region on Pennsylvania. The day-long event has featured live performances from Grammy-winning recording artist, such as Common, Robin Thicke, Musiq Soulchild, and Mos Def. Last year, the Festival celebrated the music legacy of Prince with a Tribute to the artist featuring headliners Sheila E, Morris Day, and Questlove of the legendary Roots Crew. In addition to live performances, the Festival also provides free health & wellness resources; food and merchandise vendors; community resource tents for families and senior citizens; and a kid's zone dedicated to our youth.
This year, the Festival is presenting a Tribute to the Queen of Soul, Ms. Aretha Franklin with several headliners throughout the day, beginning at 1 PM. They are national recording artists - Kathy Sledge, Jean Carne, Kelly Price, Kindred the Family Soul, Keke Wyatt, and Monica. We will also have performances by local artists as well as specials guests such as Wendell Holland, II, winner of this year's Survivor and hosts Comedian, Skeet and WDAS host, Patty Jackson.
The event's admission is completely free. RSVP here, to receive sneak-peek news on this year's headliners, as well as exclusive updates for the upcoming year.
Organizer of N2N Festival 2018: A Tribute to Aretha Franklin
Senator Anthony H. Williams is the visionary behind the N2N Festival which was founded as neighborhood block party that continued to grow through the years to what it is now - a festival that enteratains thousands of residents in the city of Philadelphia and surrounding area.  Senator Williams joined the Pennsylvania Legislature – first as state representative for the 191st District in 1988, then as state senator of the 8th District in 1998 – he resolved to make the needs of his constituents known, and has, with solid results.
He's made significant strides in the areas of education, public safety, and economic opportunity.  He sticks to a simple dictate: find the best ideas and implement them. It's a commonsense, yet fearless approach to leadership that resists blind party allegiance or indebtedness to its patrons. As senator for one of the state's most populous districts, he serves people of all economic, ethnic, religious, and cultural backgrounds with sensibility and compassion. That stems from the moral courage instilled in him by his parents: the late Hardy Williams and Carole Williams-Green. And it's replenished by the inspiration he finds in his wife, Shari, and their two daughters, Asia and Autumn.
The Black Women in Sport Foundation, or BWSF, was established in 1992, and is a nonprofit organization whose mission is to increase the involvement of black women and girls in all aspects of sport, including athletics, coaching and administration. BWSF's work, however, is not limited to black women and girls. It enrolls girls and boys in the programs conducted throughout the city of Philadelphia and surrounding areas. It facilitates the involvement of women of color in every aspect of sport in the United States and around the world, through the "hands-on" development and management of grass roots level outreach. BWSF has partnered with Senator Williams over the last 3 years to host this free community event and during the festival, the organization hosts sports demonstrations in the park, right next to the kids zone.