Description
Your bucket list trip is here! Join Mary as she celebrates her 60th Birthday Extravaganza in Dubai.
Dubai is a city and emirate in the United Arab Emirates known for luxury shopping, ultramodern architecture and a lively nightlife scene. Come and Experience Dubai!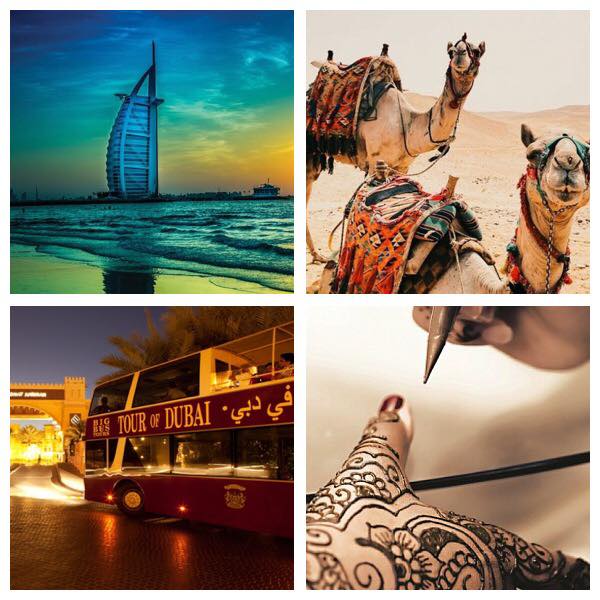 Oct. 13th Flight from Chicago, IL to Dubai, United Arab Emirates with Emirates Airlines.

Oct. 14th Upon arrival to Dubai, private transfer from the Dubai International airport to the hotel.
Oct. 14-18th Deluxe double room accommodations at the Atlantis The Palm Hotel with daily breakfast.
Dubai City Tour
Oct. 15th A New Dawn - Modern City Tour of Dubai. This tour will give you a glimpse of some of the best modern architecture in the world. The journey begins at a location near the Burj Al Arab, for a great photo opportunity for pictures of the world's first seven star hotel. Our next stop is The Palm Jumeirah, an artificial island in the shape of a Palm tree. Driving across the trunk of the self declared wonder of the world, we take a closer look at its themed boutique hotels, signature villas, apartment buildings and a variety of retail outlets. We then drive to the new marina, a canal city carved along a two miles stretch of Persian Gulf Shoreline. A wonderful place to exercise your photography skills. Proceeding to the Dubailand Information centre, you will get a preview of dynamic upcoming projects. It is conceived as the world's largest tourism, leisure and entertainment project designed to catalyse the position of Dubai as an international hub of Family tourism. Our next stop is the Souq Al Bahar, located at Old Town in the vicinity of Burj Khalifa, the tallest building in the world. Themed as a traditional Arabian market, this souk offers a large range of shopping and dining choices. An ideal vantage point to capture dramatic shots of the Burj Khalifa soaring into the skies above. Then, walk across to the Dubai mall...the ultimate destination for great shopping and entertainment.
Oct. 16th Abu Dhabi City Tour with Ferrari World. This tour is the ideal way to discover the beautiful capital of United Arab Emirates and visit the Ferrari World Theme Park. On arrival to this center of oil business and administration, we go to the an icon of national pride and symbol of artistic expression "Grand Sheikh Zayed Mosque". Our tour continues to the Abu-Dhabi Heritage Village where you can experience the bustle of everyday life and the magnificent Abu-Dhabi Corniche up to the end of the breakwater that stretches out into the sea, giving you a splendid view of the city skyline. Later we visit the Ferrari World the world's first Ferrari theme park and largest attraction of its kind. The Park offers more than 20 Ferrari-inspired rides and attractions, including a diverse array of rides for all ages and interests. Visitors will enter a stunning world where the Ferrari passion, excellence, performance and technical innovation come vibrantly to life. Along with rides, the visitors can also browse and shop from the several retail outlets that are located throughout the park including the largest Ferrari Store in the world and a Ferrari boutique that specializes in creating personalized souvenirs for Ferrari lovers. The park provides you a true Italian dining experience to complete fun filled visit to the park.

*( More Tours will be added & updated at a later date)
Your Travel Package Includes:
• 4 Night accommodations at The Atlantis Resort
• Round-trip to/from airport transfers
• Daily Breakfast
• Tours (TBA at a later date)
• Free day to tour the city and shop
• Gift bags courtesy of Milestone Travel & Tours (It's a Surprise)
• Access to your Travel Consultant from start to finish
All this for $3100 with an Easy Payment Plan
1st Deposit of $250 Per Person Due on or before 6/19/2017
Payment of $150.00 Per person due 8/16/2017
Payment of $150.00 Per Person due 10/21/2017
Payment of $250.00 Per Person due 2/9/2018
Payment of $150.00 Per Person due 5/11/2018
Payment of $150.00 Per Person due 8/10/2018
Payment of $150.00 Per Person due 11/9/2018
Payment of $250.00 Per Person due on or before 2/9/2019
*In 2019, the payment schedule will be updated.
All payments must be in by May 8, 2020. NO EXCEPTIONS!!!
*All deposits are Non-Refundable and Non-Transferable!!

Cancellation fee and schedule during the booking process is $350
Up to 46 days is $500 per person
Up to 30 days is 50% of Fare per person
Up to 15 days is 75% of Fare per person
14 days or less is 100% Non-Refundable and Non-Transferable
Payments not received by the final due date are subject to automatic cancellations without a refund.
A $50 late fee will be imposed for all payments received after the final payment deadline.
It is imperative to make sure your roommate's payments are made in a timely manner.
If your roommate does not make timely payments or decides not to attend,
you will be required to pay a higher Occupancy Rate.
*Health: No vaccinations are required of visitors to Dubai. Follow your physician's advice regarding other inoculations, medications and water/food consumption.

*Photos: There are many, many things to photograph in Dubai and visitors are welcomed to do so. Please do not take pictures of people (particularly the natives) unless you ask for their permission.

*What to Pack: On your international flights, you are allowed two checked bags weighing up to 50lbs each. Make sure you have room for souvenirs that you will purchase. Dubai is a desert and is hot, so casual/dressy summer attire is in order. Because Dubai is in a Muslim country, clothing should be modest in order to respect local customs. Don't forget snacks, reading materials, medications, extra eyeglasses, etc., in your carry-on bag and any other essential items that you made need during your flight/trip and may not be easily found.

*Money: The currency in Dubai is the dirham (AED). For the currency exchange, go to a currency exchange website such as www.oanda.com to get the current exchange rate.

*Electricity: Electrical sockets for 3-pinned plugs of 220V AC each are the standard throughout the UAE. If you will be using curling irons, shavers, battery charges, etc., brought from home, you must bring a converter.

**U.S. Passport: If you are a citizen of the United States, you will need a valid U.S. Passport. If you do not have a valid passport, please go to www.state.gov, click 'Travel' or http://www.usps.com/passport/welcome.htm for information on how to acquire your passport
*FULL DETAILED ITINERARY WILL BE POSTED AT A LATER TIME
BOOK YOUR ROOMS TODAY!!
DOUBLE ROOMS ARE LIMITED!

For info & reservations:
Claudine Hicks
Claudine@milestonetravels.info
678-753-5324