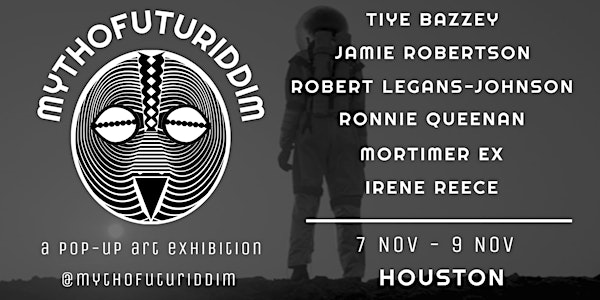 MythoFutuRiddim
When and where
Location
Arka Art 4715 Main street Suite E Houston, TX 77002
Description
MythoFutuRiddim returns with another self-funded pop-up exhibition featuring a new roster of emerging artists who explore ritual, cultural mythology, Afrofuturism and constructed identity.

Participating Artists are Tiye Bazzey, Jamie Robertson, Robert Legans-Johnson, Ronnie Queenan, Mortimer Ex and Irene Reece.


Musical Direction By DJ Good Grief with musical performance by D-Arthur and AmaruTMN with Special Guests
As in our tradition, we don't have corporate sponsors and we rely on public support. Therefore, Crowdfunding will be the primary financial support model of this project. Our goal is to raise $4,400 via IndieGoGo to cover the expenses of the exhibition.

As a way to show our gratitude, we're offering some amazing limited edition perks, including vintage records, rare books, as well as original artwork and prints.
Our goal is to develop direct connections between emerging artists and emerging collectors. Your patronage will help build a sustainable career model for the participating artists, and will directly impact our ability to create future exhibitions.