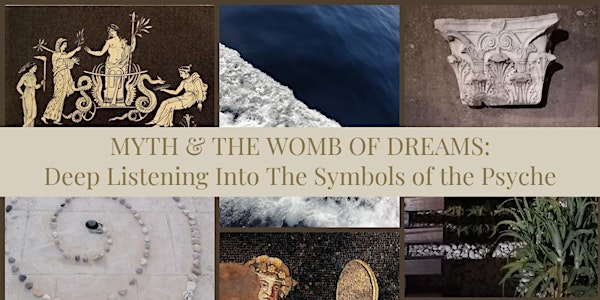 MYTH & THE WOMB OF DREAMS: Deep Listening into the Symbols of the Psyche
MYTH AND THE WOMB OF DREAMS is a monthly workshop immersion for nourishing the Psyche by speaking its symbolic language
Refund Policy
Contact the organizer to request a refund.
Eventbrite's fee is nonrefundable.
About this event
Hello and Welcome to the Workshop Series MYTH AND THE WOMB OF DREAMS : Deep Listening into the Symbols of the Psyche
Every 4th Thursday of the Month we embark on a jounrey within & without, above & below, together & allone.
.
The premise is that Myths, Ideas & Symbols are ancient timeless codes that exist as a thread within us and all around us. They change and evolve within us as much as they are us and have lives of their own outside of us.
.
Our selves and identities, our communities and social structures are all birthed in relation to the Symbols and Myths of the Womb of Dreams, popularly known as the collective unconcious. So how can we bring more attention to these processes in our individual and collective journeys of self-actualisation and self-discovery?
.
The format of this workshop immersion seeks to bring to the fore tools and practices that can illuminate threads and ways to work practically with the symbolic language of our Psyche (Soul)
.
Each month we select a working theme and create space for harnessing collective and deep inner wisdom intuitively
.
On the side, we also tune into our dreamspace and practice intuitive analysis as a means to teach ourselves and each other how to read the symbolic language of the our individual and collective Psyche
.
THE SPACE INVOLVES:
A 20-30' Audio Visual Lecture Immersion on the theme of the month to kickstart reflection
+
Sharing circle, Individual Reflections and Group Work Practice on Symbols & Dreams of the theme
+
Guidance, Tips and Intuitive Messages on how to proceed with your Reflections
.
WHERE :
Online Zoom Group
.
WHEN: 4th Thursday of the month starting November 2022
.
ANNOUNCED DATES & THEMES FOR 2023
THURSDAY 26 JANUARY 2023 -
NORTH STAR, NORTH NODE, HYPERBOREA: MYTHS & SYMBOLS OF THE NORTH
.
TIME AND TIMEZONES
9 - 11 pm EET
8 - 10 pm CET
7 - 9 pm GMT
2 - 4 pm EST
11 am - 1 pm PST
.
STANDARD RATE:
20 € $ per session
PROCESSING PAYMENTS THROUGH PAYPAL AND REVOLUT
PLEASE NOTE THAT YOU WILL RECEIVE THE ZOOM LINK AFTER PAYMENT
paypal.me/wayofspacetime
revolut.me/wayofspacetime
.
Low income rates available
(feel free to contact us)
.
Gift economy - donations - redistribution contributions accepted