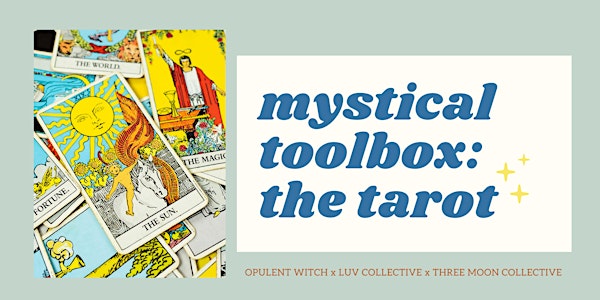 Mystical Toolbox: The Tarot
Beginner's guide to Tarot! In this 1.5 hour workshop, a tarot reader will teach you what tarot is, the history, how it works, and why!
Refund Policy
Contact the organizer to request a refund.
Eventbrite's fee is nonrefundable.
About this event
Mystical Toolbox: An Intro to Tarot
Join us (from home) for a virtual workshop on mindful eating.
In this 90-minute workshop, you learn an intro to the basics of intuitive tarot reading! In this intro course, you will be guided by Tarot Reader, Kiki Robinson, who will go over the divination tool of tarot reading and how to begin to use it for healing, clarity and insight for yourself and others. Through exploring the origins of tarot, guided visualization, and ritual, we will explore the symbols and messages in the tarot to reach a deeper relationship with your True and Powerful Self and receive guidance for your daily life. We will explore a series of spreads to deepen your magic and practice your skills!
Everyone who purchases a ticket will also be sent a REPLAY of the event to watch afterwards...so if you can't make this time, no worries!
FAQ's:
Q: What should I bring?
A: We recommend bringing a tarot deck of your own if you have one! If you do not have a tarot deck, you can bring an oracle deck or a playing card deck! (we will talk about the history and origins of playing cards and the connection to tarot) You may also want to bring a journal and pen to write any notes, and make yourself comfortable so you can tune into this magic!
Q: Who is this event for?
A: Anyone interested in learning more about the practice of Tarot Cards.
Q: Do I need to be on video for this event?
A: Totally up to you!
Q: Why is there different pricing?
A: Our events are sliding-scale tickets so that we can have accessible price points for different people. We believe in equitable and accessible wellness for as many people as possible and allowing you to self-select the tier that meets you where you're at seems like one way we can help achieve that.
Your Event Hosts:
Kiki Robinson AKA Opulent Witch is a queer witch, artist, performer, tarot reader, freaky star being and psychic medium. Their work is centered in sovereignty, heart-truth, courage, and connecting with ancestral healing and magic. They are deeply committed to community healing and magical activism. Their intention is to support others in connecting to their own divinity and assist in deep transformation through creativity and embodiment.
To find out more about Kiki: Website: www.opulentwitch.com | IG: @opulentwitch
About Luv Collective:
Luv Collective is a platform to help you find and book wellness experiences for the wedding journey.
About Three Moon Collective:
Three Moon Collective is a resource for curious wellness seekers and the intuitive, heart-centered providers who support them. Based in Seattle, accessible from anywhere — we are dedicated to creating a community that is inclusive, intentional, and rooted in wellness practices that raise our collective vibration. Everyone's wellness journey is unique. Find the providers, events, or practices that resonate with you, for every phase of life.