Mystical Experiences of the Dying and Bereaved: An Interfaith, Multi-Cultur...
Description
Live webinar
Most of us have heard stories of extraordinary experiences such as deathbed visions, near-death journeys and after-death communications. Since the 1970s, researchers have been gathering data on these phenomena, and we now have thousands of accounts from research subjects worldwide. The topic is being studied by experts from the University of Virginia and NYU in the U.S. to Utrecht University in the Netherlands, University of Southampton in the U.K., and beyond.
This presentation explores how religious and cultural influences may affect what a person experiences in these dreams, visions and journeys. Rather than seeking to find common ground between accounts of these experiences, we will honor their differences by examining them through an interfaith lens.

---
Presenter
Dr. Terri Daniel, CT, CCTP
---
Continuing Education Information
Continuing education credit (1.5 hours) is available from a variety of professional boards for $25 per certificate. Instructions for obtaining your certificate will be provided at the end of the program.
Learning Objectives:
Compare various types of extraordinary experiences: near-death, after-death communication, visitations, dreams
Demonstrate familiarity with current clinical research on near-death experiences
Utilize knowledge of extraordinary experiences in end-of-life clinical work
Discuss why this material is important in end-of-life care
Click here to view the full program information sheet, including board approvals list.
---
ABOUT THE PRESENTER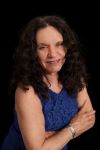 Dr. Terri Daniel, CT, CCTP is a hospice and hospital-trained interfaith chaplain and end-of-life educator. She is certified in death, dying and bereavement by the Association of Death Education and Counseling, and in trauma support by the International Association of Trauma Professionals. The focus of her work is to assist dying and grieving individuals to discover a more spiritually and socially-spacious understanding of death, grief, and beyond. Terri is the author of four books on death and grief, and is the founder of the annual Afterlife Conference.
She has a BA in Religious Studies from Marylhurst University, an MA in Pastoral Care from Fordham University, and a Doctor of Ministry in Pastoral Care and Counseling from the San Francisco Theological Seminary.
---
How do I view the webinar?
Viewing instructions will be emailed to you several times in the days leading up to the webinar.
How can I contact the organizer with questions?
Email Institute@taps.org or call 800-959-8277.
Presented by Boeing