Description
Mystical Celebration of the Persian New Year: An Evening of Rumi, Hafez, birdsongs and Icaros
THIS EVENT IS NOW SOLD OUT! Please tune in on facebook live HERE.
Join Haleh Liza, Josh Geisler, Matt Kilmer & Juliet Rabia Gentile as they welcome spring through mystical poetry & music on the full moon.
Cover art: Danielle Bhavya Winter, available at abc carpet & home
• • • •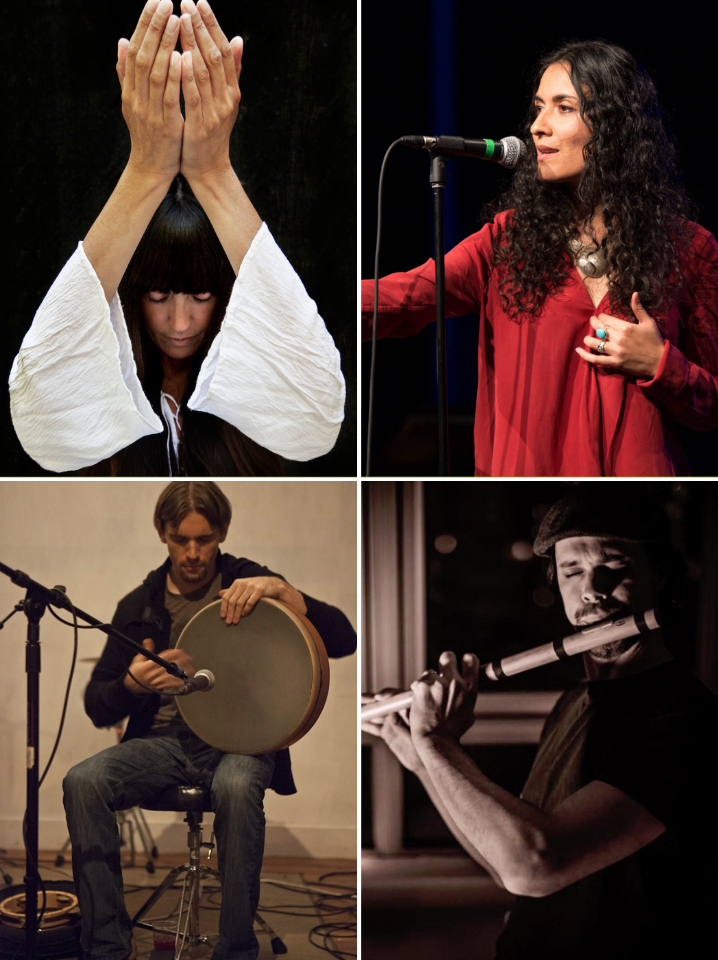 Haleh Liza is a poet, composer, vocalist, and translator born in NYC of Iranian descent whose work reflects her passion and awe for both her Persian mystical roots and for the animist songs of South American healing traditions encountered through travels. For the last 10 years, she has been learning, digging, composing, mining, translating, and sharing the gems with friends, family, and community within Brooklyn and beyond. She recently completed a manuscript featuring new translations of select poems from Rumi's Divan-i-Shams, some of which she'll share at this event. Haleh's poetry has been published by Columbia University Press and she has performed at venues such as Lincoln Center, Omega Institute, and the Bonaroo Festival.
Josh Geisler is a multi-instrumentalist based in Beacon, NY. He spent 9 years playing guitar and bansuri flute with Cirque du Soleil's "TOTEM", with whom he performed over 2650 shows around the globe. His story also includes studies in India with Bansuri legend Pandit Raghunath Seth and Sarod Maestro Pandit Vikash Maharaj, years of freelance gigs with a wide variety of artists in Brooklyn, as well as a degree in Music Production and Engineering from Berklee College of Music.
Matt Kilmer is a percussionist, composer, and producer, Matt Kilmer has been the recipient of numerous awards and honors including being named a Carnegie Hall Weill Music Institute fellow. He has toured with artists such as Grammy award winning artist Lauryn Hill, and master Arabic oudist Simon Shaheen as well as recorded with such artists as Reggie Watts, Jon Brion, and Krishna Das.
Juliet Rabia Gentile is a writer, Sufi adept and performance artist. She is a spiritual representative of Shaykha Fariha al-Jerrahi of the Nur Ashki Jerrahi Sufi Dergah based in Tribeca. She teaches Sufi whirling (Sema), chanting and frame drumming in NYC
• • •
"Spring is here! Let's wake our sleepy destiny till it surges skyward like the destiny of trees." -Rumi
On this night of song, poetry, percussion, and whirling, we celebrate Spring Equinox and Nowruz which means "new day." New births and new beginnings...as the flower blasts through the soil and a bud blooms into a rose, so do we. These Persian mystical poems and animist songs from the jungle, applaud the earth, the sky, and the unity of all life.
Join Haleh Liza, Josh Geisler, Matt Kilmer, and Juliet Rabia Gentile for this mystical and musical ride on the first full moon of Spring.