Explore 5000 years of art and secret ancient wisdom as you journey through 5 domes of award-winning immersive art, VR, and film in 360.
About this event
Journey deep into3 massive projection dome theaters transformed into a mystical world of award-winning interactive visionary art, immersive VR, and 360 film in eye-popping 4k. Discover the ancient knowledge of the 5000 year old Vedic texts through art and film. Visit forgotten realms brought back to life in immersive 360.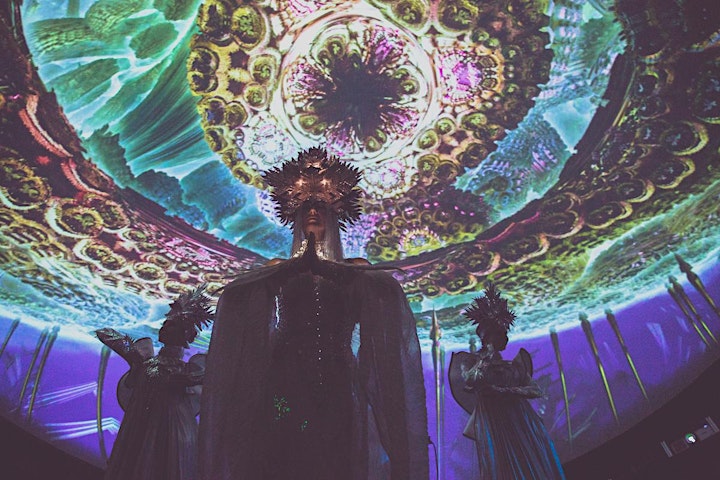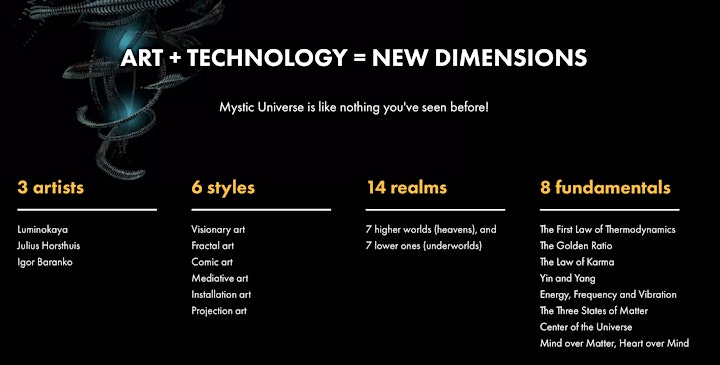 This exhibition draws from the work of Dutch visual artist Julius Horstuis, Russian visionary artist Luminokaya and graphic artist Igor Baranko. These artists have been involved in the creation of the Oscar-winning film "Manchester by the Sea" and the animated series "the Simpsons", as well as art installations featured in Coachella, Burning Man.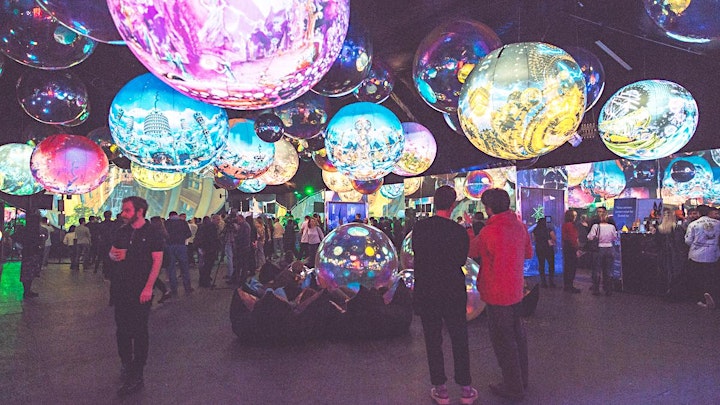 Plan Your Visit
Weekend After Dark, Fri, Sat & Sun, 6pm - 10pm | Single $50 / Early Bird $35 / Couples (2) $85 / Group (6) $200
Includes full access to the Mystic Universe exhibition and a unique program in the intimate, 39ft Yantra dome:
- 6 immersive shows: Beyond Nirvana, Yogi's Journey, Fractal Time, Luminokaya Angkor Wat, Samskara - more than 90 min of mind-blowing visual content
- 3 domes (over 6700 sq ft) filled with interactive art installations, experiential attractions, and Instagrammable moments
***
Weekend Daytime: Fri, 4pm - 6pm & Sat-Sun, 12pm - 6pm | Single $50 / Early Bird $35 / Couples (2) $85 / Group (6) $200
Includes full access to the Mystic Universe exhibition and a special program in our largest, 90ft Maha dome:
- 6 incredible shows: Beyond Nirvana, Yogi's Journey, Fractal Time, Luminokaya Angkor Wat, Samskara - more than 90 min of mind-blowing visual content
- 3 domes (over 6700 sq ft) filled with interactive art installations, experiential attractions, and Instagrammable moments
- Immersive Bhuta Shuddhi - Purification of 5 elements - breathwork mediation (25 min that will purify your chakras and balance the 5 gross elements in your system)
***
Weekday Pass, Wed & Thu, 4pm-10pm | Single $50 / Early Bird $35 / Couples (2) $85 / Group (6) $200
Includes full access to the Mystic Universe exhibition and a special program in our largest, 90ft Maha dome:
- 6 incredible shows: Beyond Nirvana, Yogi's Journey, Fractal Time, Luminokaya Angkor Wat, Samskara - more than 90 min of mind-blowing visual content
- 3 domes (over 6700 sq ft) filled with interactive art installations, experiential attractions, and Instagrammable moments
Immersive Bhuta Shuddhi - Purification of 5 elements - breathwork mediation (25 min that will purify your chakras and balance the 5 gross elements in your system)