Discover percussion from all around the world, learn fun facts about animals, and DANCE like a farm animal, without leaving your living room
About this event
Mystic Drumz - The LEGEND of Marshmallow Island - presented by The Drummer, Commonly Known as Styx.
Great for all ages, especially kids 2-10 years old
Follow Larry the Frog on a World Music Safari Adventure in search of his father, who discovered Marshmallow Island, but didn't have any proof!  Discover percussion from all around the world, learn fun facts about animals, and DANCE like a farm animal, without leaving your living room.  This show is INTERACTIVE, as zoom participants can holler back at the TV! 
Last minute show updates and new links may be provided at the last minute before showtime; the show runs 50 minutes but we'll have some intro banter while people gather.
The Zoom link will be sent to all registered guests.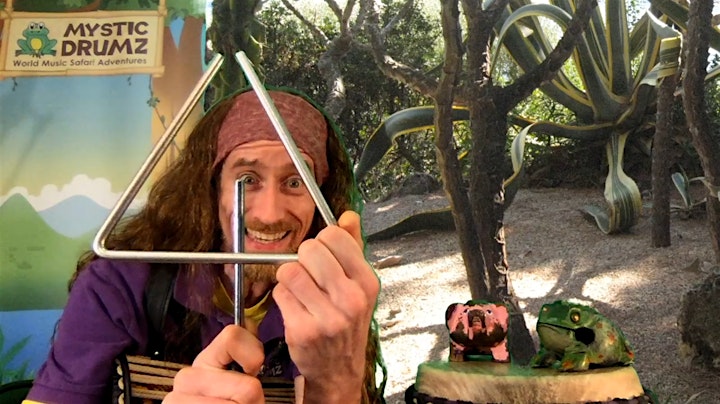 Organizer of Mystic Drumz - The LEGEND of Marshmallow Island
The Rotunda, located in Philadelphia, PA, is a community-gathering place that is fueled by the belief that art is a catalyst for social change and that the arts can lead to the formation of meaningful partnerships between our parent organization the University of Pennsylvania, and surrounding neighborhoods. Over 300 events are offered every year, including live music, film, spoken word, theater, art, dance, education, youth programs, arts incubation, and various experimental genres. As an alcohol-free venue, The Rotunda provides a critical social alternative for all ages. At its core, The Rotunda is a shared space fostering learning, enrichment, and community support while empowering the public to present, produce, and promote their work. The Rotunda's programming is currently virtual but we will reopen the venue soon enough!