Do you have what it takes to solve the mystery? Join us for all the fun, entertainment, and dinner. Presented by Murder and Merriment.
About this event
Some of the biggest names from the Grand Ole Opry in the 1960's have gathered together for a special concert. Unfortunately, the Show's producer is found stabbed to death in his office right before the show. Could one of the stars that night also be targeted??? Do you have what it takes to solve this mystery?
Enjoy this unique dinner and show at Heritage Farm Museum & Village outdoors under our Pavilion. Interact with the players and see if you can solve the mystery while you enjoy a delicious home-style buffet from Rebel Barn. Menu will be Turkey & Dressing, Baked Steak, Mashed Potatoes, Sweet Potato Casserole, Green Beans, Deviled Eggs, Cranberry Salad, Seven Layer Salad, Rolls, & Assorted Desserts.
Event will; be outdoors, suggested dress is casual.
Prizes are awarded to a lucky person who can solve the mystery.
For any and all inquiries, please contact Renea Slayton at 304 522 1244 or reneaslayton@heritagefarmmuseum.com
No refunds will be issued once a reservation has been made.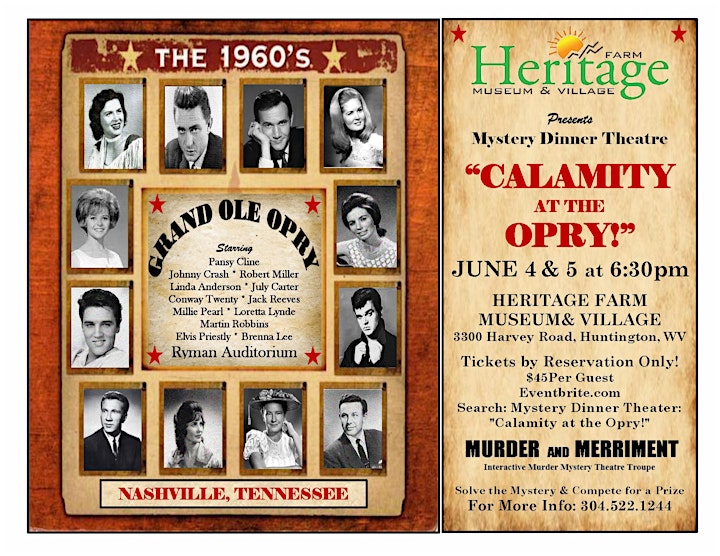 Organizer of Mystery Dinner Theater: "Calamity at the Opry!"