Mystery Book Club

Wednesday, December 14, 2016 from 10:00 AM to 12:00 PM (CST)
Event Details
Are you great at solving mysteries?  Join the Discussion
2nd Wednesday of each Month
10:00 am @ Louisburg Library  
books can be checked out at the library
February 10
Ice Shear by M.P. Cooley
June Lyons series #1, 2014

A small town cop's murder investigation turns deadly when she uncovers a web of politics and drugs linked to an outlaw motorcycle gang in this gripping debut suspense novel for fans of Winter's Bone, Frozen River, Breaking Bad, and Sons of Anarchy. As a cop on the night shift in Hopewell Falls, New York, June Lyons drives drunks home and picks up the donuts. A former FBI agent, she ditched the Bureau when her husband died, and now she and her young daughter are back in upstate New York, living with her father, the town's retired chief of police. When June discovers a young woman's body impaled on an ice shear in the frozen Mohawk River, news of the murder spreads fast; the dead girl was the daughter of a powerful local Congresswoman, and her troubled youth kept the gossips busy. Though June was born and raised in Hopewell Falls, the local police see her as an interloper--resentment that explodes in anger when the FBI arrive and deputize her to work on the murder investigation. But June may not find allies among the Feds. The agent heading the case is someone from her past--someone she isn't sure she can trust. As June digs deeper, an already fraught case turns red-hot when it leads to a notorious biker gang and a meth lab hidden in plain sight--and an unmistakable sign that the river murder won't be the last.
March 9
The Vintage Caper by Peter Mayle
Sam Levitt series #1, 2009
Meet at Sandy A.'s Home (ask staff for directions)
Set in Hollywood, Paris, Bordeaux, and Marseille, Peter Mayle's newest and most delightful novel is filled with culinary delights, sumptuous wines, and colorful characters. It's also a lot of fun. The story begins high above Los Angeles, at the extravagant home and equally impressive wine cellar of entertainment lawyer Danny Roth. Unfortunately, after inviting the Los Angeles Times to write an extensive profile extolling the liquid treasures of his collection, Roth finds himself the victim of a world-class wine heist. Enter Sam Levitt, former corporate lawyer, cultivated crime expert, and wine connoisseur. Called in by Roth's insurance company, which is now saddled with a multimillion-dollar claim, Sam follows his leads--to Bordeaux and its magnificent vineyards, and to Provence to meet an eccentric billionaire collector who might possibly have an interest in the stolen wines. Along the way, bien sur, he is joined by a beautiful and erudite French colleague, and together they navigate many a chateau, pausing frequently to enjoy the countryside's abundant pleasures. The unraveling of the ingenious crime is threaded through with Mayle's seductive rendering of France's sensory delights--from a fine Lynch-Bages and Leoville Barton to the bouillabaisse of Marseille and the young lamb of Bordeaux. Even the most sophisticated of oenophiles will learn a thing or two from this vintage work by a beloved author.
April 13
The Burning Air by Erin Kelly
2010

A heart-stopping tale of twisted obsession from the author who gives us "everything we love in a thriller" ­­( O, The Oprah Magazine ) The MacBrides lead a cozy life of upper class privilege: good looks (more or less), a beautiful home, tuition-free education at the prestigious private school where Rowan is headmaster, an altruistic righteousness inherited from magistrate Lydia. But when Rowan and his three grown children gather for the first time since Lydia's passing at the family's weekend home--a restored barn in the English countryside--years of secrets surface, and they discover a stranger in their midst. A stranger who is convinced that Lydia was a murderer. A stranger who has been exacting vengeance upon the family for years without their ever knowing. And one who will threaten the youngest MacBride, baby Edie, and the clan's memory of Lydia, shattering their world forever. The Burning Air is Erin Kelly's most chilling novel yet­--a novel that fans of Sophie Hannah and Kate Atkinson will find spellbinding.
May 11
"A" is for Alibi by Sue Grafton
Kinsey Millhone series #1, 1982
A tough-talking former cop, private investigator Kinsey Millhone has set up a modest detective agency in a quiet corner of Santa Teresa, California. A twice-divorced loner with few personal possessions and fewer personal attachments, she's got a soft spot for underdogs and lost causes. Eight years ago, Nikki Fife was convicted of killing her philandering husband. Now she's out on parole and needs Kinsey's help to find the real killer. If there's one thing that makes Kinsey feel alive, it's playing on the edge. When her investigation turns up a second corpse, more suspects, and a new reason to kill, Kinsey discovers that the edge is closer--and sharper--than she imagined.
June 8
Snow Angels by James Thompson
Inspector Vaara series #1, 2009
The first thriller in a new series featuring Inspector Kari Vaara: the haunted, hardened detective who must delve into Finland's dark and violent underbelly. Kaamos : Just before Christmas, the bleakest time of the year in Lapland. The unrelenting darkness and extreme cold above the Arctic Circle drive everyone just a little insane . . . perhaps enough to kill. A beautiful Somali immigrant is found dead in a snowfield, her body gruesomely mutilated, a racial slur carved into her chest. Heading the murder investigation is Inspector Kari Vaara, the lead detective of the small-town police force. The vicious killing may have been a hate crime, a sex crime-or one and the same. Vaara knows he must keep this potentially ex­plosive case out of the national headlines or else it will send shock waves across Finland, an insular nation afraid to face its own xenophobia. The demands of the investigation begin to take their toll on Vaara and his marriage. His young American wife, Kate, newly pregnant with their first child, is struggling to adapt to both the unforgiving Arctic climate and the Finnish culture of silence and isolation. Meanwhile Vaara himself, haunted by his rough childhood and failed first marriage, discovers that the past keeps biting at his heels: He suspects that the rich man for whom his ex-wife left him years ago may be the killer. Endless night can drive anyone to murder. 
July 13
Bootlegger's Daughter by Margaret Maron 
Judge Deborah Knott series #1, 1992
Let's go see a movie!  (contact the Library for more information)

This smart, sassy series introduces Deborah Knott, candidate for district judge--and daughter of an infamous bootlegger. Deborah's campaigning is interrupted when disturbing new evidence surrounding a murder that has never been solved surfaces and she is implored to investigate.
August 10
Darker Than Night by John Lutz
Frank Quinn series #1, 2004
In order to salvage his career and reputation, ex-homicide cop Frank Quinn, framed for a crime he did not commit, will stop at nothing to catch a serial killer known as The Night Prowler who preys on successful married couples.
September 14
Pick a Mystery & Share
a list of various authors and book titles will be provided in July for members to select a mystery
October 12
1 Book, 1 Burg: Louisburg Reads
Book Selection TBA
November 9
No Lesser Plea by Robert Tanenbaum
Butch Karp and Marlene Ciampi series #1, 1987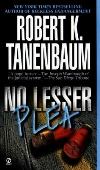 Manhattan Assistant District Attorney Roger "Butch" Karp has been around New York long enough to realize that the judicial system can be dirty and cynical. But he still believes in justice. So when a vicious sociopath tries to dodge a brutal murder charge by convincing the court he is incompetent to stand trial, Karp teams up with firecracker Assistant DA Marlene Ciampi to unleash the full force of their relentless energy, hardboiled wit, and passion for the truth to put the killer away for good. They will accept no lesser plea.
December 14
The Lions of Lucerne by Brad Thor
Scot Harvath series #1, 2002
On the snow-covered slopes of Utah, the President of the United States has been kidnapped and his Secret Service detail massacred. Only one agent has survived-ex-Navy SEAL Scot Harvath. He doesn't buy the official line that Middle Eastern terrorists are behind the attack and begins his own campaign to find the truth and exact revenge. But now, framed for murder by a sinister cabal, Harvath takes his fight to the towering mountains of Switzerland-and joins forces with beautiful Claudia Mueller of the Swiss Federal Attorney's Office. Together they must brave the subzero temperatures and sheer heights of treacherous Mount Pilatus-where their only chance for survival lies inside the den of the most lethal team of professional killers the world has ever known...
Upcoming Dates:
January 11, 2017 - annual party
When & Where

Louisburg Library
206 South Broadway Street
Louisburg, KS 66053


Wednesday, December 14, 2016 from 10:00 AM to 12:00 PM (CST)
Add to my calendar