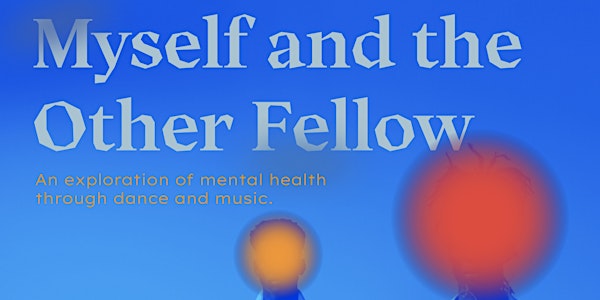 Myself and the Other Fellow
An exploration of mental health through dance and music. (Masks required)
When and where
Location
Boston University Dance Theater (entrance on buick) 915 Commonwealth Avenue Boston, MA 02215
About this event
The BU Arts Initiatives, BU Dance, and BU School of Music is pleased to present Myself and the Other Fellow, an exploration of mental health through dance and music.
Myself and the other fellow is a characterization of his own mind by Robert Louis Stevenson and title of Claire Harman's biography of him. It explores the relationship and intersection with the "other" ... the alter ego, the performer vs the artist. That other fellow in my head who will often predictably or surprisingly pull my rational self, that one who would love to stay safe and responsible, far into uncharted territories of terror or awesome wonder or, just as likely, into the many revisited vistas of doubt, loathing, or the ugly bloated self aggrandizing that may crumble and sheer off while you stand atop reveling in the view.
BE PREPARED - To Gain Entry to the Theater, you will need:
– BU "Green Badge", Proof of Vaccination, or Negative Covid Test
– Positive Form of Identification
– Your Mobile Ticket
– A Face Covering, Fully Covering Nose and Mouth
Featuring Tanya Gabrielian, Piano; David Schultz, Choreographer and Dancer, and Jacqueline Burnett, Dancer.
Hailed by the London Times as a "pianist of powerful physical and imaginative muscle", Tanya Gabrielian has captivated audiences worldwide with her gripping performances. She shot onto the international stage at the age of twenty with back-to-back victories in the Scottish International Piano Competition and Aram Khachaturyan International Piano Competition. Since then, she has performed on four continents in acclaimed venues including Carnegie Hall in New York, Kennedy Center in Washington D.C., Sydney Opera House, Queen Elizabeth Hall and Wigmore Hall in London, and the Salle Cortot in Paris, with such orchestras as the Los Angeles Philharmonic, Sydney Symphony Orchestra, Royal Scottish National Orchestra, London Sinfonia, and the Boston Pops.
Jacqueline Burnett received her formative classical ballet training in her hometown of Pocatello, Idaho, from Romanian Ballet Master Marius Zirra. She moved to New York City in 2005 to pursue the Ailey School/Fordham University joint BFA degree, graduating magna cum laude with departmental honors in 2009. She joined Hubbard Street Dance Chicago in January 2008 as a Center Apprentice while completing her degree and became a member of the main company in August 2009. In addition to dancing with Hubbard Street Dance Chicago, Jacqueline also serves as an Artistic Lead and teacher for Hubbard Street Summer Intensives, a repetitor for choreographies by Penny Saunders, and dances with Robyn Mineko Williams and Artists and Seattle Dance Collective on a project basis.
David began training in Michigan with the School of Grand Rapids Ballet, where he then performed for four seasons with its company, Grand Rapids Ballet. Schultz joined Hubbard Street 2 in September 2009 and was promoted to the main company in August 2011, and he is the recipient of a 2012 Princess Grace Award.  David has had the wonderful opportunity to choreograph for multiple companies including DanceWorks Chicago, Chambered Squared, as well as creating multiple Dance Films for Hubbard Street Dance Chicago.  Over the past decade Schultz has been asked to compose, arrange, and perform scores for multiple pieces of dance at Hubbard Street Dance Chicago.
The University is committed to promoting a safe campus environment and has enacted a COVID-19 vaccination mandate for all members of the university who are on campus. We also strongly encourage all visitors to campus to be vaccinated. In accordance with current University safety protocol, cloth face coverings or disposable masks must be worn indoors at all times when not eating or drinking. Any participant with symptoms that could be related to COVID-19 should not engage in group activities and seek medical advice.