Description
It is of our utmost pleasure to invite you to the MyPerintis 3rd Year Anniversary & Appreciation Dinner, happening this 27th July 2018, alongside with BEAM.

The dinner will be attended by more than 1000 representatives from our esteemed partners, corporates, non-government organisations and friends.

This appreciation dinner is meant to thank our supporting partners and a night of celebration to reminisce MyPerintis's journey thus far and our aspirations of making Malaysia a great nation again.

We hope that you will be able to support us in our journey to bring Malaysia to greater heights and join us for this memorable evening with our special guest and patron, Yang Amat Berhormat (YAB) Tun Dr Mahathir Mohamad.

Details of the event are as follows:

Date: 27th July 2018
Time: 6PM - 10PM
Venue: Palace of the Golden Horses, Royal Ballroom, Jalan Kuda Emas, Mines Wellness City, Seri Kembangan, 43300 Selangor
Dress Code: Formal / Black Tie
Ticket pricing is based on table arrangements. Refer to the table below for table arrangements. (Click here for larger image)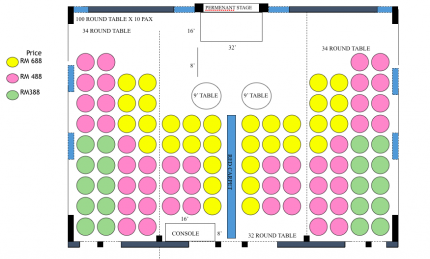 Reach out to us:
- Website: http://myperintis.org/
- FB: https://www.facebook.com/myperintis
- IG: https://www.instagram.com/myschooloflife/
- Twitter: https://twitter.com/my_perintis

Important Info
- For table discounts, please contact us directly
- Early bird pricing closes on 14th June 2018.


About MySchool of Life & MyPerintis
Malaysia Trailblazers Association or Pertubuhan Perintis Malaysia is a NGO that manages leadership, entrepreneurial events & activities tailored for young persons in Malaysia

About BEAM
BEAM is a global community and platform focused on bridging entrepreneurs to valuable connections, resources, and opportunities across Asia Pacific.