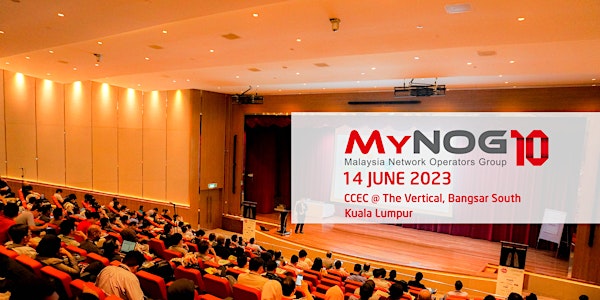 MyNOG-10 Conference 2023
MyNOG is a community-based movement for the betterment of the Internet ecosystem.
Date and time
Wednesday, June 14 · 8am - 6pm +08
Location
Connexion Conference & Event Centre - CCEC The Vertical, Bangsar South City No. 8, Jalan Kerinchi Kuala Lumpur, 59200 Malaysia
About this event
The Malaysia Network Operators Group (MyNOG) is an initiative that was conceived by a group of like-minded volunteers, with the objective of bringing together network operators in Malaysia to encourage the sharing of knowledge, learning and cooperation among fellow counterparts, minus the suits and ties. Since then, it has grown into a platform that exist to provide a vendor/technology agnostic forum to discuss operational issues and technologies of mutual interest among the Internet community in Malaysia via our annual conferences. In recent times, our target audiences has grown beyond the usual Internet Service Provider community towards covering a wider audience, including but not limited to Mobile Operators, Data Centre Providers, CDNs, ICT and System Integrators, Enterprises, Academia etc – open to anyone interested in furthering the MyNOG objectives. The intention is to further improve the quality of Internet plus its overlaying services within the context of Malaysia and the region generally. In the long run, we hope to play an important role in the creation of a dynamic and vibrant Internet ecosystem that adheres to best practices, which would then enable the industry to complement and support the nation's push towards universal broadband access and the proliferation of the digital economy.
MyNOG is purely a community based movement driven voluntarily by individuals with a common goal and does not require any formal membership.
About the organizer
MyNOG is an informal initiative started by a group of like-minded peers on a voluntary basis to create an informal vendor/technology agnostic platform for the Internet community to come together – not a formal association or forum. The premise of MyNOG is to break down the high walls within the local network operator community and remind them that the Internet is part of a collaborative ecosystem via our annual conference.