About this Event
Please join us for an evening to celebrate and benefit myME: Myanmar Mobile Education Project.
APRIL 17, 2019
HGU Hotel Lounge in New York, NY.
Drinks; finger food; 2 short documentary films featuring myME; a talk with our director, Tim Aye-Hardy; and an auction.
About myME: Launched in January of 2014, the myME project is a unique, non-formal education and outreach program that provides school and assistance to children who have been compelled into servitude, by bringing the classroom to them--directly where they work (and live).
While we are not the first to use non-formal education, we are the first to bring it to child laborers. In Myanmar (Burma), according to 2014 census data, there are 5.09 million children between ages 5-18 who are out of school. ​Approximately 10,000 working and out-of-school children have benefited from myME, with an average of 87% attendance rate, since the project's inception.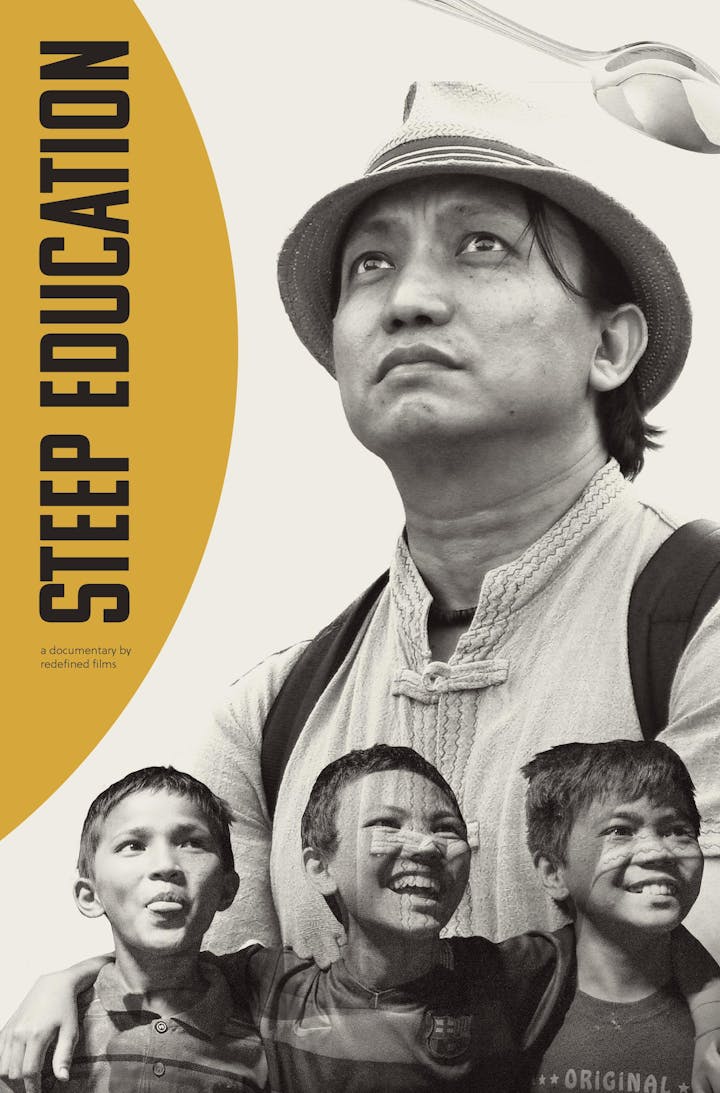 Steep Education is an award-winning documentary directed by Sebastian Buffa and Luke Namer.
Moe Di, a 14-year-old tea shop worker in Yangon, Myanmar, gets permission to leave his job working in the city to visit home for the day. He's joined by Tim Aye-Hardy, an exiled Burmese activist who recently returned home to create the Myanmar Mobile Education (MyME) project, which provides non-formal education to young children working and living in tea shops for less than $1 a day.
In addition to the screening of Steep Education, we will also screen a 10-minute video, which gives an inside look at myME today (filmed just this month), including interviews with current students and teachers, followed by a talk and Q&A with our founder and director, Tim Aye-Hardy.
Please continue to scroll down to read event highlights from myME since our last benefit party--we couldn't have implemented all our new programming without your generosity.
Everyone at team myME hopes you can join us in NYC on April 17, 2019 at the HGU Hotel Lounge.
myME Completion Ceremony in December, 2018
After graduating level 1, myME students progress through to successful completion of Level 3. Following Level 3, the student continues with other vocational training, provided by myME and training partners, and the final stage of the program for these students is either to re-enter formal education or to gain better employment with one of our myME partners in hospitality or other vocational environments in settings that are healthy, safe and just for our young myME student workers.
On December 7, 2018, thirty-seven myME students graduated their respective levels: 20 students receiving their beginner level certificates and 17 students receiving their Level 1 Certificates.
Though a very joyful event, some of the students did not eat the food, saving it for their families. A reminder to all present, that these young workers always have people back home in their villages, depending on them for their basic survival.
We had another graduation ceremony in Mandalay. myME Graduation Ceremony held at the Zoological Garden on November 11, 2018.
138 students of myME from Mandalay are graduated in their respective Levels.
70 Ethnic students received their Beginner Level and Level-1 certificates
22 Nun students received their Beginner Level and Level-1 Certificates
19 novices received Level-1 Certificates
7 students from Arkar Min teashop received their Level-1 and Pre Level-2 Certificates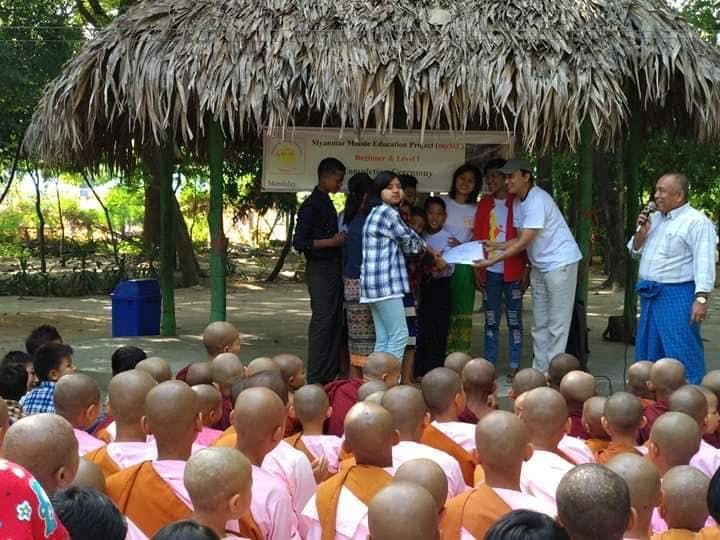 We are proud and honored that Myanmar Minister of Education paid myME a visit in October 2018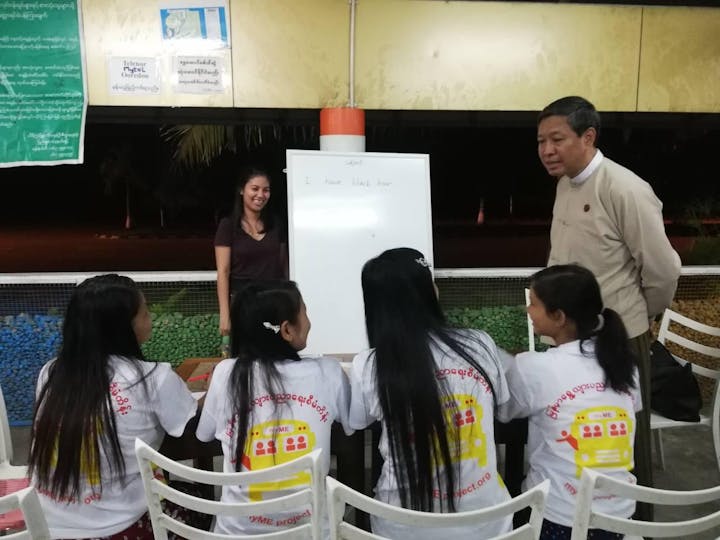 Union Minister of Education Dr. Myo Thein Gyi visited myME Classes at Min Thiha Teashop in Nay Pyi Taw in October 2018. He was very much supportive of myME and encouraged by all the work we do for Out-of-School and Working Child & Youth (OOSWCYs). He spent quality time with our students interacting and sharing engaging and inspiring words. We're grateful to Ko Aung Aung, Ma Thin Pyae Oo and all the MOE volunteers for keeping this class up and running. A true success for all.
Computer and Technology Training Program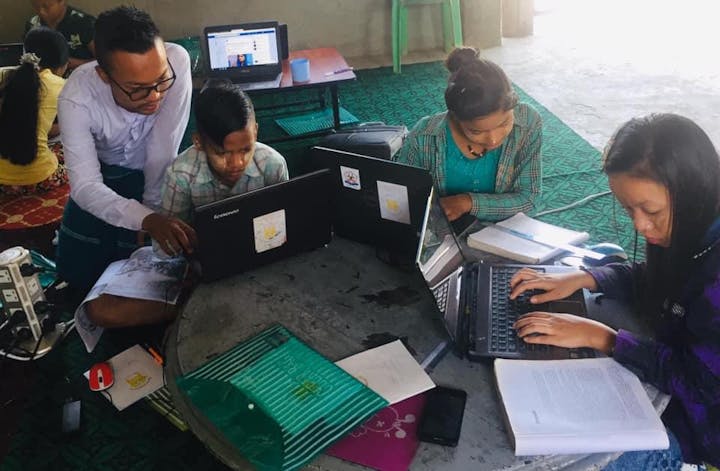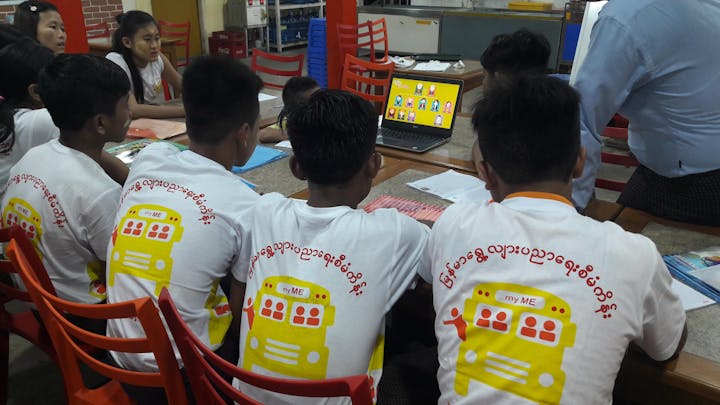 These children in the photos have had the unique chance to learn computer skills over the last 3 years with myME. They've devoted their very limited free time to attend classes after work when the myME teachers arrive every other day at their teashop. They study on the other days. And now their hard work--after work--is paying off. The students have advanced to level three and are gaining the skills they need to improve their life in the future.
Introducing our new myME nutritional program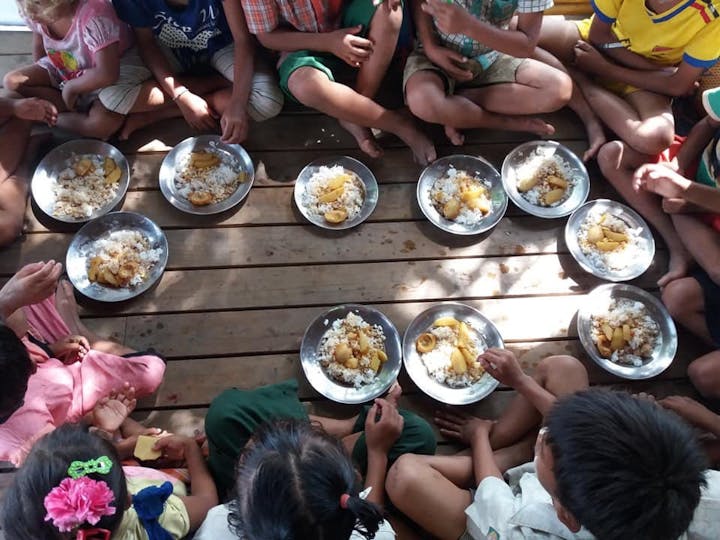 We're thrilled to now be able to offer free nutritional lunches to Out-of-School and Working Children (ages 6-8) at our myME foundation class in Shwe Pyi Thar and Myinchan, which are some of the most underprivileged communities that we serve. Thanks to Max Power Tharkata Company, which has pledged to offer this program since 2018 till now. Now we can support our students with the food they need to stay focused both on the job and in their myME classes after working all day to support their struggling families. These students receive snacks and meals twice a week and it is further encouragement and motivation to help them continue to attend their myME classes.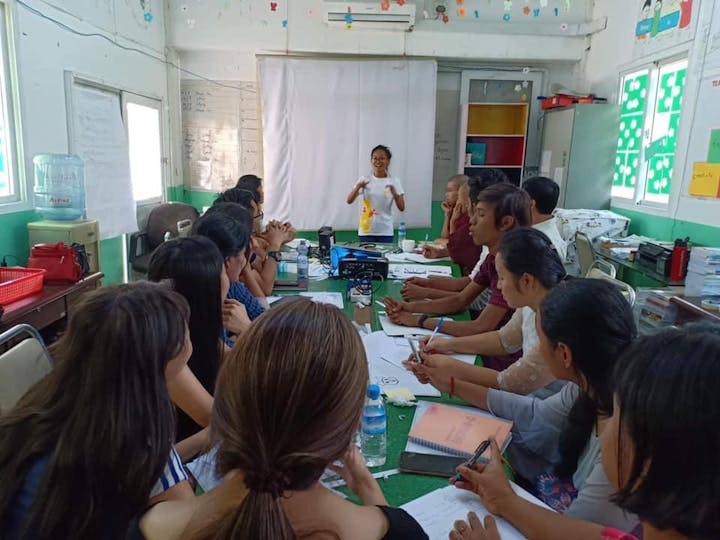 Our training program for volunteer teachers in other parts of Myanmar
myME's passionate training team is instructing young volunteer teachers to be able to teach in more under privileged communities. In addition to the regular training, this time our team also shared our Life Skills curriculum as well as digital skills, and English lesson plans with a team that will soon be serving the Kyaik Htoe Township in Mon State.
Students from Denmark and Japan visit myME to learn and exchange ideas
During the 2nd week in February, myME welcomed students from Japan and Denmark. These international students came to observe and learn from the myME team up close about our innovative, non-traditional education program. The myME team shared with them our mission, vision, and operating techniques. They received information about our Communication and Technology program (ICT) for Out-Of-School Working Children and Youths (OOSWCYs), and they learned stories and witnessed firsthand how myME is making a difference for under privileged child workers who are struggling to meet the basic needs of their families while also attending myME classes.
Another cool myME mobile classroom, this one donated by Samsung Myanmar.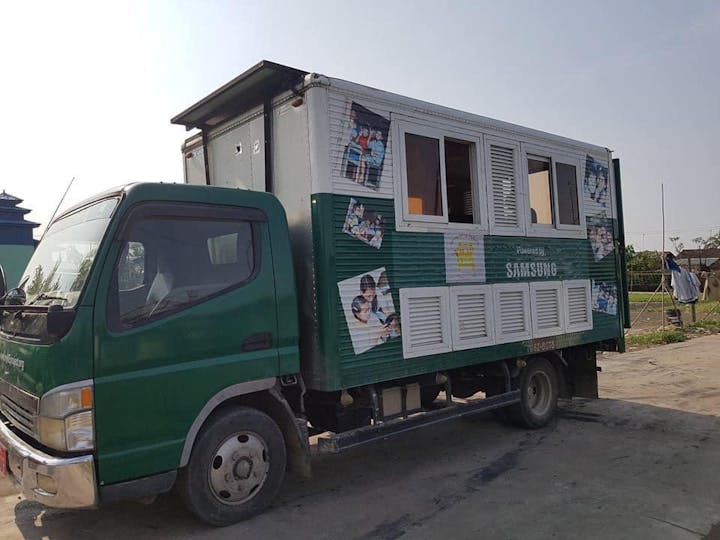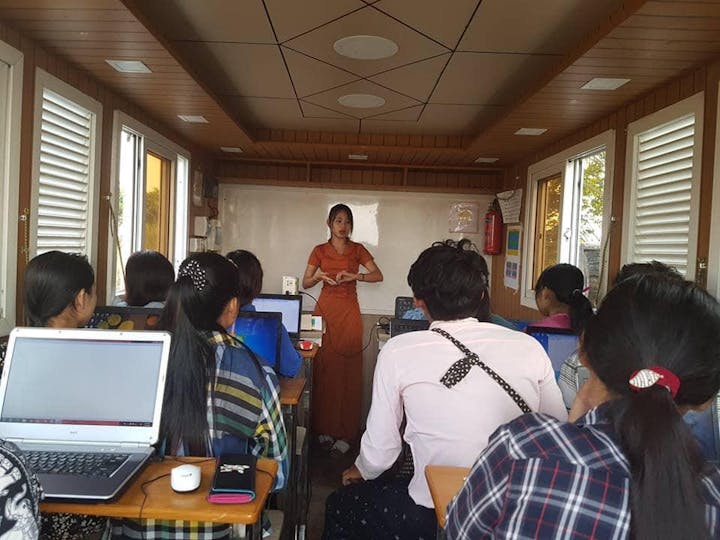 Beyond the myME classrooms...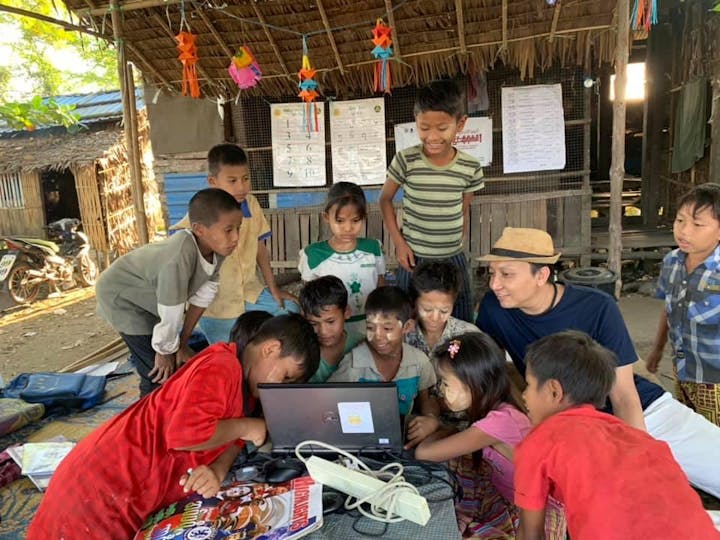 Our director, Tim Aye-Hardy, sometimes gets to take a day or two to travel to more remote villages and share the myME program to help get kids inspired about their future, even for those in the midst of very challenging childhoods.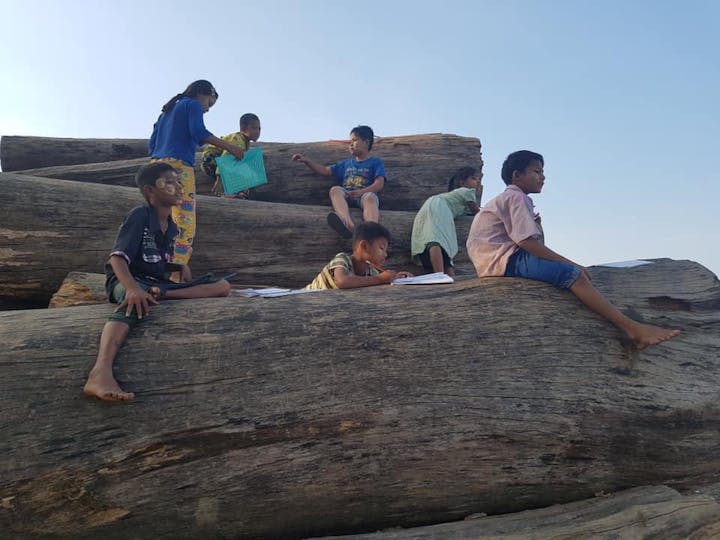 myME believes that even working kids deserve some time not only away from their jobs, but also away from the stresses of the city. We organize one day and half day trips for our myME students when the teashops are closed so they can get outside to play; plus, a little time for myME homework and study, over course!