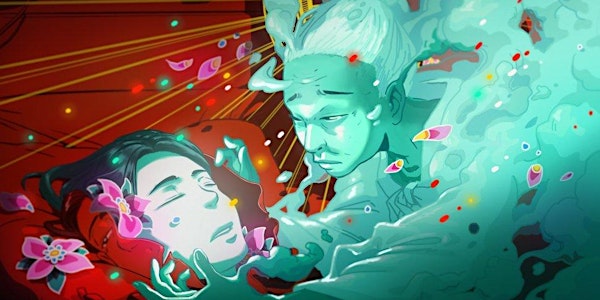 "My Transgender Ghost Story" Reading & Discussion with Writer Andy Marra
Event Information
Location
Asian American Writers' Workshop
112 West 27th Street
#600
New York, NY 10001
Description
In celebration of Asian American Pacific Islander Heritage Month, Sister Diaspora for Liberation, the Asian American Feminist Collective and GAPIMNY present an intimate reading and discussion of "My Transgender Ghost Story" with writer Andy Marra.
From Korean mudang, to spirits, and issues of identity and culture, this unique short story takes us through Marra's spiritual experiences and connection to her Korean ancestors. Join us at the Asian American Writers Workshop for a short reading and open facilitated discussion.
Discussion will be facilitated by Julie Ae Kim from the Asian American Feminist Collective and Patrick Lee from GAPIMNY.
Find Andy's short story here.
This is a safe space for all self-identified womxn of color. Allies are welcome.
Andy Marra (she / her / hers) is executive director of the Transgender Legal Defense & Education Fund (TLDEF). Prior to TLDEF, she spent five years leading external communications at the Arcus Foundation; managed public relations at GLSEN, a national organization focused on LGBTQ issues in K-12 education; was co-director at Nodutdol for Korean Community Development; and served as a senior media strategist at GLAAD. Andy currently serves on two boards including Freedom for All Americans and Just Detention International. She has previously served on the boards and advisory councils of Chinese for Affirmative Action, the Funding Exchange, Human Rights Campaign, and the National Center for Transgender Equality. Andy has been honored by the White House and the City of New York for her contributions to the LGBTQ community, profiled in The Advocate's "Forty Under 40," and listed as one of The Huffington Post's "Most Compelling LGBT People." She is also a past recipient of the GLSEN Pathfinder Award, the National LGBTQ Task Force Creating Change Award, NQAPIA Community Catalyst Award, and the Colin Higgins Foundation Courage Award.
Illustrations:
Alex Myung is a NYC-based animator and illustrator whose most recent short film,"Arrival," has showed at over 30 international film festivals worldwide and been viewed over 2.5 million times on Youtube. The 22-minute short tells the tale of a young man in the city struggling to come out to his mother back home.
Facilitators:
Julie Ae Kim (she/her) is a Co-Founder and Leadership Committee member of the Asian American Feminist Collective. A native New Yorker raised in Queens, she is an organizer and works in New York City politics. She focuses on issues of gender, immigration, and Asian America.
Patrick G. Lee (he/they) is a queer Korean American filmmaker. He's currently working on films about Asian American coming out stories, LGBTQ self-representation, and queer Asian history. Patrick works with the National Queer Asian Pacific Islander Alliance and his favorite banchan is kongjang (braised soybeans).
Partners:
The Asian American Feminist Collective engages intersectional feminist politics grounded within our communities, including those whose backgrounds encompass East, Southeast, and South Asian, Pacific Islander, multi-ethnic and diasporic Asian identities. The collective seeks to foster dialogue that explores the intersections of Asian/American identity with issues of social justice in order to build towards collective liberation. They continue to interrogate and define the Asian American feminist movement through media-making, event curation, and digital storytelling.

Founded in 1990, GAPIMNY is an all-volunteer, membership-based community organization with the mission to empower queer and trans Asian Pacific Islanders* to create positive change. We provide a range of political, social, educational, and cultural programming and work in coalition with other community organizations to educate and promote dialogue on issues of race, sexuality, gender, and health.
Space:
Established in 1991, AAWW is a national not-for-profit arts organization devoted to the creating, publishing, developing and disseminating of creative writing by Asian Americans–in other words, we're the preeminent organization dedicated to the belief that Asian American stories deserve to be told.
Date and time
Location
Asian American Writers' Workshop
112 West 27th Street
#600
New York, NY 10001