"MY STORY CAN BEAT UP YOUR STORY!" Screenwriting Crash Course - BURBANK

Monday, January 14, 2013 from 6:30 PM to 9:30 PM (PST)
Ticket Information
This event is invite-only
You need an invitation to register for this event. Contact the
host
to find out more.
Event Details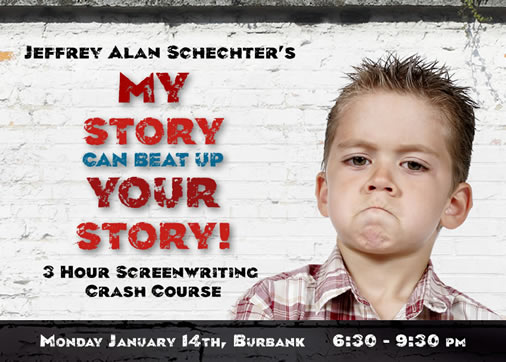 Taught by Emmy, WGA, WGC, BAFTA nominated screenwriter and Gemini winning producer Jeffrey Alan Schechter, "MY STORY CAN BEAT UP YOUR STORY!"  is the only seminar that's guaranteed to turn your screenplay into the toughest kid on the block (see picture above!)  
Taking the core principles from his bestselling book My Story Can Beat Up Your Story!: Ten Way To Toughen Up Your Screenplay From Opening Hook To Knockout Punch, in just 3 short hours Jeff will share with you a way of writing that is so muscular simple yet so powerful that Mariner Software now uses it as the brains behind their amazing Contour Story Development System.
This is no sterile paradigm, but a dynamic system that shows you how to use the major storytelling moments shared by the most popular movies of all time in your own writing. This system is based on simple to understand principles and has been field tested to the tune of millions of dollars worth of writing assignments and script sales.
At the "MY STORY CAN BEAT UP YOUR STORY!" seminar you'll learn:
The four key questions about your main character that MUST be answered before you can begin writing.
How to structure your main character's story destiny through four archetypes; the same four that EVERY successful movie uses.
How to construct a compelling pitch that lays out your entire story from start to finish.
The 12 foundation beats of act one.
How to craft a central question that charts your hero's physical, emotional, and spiritual journey.
How that same central question to build the plot points of act two.
How to chart a structure for the second half of your story that builds upon and amplifies the plot points of the first half.
The four essential plot points of act three
How to ensure the climax of your story doesn't fall flat.
How to chart a page-count story course with the 12 major guide posts for your newly complete, bulletproof story
No confusing jargon. No writer "geek speak." Just liberating, practical, and proven techniques from a working writer, producer, and director. This seminar is perfect for aspiring and working writers as well as novelists, creative executives, assistants, producers, directors, readers...anyone who wants to learn how to keep the big kids from kicking sand in their story's face! 
Praise for Jeffrey Alan Schechter
"Writers have been searching for the perfect story structure paradigm for 2,500 years. Jeff Schechter may have found it. Take that, Aristotle!"
-- Ian Abrams, Chairman, Dramatic Writing Program, Drexel University. Writer/ Creator EARLY EDITION, UNDERCOVER BLUES.
"Jeff has an acute understanding of the kind of story structure that makes for successful movies. By analyzing blockbusters he extrapolates a story construction model that is surprisingly simple and universally applicable. And, best of all, it works."

-- Tim Hill, Director. ALVIN & THE CHIPMUNKS, MAX KEEBLE'S BIG MOVE, MUPPETS IN SPACE
"Screenwriting is an art, and Jeff Schechter conveys both the craft and soul of the trade.  A gifted teacher, he provides methods which will help you both structure and elevate your best ideas."

-- David Sacks, Executive Producer/Writer.  THE SIMPSONS, MALCOLM IN THE MIDDLE

CLICK HERE to read testimonials from past seminars.
Registration fee includes a 25 page workbook.
Organizer
Jeffrey Alan Schechter
JEFF SCHECHTER is a WGA, WGC, Emmy, and BAFTA nominated writer, a Gemini-winning producer, and million dollar spec screenplay writer.

Jeff's worked extensively -- and constantly --in film and television over the last twenty years, and his unique and simple system of breaking down stories as well as managing the career of a working writer has not only been turned into the popular story development software, Contour, by Mariner Software, but is the subject of the bestselling book My Story Can Beat Up Your Story!published by Michael Wiese books.

Jeff has taught all over the world is an entertaining and engaging speaker, both funny and honest, and cuts through the background chatter of writing theory to present a simple and professional system of screenwriting.
"MY STORY CAN BEAT UP YOUR STORY!" Screenwriting Crash Course - BURBANK