Description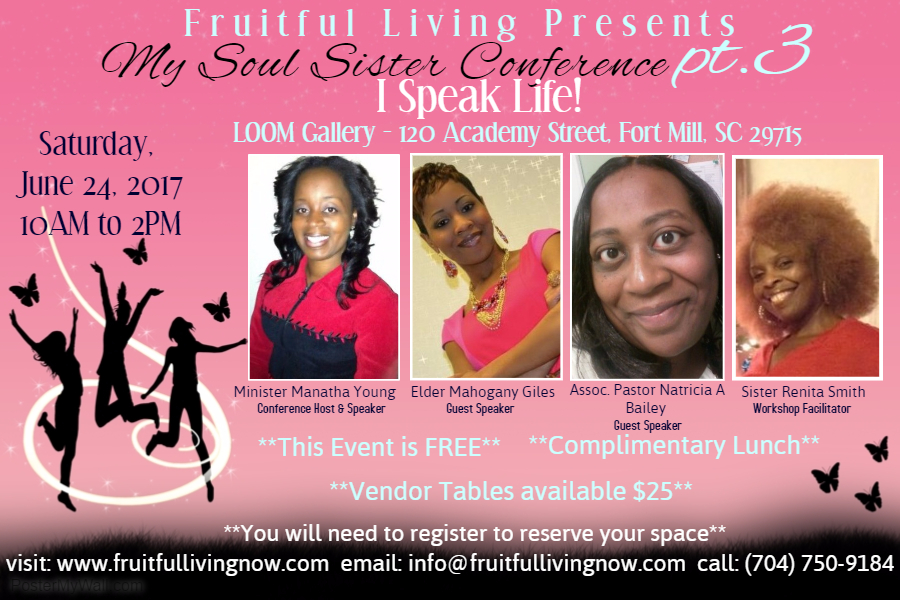 Greetings My Soul Sisters!
You are invited to Fruitful Living's My Soul Sister Conference Pt 3 "I Speak Life!" Our event will be held on June 24, 2017 from 10AM to 2PM at LOOM Gallery, Fort Mill, SC.
Conference Mission: To Inspire and Uplift the life of Every Woman at every age and juncture.
Scripture: "A person finds joy in giving an apt reply — and how good is a timely word!." Proverbs 15:23

Frequently Asked Questions:
Who is hosting this event? Fruitful Living's Founder & Director Manatha Young

Who are the Speakers?

Elder Mahogany King
Associate Pastor Natricia A. Bailey
Sister Renita Smith
Minister Manatha Young
Who's invited to this event? Women of ALL ages (16 and up) Mothers, Daughters, Sisters, Cousins, Friends
What is the cost of this event and are there any discounts? This event is FREE

When is the last day to register to secure seating? *Thursday, June 22, 2016*

Can I make a seed offering into the event? Yes! Your Seed offering will support the event and further the ministry of Fruitful Living

When will tickets be available for MSS 2017? Tickets are available NOW! Please visit www.fruitfullivingnow.com to get tickets. You MUST be registered and have a printed ticket in order to attend.

Can I get tickets onsite? Due to this special, intimate, and unique event, tickets will not be available onsite. We encourage those interested in attending to get their tickets as soon as possible.

Do you provide childcare? No, this is a time for you to get away and enjoy fellowship with other
women.

How long is each session? Each session will run for 25 minutes. Between sessions, attendees will have time for breaks.

How should you dress for this event? Do You. Keep it classy and sophisticated.

What can you expect from this event? Celebration, Inspiration, Expressions of Love, Hugs, Tears of Joy, Comfort, Excitement, Fellowship, Strength, to get well fed, and to be glad you came!

Can men attend this event? No, this event is exclusive to women.

What time should I arrive for the event? Registration begins at 9:30AM. Attendees are encouraged to arrive at least 30 minutes prior to the opening session as seats are available on a first-come, first-served basis and will fill quickly.

How much does it cost to park at the event? The parking is free.

Are there vendor opportunities for this event? SOLD OUT

What time should confirmed vendors arrive to event for set up? All confirmed vendors are to arrive between 9-9:30. Should you arrive earlier than 9AM, please wait outside the event area.

If you would like to be a sponsor for the My Soul Sister Conference, please contact us now at (704) 750-9184 or email myoung@fruitfullivingnow.com for consideration.

Have a Fruitful Day!

Manatha Young
Founder & Director