"My So-Called Enemy" screening

Sunday, August 28, 2011 from 1:00 PM to 3:30 PM (EDT)
Event Details
We are bringing a documentary, "My So-Called Enemy", back to Cleveland, after it played to sell out audiences during the Cleveland International Film Festival this spring and other festivals since. We believe it deserves a broader audience here, and contacted Lisa Gossels, the director, to arrange another screening in Cleveland.
Following the screening there will be a panel discussion with the director, Lisa Gossels, until 3:15 PM.
Visit our Facebook page to show your support and share this event with your friends.
About the movie
In July 2002, 22 Palestinian, Israeli and Palestinian Israeli teenage girls traveled to the United States to participate in a women's leadership program called Building Bridges for Peace. "My So-Called Enemy" is the story of 6 of the girls and how the transformative experience of knowing their "enemies" as human beings meets with the realities of their lives at home in the Middle East over the next 7 years. Through the coming-of-age narratives of Building Bridges participants Adi, Gal, Hanin, Inas, Rawan and Rezan, we see how creating relationships across personal, political and physical borders is a first step towards resolving conflict. By watching "My So-Called Enemy" communities will see the complexities of the Israeli/Palestinian conflict though a human lens--and the possibility and hope that come from listening to each other's stories. The girls are the experts in "My So-Called Enemy"--and their voices need to be heard, especially because they are young women.
About the director
Film Director, Lisa Gossels, who is the President of Good Egg Productions, Inc, a New York City-based production company. Her first film, the Emmy Award-winning "The Children of Chabannes," which she made with Dean Wetherell, has been praised as "One of the most heartening Holocaust films ever made --splendid, informative and emotionally involving." (Los Angeles Times) Lisa's second film, "My So-Called Enemy, has won a CINE Golden Eagle and five film festival awards since premiering at Silverdocs 2010. "My So-Called Enemy" has been cited as "A provocative, balanced film that offers unexpected hope for resolution of the Israeli-Palestinian conflict." (Washington City Paper) and "An insightful, moving, important film. Extraordinary." (The Huffington Post) She was recently honored as "Someone to Watch" at the 2011 Cleveland International Film Festival. A member of Selah, a national network of Jewish social justice leaders, Lisa became a documentarian because she believes in the power of film to affect social change. She is a Phi Beta Kappa graduate of Brown University.
About the rest of the panel
Moderator, Peter W. Moore, Associate Professor of Political Science, Case Western Reserve University. He currently serves on the Executive Editorial Board of Middle East Report and directs the newly created Northeast Ohio University Consortium for Middle East Studies. In 2008-2009 he was a senior Fulbright Fellow at Zayed University in Dubai.
Brian Amkraut, Provost and Professor of Judaic Studies at the Laura and Alvin Siegal College of Judaic Studies. His areas of expertise include twentieth-century Germany; Zionism and Israel; and contemporary American Jewry. His first book, titled Between Home and Homeland: Youth Aliyah from Nazi Germany, was published by the University of Alabama Press in June 2006.
Nahida Halaby Gordon is a professor of statistics at Case Western Reserve University and currently on the steering committees of the Israel-Palestine Mission Network and the National Middle Eastern Presbyterian Caucus--both of the Presbyterian Church (USA). She is active in seeking peace and justice for the people of the Holy Land.
Dr. Zeki Saritoprak holds a Ph.D. in Islamic Theology and has been the Nursi Chair in Islamic Studies at John Carroll University since 2003. The Founder and former President of the Rumi Forum for Interfaith Dialogue in Washington, D.C., he remains actively engaged in interfaith dialogue programs. He has been contributing to peace studies through his publications about peace-building and dialogue.
Information About Parking
Parking is located at The Veale garage, Lot 53 at Adelbert and Circle Drive. The driveway is next to the entrance to the One to One Fitness Center.
Rates are as follows: First 30 Minutes- Free; $1.00 for each half hour. Maximum $10.00 for 5 hours.
Lot accepts credit cards or cash.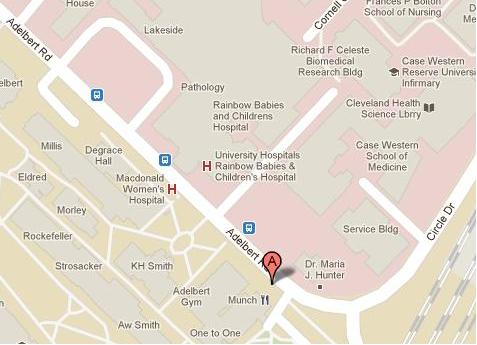 When & Where

Strosacker Auditorium at Case Western Reserve University
2125 Adelbert Road
Cleveland, OH 44106


Sunday, August 28, 2011 from 1:00 PM to 3:30 PM (EDT)
Add to my calendar
"My So-Called Enemy" screening