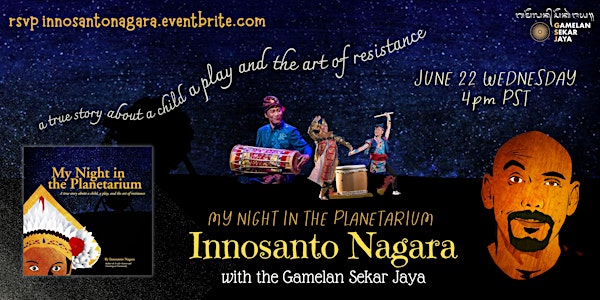 My Night in the Planetarium: Innosanto Nagara feat. the Gamelan Sekar Jaya
Event Information
Location
Eastwind Books of Berkeley
2066 University Ave
Berkeley, CA 94704
Join us for an incredible children's reading with writer and activist Innosanto Nagara with live music from the Gamelan Sekar Jaya!
About this event
Innosanto Nagara, esteemed author, illustrator, and activist joins us at Eastwind Books for an exciting afternoon of Indonesian culture! Nagara will be reading from his book My Night in the Planetarium while accompanied by live Indonesian music from a trio ensemble from the Gamelan Sekar Jaya! Storytime for children ages 6-9 years old and families.
From Innosanto Nagara, author/illustrator of the bestseller A is for Activist comes My Night in the Planetarium, a high-adventure, true story from his childhood in Indonesia. The thrill of spending the night in a museum is the capstone to a story ultimately about free speech, political progress, and artistic defiance. Featuring Inno's gorgeous art style recognizable from A is for Activist, Counting on Community, and his joyous activism, My Night in the Planetarium cleverly and humorously combines history, geography, politics, and activism in an adventure story of childhood wonder, political resistance, and familial connection.
Purchase copies of My Night in the Planetarium here!
Author will be autographing his book titles.
Click here to learn more about the Gamelan Sekar Jaya.
Eastwind Books of Berkeley is proud to hold Inosanto Nagara's works on our shelves. Here is a list of some more:
You can purchase his books in-store at Eastwind Books of Berkeley, or on our website at www.AsiaBookCenter.com.
About the Book
"When I was seven, I got to spend the night in a planetarium."
Indonesia, 1977.
Seven-year-old Innosanto spends a night with his mom sleeping under the stars in the Jakarta Planetarium. Innosanto's father is a playwright and the boy memorizes lines during the actors' rehearsals, so they invite him to join the performance, which tours the country. The play is about a General, who doesn't treat people very well, "so they decided to do a play about how that was wrong." Fact: Indonesia, aka The Spice Islands, is the place Christopher Columbus was looking for when he crashed in the New World. Fact: Indonesia is made up of 17000 islands where people speak over 750 different languages. Fact: when Inno was a child, speaking out against the government could land you in jail. On the last night of the performace Inno packs a toothbrush ("they figured if you're going to go to jail for a long time, you may as well have your toothbrush with you so you can keep your teeth clean. (true story)."), the curtains go down, and with soldiers on the way, the actors scatter into hiding. On its surface, My Night in the Planetarium is a modern Indonesian children's story about one night in the late '70s that the author got to spend in the Jakarta planetarium. But it's actually much more than that. It's an introduction to the history and culture of Indonesia. It's about colonialism, revolution, how power corrupts, and how through art and solidarity liberation can be won.
There aren't a lot of picture books that portray what it's like for a child to live under dictatorship. The classic is Antonio Skármeta and Alfonso Ruano's The Composition, about a boy who refuses to be tricked into writing an essay about what his parents do in their spare time. Nagara's book is a welcome and worthy companion that belongs in every elementary school classroom. Like The Compostion, My Night in the Planetarium uses humor to portray a serious subject in a way that is understandable and appropriate for children in the early elementary grades. For both protagonists, defying those in power is a glorious adventure leading to personal growth and empowerment. At the same time, through text and illustrations these picture books reaffirm the love that family members have for each other. Ultimately, this love gives both parents and children the strength they need to survive and thrive in the most difficult of circumstances.
A beautiful introduction to the history and culture of Indonesia, My Night at the Planetarium is an engaging, thought-provoking starting point for a discussion of colonialism, political corruption, and artistic resistance.
About the Author
Innosanto Nagara was born and raised in Jakarta, Indonesia, and moved to the U.S. in 1988 to study zoology at UC Davis. But instead of becoming a zoologist he became an activist and a graphic designer. He also writes and illustrates social justice themed children's books.
Inno got his start as a student activist at UC Davis where he discovered his skills as a designer and photographer were effective contributions to organizing. After graduation he moved to the San Francisco Bay Area where he worked as a freelance designer for a range of activist organizations and campaigns until he joined Inkworks Press Collective in 1995. It was during his time at Inkworks that he started developing the Graphic Design for Social Change principles that have guided his work ever since. In 2002 he launched Design Action Collective. Modeled after Inkworks, Design Action was to be a worker-owned collective union design and strategic communications firm dedicated to serving the Movement for Social Change. The following year, Inno proposed what was to become Designs on Democracy: Communication for Liberation—a national convening of design and communications activists aiming to share strategies and build community.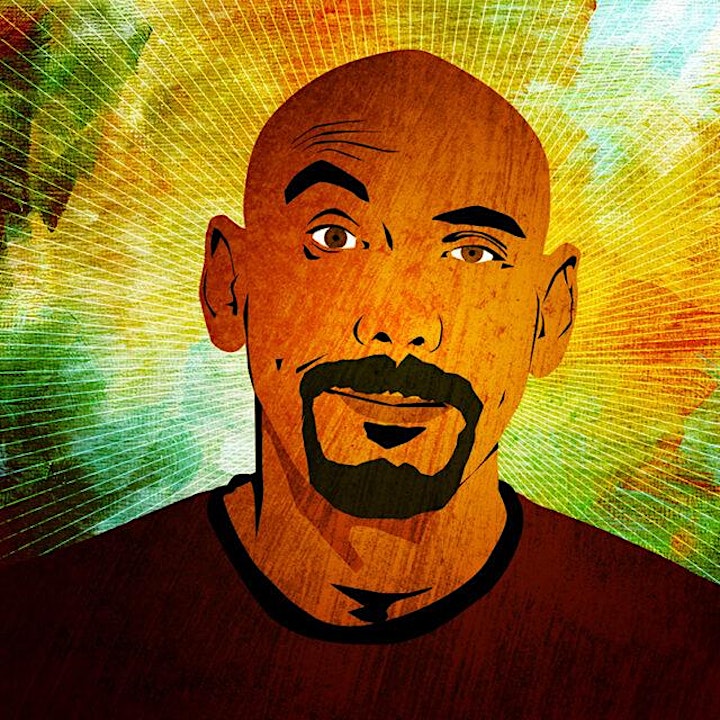 Over the next decade and a half Design Action grew and established itself as a leading social justice design studio providing graphic design, web development, and visual communications services. In that time Design Action served countless grassroots campaigns and organizations supporting labor rights, the environmental movement, gender equality, racial justice, indigenous rights, and international solidarity. Inno's activist design philosophy grounded the collective's work and was integral to Design Action's success and contributions to the Movement over the years. The worker-owned collective decision-making and business structure has served as a model for other self-sustaining mission-driven projects (for more on Inno's design career and philosophies click here).
In 2012 Inno wrote and illustrated a little board book that launched another type of movement. Originally A is for Activist was just a personal project for his own child. He wanted to have the book that he wanted to read to his kid over and over and over again. But friends encouraged him to print more copies, and after a successful kickstarter campaign, A is for Activist came into being as a self-published board book. It almost immediately sold out, and that's when it was picked up by Seven Stories Press. With their help, A is for Activist has become a national bestseller.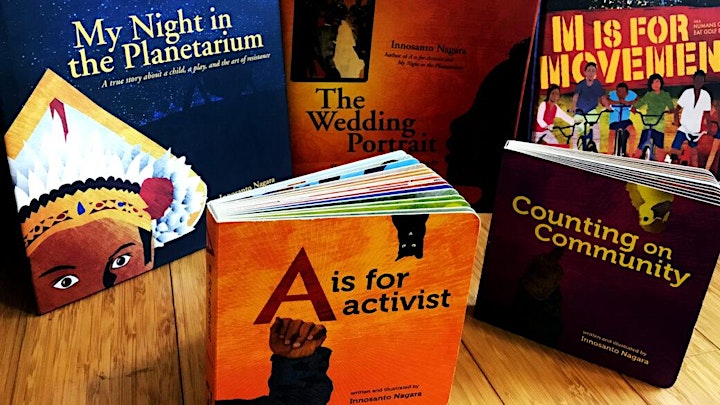 In 2015, Inno wrote a follow-up board book, Counting on Community. Where A is for Activist is about the issues, Counting on Community is about how we live.
As his child grew past board book age, Inno started to write (and illustrate) picture books. His first was My Night in the Planetarium, a true story from his childhood in Indonesia about Art, and Resistance. That was followed by The Wedding Portrait, about why sometimes we break the rules. His latest book is a highly-illustrated early middle grade chapter book titled M is for Movement aka Humans Can't Eat Golf Balls.
Inno continues to do creative cultural activism through graphic design, visual communications, and cultural strategy projects (as an advisor to reSet). He is also very active in the broader children's book world. Inno serves on the Editorial board of TheBullHorn.org, an online magazine dedicated to social justice-themed children's books and their creators. He is a regular collaborator with and advisor to Wee the People in Boston. And he is involved in local Bay Area organizing and skill-sharing for #OwnVoices authors and illustrators.
Inno and his partner Kristi Laughlin and their child live in the cohousing community they helped build in North Oakland. He also trains and teaches martial arts at Suigetsukan, a collectively run dojo near Lake Merritt.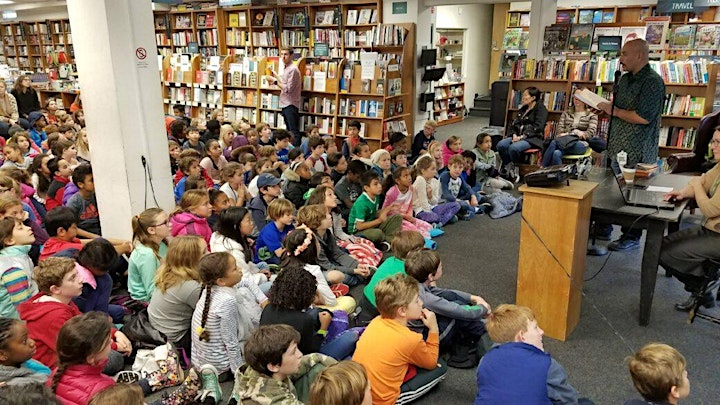 About the Gamelan Sekar Jaya
Gamelan Sekar Jaya (GSJ) fosters artistic exchange between Bali and the United States through residencies, workshops, performances, and the creation of innovative new works for music and dance. Founded in 1979, the company is based in the San Francisco Bay Area and specializes in the performing arts of Bali. GSJ has been called "the finest Balinese gamelan outside of Indonesia" by Indonesia's Tempo Magazine, and the group has performed in venues ranging from New York's Symphony Space to LA's Hollywood Bowl to remote village squares in Bali.
"The success of this group has far exceeded its founders' wildest dreams as the ensemble has become an honored participant in the evolution of Bali's musical culture."
-The Boston Globe
"Most of Bali's population of 2.8 million has seen Sekar Jaya in live performance and television broadcasts, and the group continues to receive special coverage from the Indonesian electronic and printed media…their cross-cultural works not only have been accepted eagerly by American and Indonesian audiences; their innovative compositions have directly stimulated creativity on the part of Balinese musicians themselves."
-Andy Toth, Ethnomusicologist and former US Consular Agent in Bali
Gamelan Sekar Jaya is seen in Indonesia not only as a flowering of traditional Balinese arts in a distant land, but also as a laboratory for the creation of new ideas, many of which have an impact on artistic development in Bali. Through our Master Artists in Residency program, GSJ serves as an incubator for the world's top creative minds in both traditional and innovative Balinese arts.
In 2000, during Gamelan Sekar Jaya's fifth tour to Bali, the Governor of Bali awarded GSJ the Dharma Kusuma, Bali's highest award for artistic achievement, never before awarded to a foreign group. The name "Sekar Jaya" is now a household term in Bali.
Locally, GSJ is a thriving multi-generational community that provides invaluable cross-cultural benefits to its members, the larger Bay Area community, and beyond. Through performance, educational programming, and community outreach, the group introduces thousands of people each year to the beauty and complexity of Balinese arts and culture. GSJ's community, and the spirit of cultural exchange at its core, is also of great importance to the Indonesian population of northern California.
Learn more about the Gamelan Sekar Jaya on their website gsj.org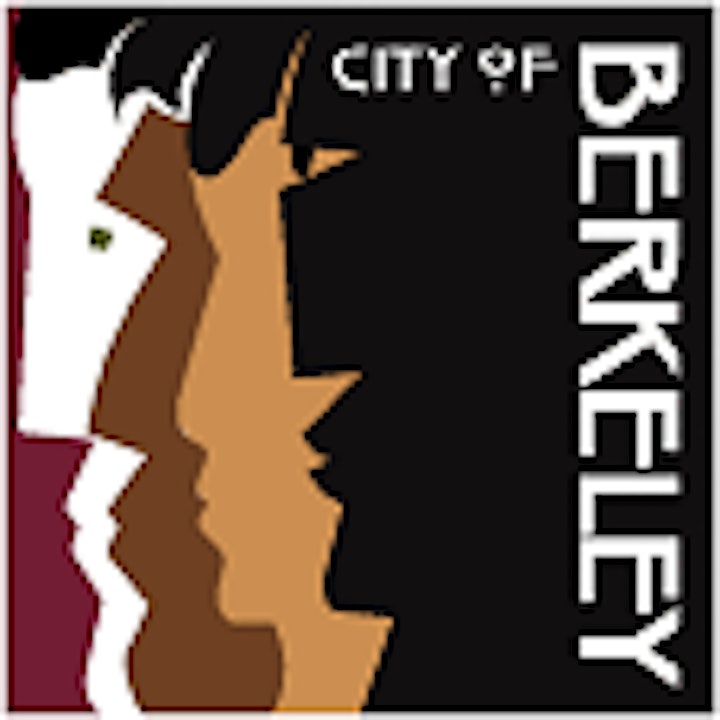 Date and time
Location
Eastwind Books of Berkeley
2066 University Ave
Berkeley, CA 94704