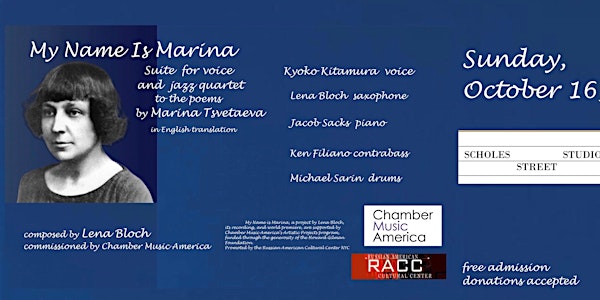 MY NAME IS MARINA - A suite for jazz quartet and voice for Marina Tsvetaeva
Acclaimed saxophonist/composer Lena Bloch reimagines work of Russian poet Marina Tsvetaeva in a new jazz suite
When and where
Location
Scholes Street Studio 375 Lorimer St Brooklyn, NY 11206
Refund Policy
Contact the organizer to request a refund.
Eventbrite's fee is nonrefundable.
About this event
Acclaimed saxophonist/composer Lena Bloch reimagines work of Russian poet Marina Tsvetaeva in a new jazz suite,
commissioned by Chamber Music America
"…unwaveringly cohesive…bone-deep gorgeousness…complex, compelling and beautiful, sounds of the highest quality and inspiration." – Dan McClenaghan, All About Jazz
On the 130th anniversary of the birth of Russian poet Marina Tsvetaeva, during a time when immigrants, women and artists face increasing struggle in the United States, acclaimed Russian-born saxophonist and composer Lena Bloch premieres My Name Is Marina, a commissioned jazz suite for ensemble and voice featuring her own English translations of Tsvetaeva's works. "Throughout my life, Tsvetaeva has served as a model of resilience as an immigrant, an artist and a woman," says Bloch, "all of which have been under siege in modern political discourse, all the more reason to amplify her voice for a modern audience.
Joining Bloch for the performances will be vocalist Kyoko Kitamura, pianist Jacob Sacks, bassist Ken Filiano, and drummer Michael Sarin. The performances are supported by the Russian-American Cultural Center. The recording and world premiere are supported by Chamber Music America's Artistic Projects program, funded through the Howard Gilman Foundation.
Marina and jazz...
by Lena Bloch - a short story
Great poems are very difficult to put to music, because poetry is already music. So my suite is not "music to Marina Tsvetaeva's poems," but rather an act of perception of her poetry, a perception by improvisation, a collective perception. An attempt to intuitively understand her poems, which I chose for this project. And the most interesting thing is how our feelings and our perception will unite in the process of collective music-making, how we, five human personalities, will create a single work as a dedication to Marina and an interpretation of her meanings and images. Therefore, the translations are not literal, but also images of the perception of these six works, my translation of the image and meaning from Russian into English. The rhythm changes, the vocabulary changes. You shouldn't expect our suite to "interpret" poetry, it's primarily music and most importantly, improvisational music. It's similar to how an actress would play the part of Tsvetayeva in a "biopic" film, if there were such a film. But in this case the actors are we all, as a whole ensemble. And there are six "films", each piece is a new story and a new "director's cut".