Description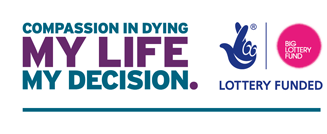 My Life, My Decision was an ambitious, multifaceted programme of work delivered by Compassion in Dying and its partners, and funded by the Big Lottery's Silver Dreams Fund to run from July 2014 until October 2016.
Its aim was to support people aged over 50 to think about and plan their care in advance, helping to ensure they have the death that is right for them.
The project tried and tested new ways of engaging people and communities in planning for the end of life. It developed a service that placed the individual at the centre of their care decisions and supported them to express and record their wishes in a legally binding way. It also developed effective models of partnership working between health services and voluntary organisations, maximising the capacity of healthcare professionals by providing support to their patients to plan their care.
The seminar, which follows the publication of the Government's response to the Review of Choice at the End of Life and the Care Quality Commission's recent report A Different Ending which highlighted inequalities in end-of-life care, features a range of speakers representing policy makers, healthcare professionals and service users from groups which have been identified as facing significant barriers to accessing end-of-life care.
Guest speakers include:
Professor Sam Ahmedzai (Clinical lead for National audit of end of life care in hospitals, Royal College of Physicians)
Simon Chapman (National Council for Palliative Care)
Jeremy Taylor (National Voices)
Naved Siddiqi (Woolf Institute)
They will highlight the importance of providing information and dedicated support on end-of-life rights and choices; explore the barriers to person-centred care; and consider ways to ensure that individual choice is at the heart of service provision and support.
We will also hear from My Life, My Decision partners, staff and service users, who will provide insights into the innovative approaches developed for engaging with Black, Asian and Minority Ethnic (BAME) communities; faith groups; lesbian, gay, bisexual and trans (LGBT) communities; and for working with healthcare professionals.
We would like you to join us to hear about how these innovative approaches have delivered results and debate these important issues.
The seminar is free to attend and will close with a drinks and networking reception.
We will be Live Streaming this event and will share details of the URL shortly.