| | |
| --- | --- |
| My Life Among the Serial Killers: a white-knuckle affair | |
Event Details
TICKET SALES HAVE MOVED! CLICK HERE TO CONTINUE.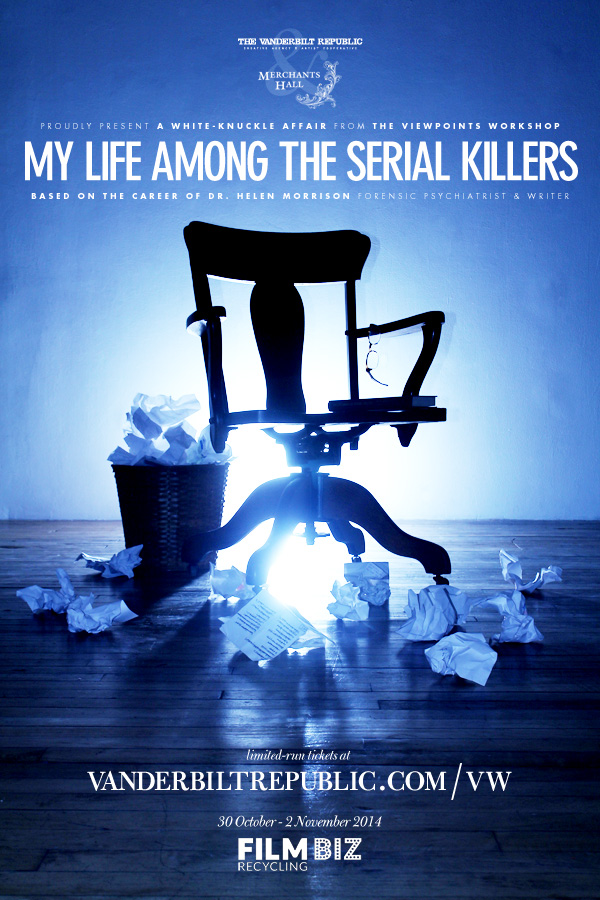 30 October - 2 November 2014
Performance cycles at 7, 8.20 & 9.40p nightly
Please arrive 15 minutes prior to start time
My Life Among The Serial Killers (MLATSK) is a memoir by Dr. Helen Morrison,
who searches for an answer to the central question haunting her life: why do people kill?
In 35 years of research, Dr. Morrison profiled more than 130 serial killers worldwide.

This voltaic, immersive theatre piece threads through the psyche of killers, victims,
and family members, as we search for a space to envision a healthy, safer world.
MLATSK is a celebration of scientific inquiry during a time that excluded women,
and is an examination of some of the most demented minds to ever walk among us.

This piece is performed in a cycle, with 3 performances each evening.
My Life Among the Serial Killers is an open book exploration as the audience
finds their way - while creating their own adventure multiple times nightly.
Film Biz Recycling — 540 President St. 11215 
+ MLATSK includes disturbing and potentially triggering content.
+ MLATSK is not wheelchair accessible and contains:
loud noises, haze, fog, strobe lights, tobacco.
+ All exits are clearly marked.
THE VANDERBILT REPUBLIC SHIFTING PARADIGMS SINCE 2009
When & Where

Film Biz Recycling
540 President Street
Brooklyn, NY 11215


Organizer
The Vanderbilt Republic

An agency formed to catalyze the impact of creative expression in all modes.
We see artists as leaders, builders; our output as a coördinated group valuable —

www.vanderbiltrepublic.com

My Life Among the Serial Killers: a white-knuckle affair