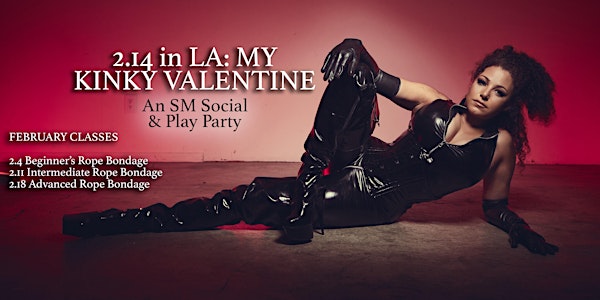 MY KINKY VALENTINE! An S&M Social & Play Party
A VALENTINE'S SOCIAL forDOMINANT WOMEN and male subbies with games designed to meet your future Mistress or slave!
When and where
Location
The Children of Lilith Temple Boyle Heights Area EXACT ADDRESS w/TICKET! Los Angeles, CA 90033
Refund Policy
Contact the organizer to request a refund.
About this event
A VALENTINE'S SOCIAL forDOMINANT WOMEN and male subbies! We will be open to all genders and orientation but the emphasis is definitely FEMDOM with games designed to meet you future Mistress and slaves looking to be collared!
Doors Open 9PM - Ladies Only Open Bar
10PM  Play "SPIN THE D1LDO!" and meet Dominant Women!
11PM  Play "The S & M DATING GAME!" win a dinner date with Tara Indiana
12PM Rope Bondage Competition "THE NEWLY LED" win a 1 hour private lesson with Mistress Tara 
FEATURING
Tara Indiana
Jewell Marceau
Lilith Kat
Kaya Anais and
Miss Cassie
AND MORE BAD GAMES SHOWS FROM THE 70s! *bad puns included 
Ladies be ready to be waited on hand & foot by Our slave boys!Enjoy men making fools of themselves to impress Youand train with professional Dominatrixes: 
Rules for meeting the Ladies: 
1. Speak when spoken to. 
2. Do as you are told 
3. Ask permission to approach 
4. Introduce yourself formerly by kneeling before Her, kissing Her hand or foot (as She prefers) Use proper etiquette; address Her by title (Mistress, Goddess, etc.) 
5. Be of service; wait on Her, bring Her things, offer foot massages, pamper her, lavish Her in compliments 
6. She will intiate play at Her whim 
7. Don't touch anyone or anything without permission 
8. Don't be higher then Her in Her presence. Kneel, or sit on the floor. 
9. Do not sit on furniture without permission. 
10. Don't be an annoying. If you're not sure what that means -you're probably annoying - don't come. 
11. Be prepared to impress or amuse Her.
 Infraction of any of these rules may result in any Corporal Punishment, Public Humilaition, or dismissal soley at Our discretion 
DRESS CODE:
Ladies - Come dressed as Your Inner Goddess! Dominatrix, Fetish Attire, Formal Wear, Cocktail Dress, Naughty Nurse, School Teacher, Nun, Vampire Queen, Succubus, Devil Girl, Sexy Kitty or in whatever makes you feel most powerful!
Subs & slaves: Dress to Impress your Goddess! Wear clothes that are easy access; easy to get on and off! No lace up shoes, boots or complicated clothing. Be freshly showered and well groomed. No free balling or commando! Options: Business Suit, All Black, Fetish Attire (that's not too complicated!) Doggy, Puppy, Piggy, Patient, Slave, Pony, Beast of Burden or whatever makes you feel weak and vulnerable ;)