Description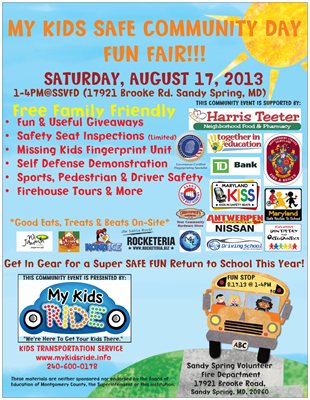 This event is FREE & Open to the Public. NO TICKETS REQUIRED UNLESS YOU ARE REGISTERING FOR THE FREE SAFETY SEAT INSPECTIONS. They will be awarded on a first come first registered basis. So register today! Only the first 5 are guaranteed.
There will be plenty of FOOD, FUN, BACK TO SCHOOL GIVEAWAYS and MUSIC for the Entire Family!
This fun-filled, community event will focus on Kids Safety, as it relates to their transportation, nutrition, health, self-defense, banking, education, extra-curricular activities, and their overall well-being. We are so excited about the opportunity to serve our community in this capacity, along with our community partners, through giveaways, demonstrations, and actual on-site services that will help keep your kids safe as we look forward to a new school year.
There will be Child ID Kits available for purchase and FREE Safety Seat Inspections, as well as many other back to school giveaways. Families can also participate in a raffle for a Back-To-School basket courtesy of Christopher's Hardware of Sandy Spring.
We look forward to seeing you there. RAIN or SHINE!