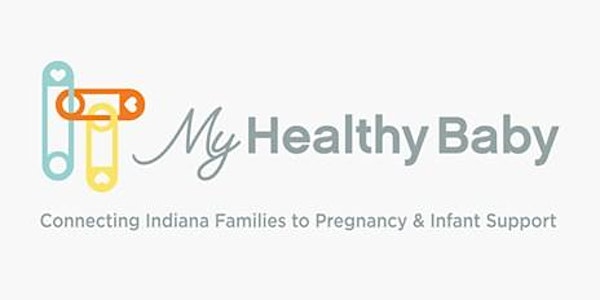 My Healthy Baby: Vigo County Group: Public Community Meeting
Learn about Indiana's My Healthy Baby initiative, launching in Vigo, Clay, Parke, Vermillion and Sullivan Counties in August 2021!
When and where
Location
Event will now be VIRTUAL Microsoft Teams Meeting Terre Haute, IN 47807
About this event
An overview of the program will be provided and will outline how you can help achieve the goal of saving at least 200 babies a year by 2024.
My Healthy Baby connects pregnant women to family support providers in their own community. A family support provider offers free, personalized guidance and support to the woman during her pregnancy and for at least the first 12 months after her baby's birth.
My Healthy Baby is a collaboration between the Indiana Department of Health, the Indiana Family and Social Services Administration (FSSA) and the Indiana Department of Child Services (DCS). This initiative is building a network of services and support to wrap our arms around moms and babies to create healthier outcomes for both. It was established by House Enrolled Act 1007, which was signed into law by Gov. Eric Holcomb in 2019.
My Healthy Baby is currently available for pregnant women insured by or eligible for Medicaid in these 22 counties: Allen, Bartholomew, Blackford, Cass, Clark, Crawford, Delaware, Dubois, Fulton, Grant, Henry, Jay, Lake, LaPorte, Madison, Marion, Martin, Miami, Randolph, Shelby, St. Joseph, Wayne.
FAQs
What is this event?
Please attend this public session to learn more about Indiana's My Healthy Baby Program, which will be rolling out in Vigo, Clay, Parke, Vermillion and Sullivan Counties in August 2021.
Normally, these events would be hosted in person. However, in light of the recent surge in COVID cases, we have decided to hold these events virtually. Microsoft Teams meeting information will be added to this FAQ at a future date.
Click the following Microsoft Teams Meeting Link below to attend via your computer or mobile device: Microsoft Teams Link
Join with a video conferencing device: indiana@m.webex.com
Video Conference ID: 119 019 557 2
Or call in (audio only)+1 317-552-1674,,201484612# United States, Indianapolis
Phone Conference ID: 201 484 612#
What room is this event in?
N/A
What time is the event?
2:30pm - 3:30pm, EST.
Where do I park?
N/A
*Please RSVP by 8/20/21 to attend this public community event.