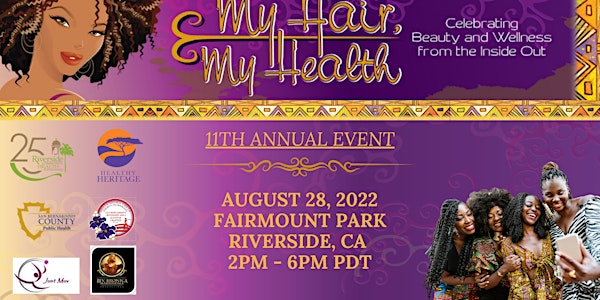 My Hair, My Health 11th Annual Event - Fairmount Park Riverside, CA
My Hair, My Health is a celebration of beauty and wellness from the inside out.
When and where
Location
Fairmount Park 2601 Fairmount Blvd Riverside, CA 92501
About this event
My Hair, My Health is a celebration of beauty and wellness from the inside out.  It is a movement encouraging African American women to define and promote a standard of beauty that is uniquely theirs.  
Each event aims to empower participants by offering tools and resources to promote: (1) healing of body, mind, and soul; (2) increased knowledge and skills to combat barriers to health-promoting activities; (3) improved self-image and self-acceptance; and (4) interactive health-promoting activities modeling positive health behaviors.
This event is free to the public.
Join us on Sunday, August 28, 2022 at Fairmount Park in Riverside, California for dynamic presentations by leading mental health and wellness educators. There will be music, activities, contests, more. 
More information to follow. 
For details email MyHairMyHealth@gmail.com
Currently accepting Exhibitor Applications for consideration: My Hair My Health 2022 Exhibitor Link - https://tinyurl.com/2cud6fy8
Featured Speakers:
Dr. Sayida Peprah - Wilson:
Dr. Sayida Peprah-Wilson is both a licensed clinical psychologist and birth doula. She specializes in multicultural psychology, trauma, suicide prevention and maternal mental health. An advocate for human rights in childbirth, Dr. Sayida is a member of the Black Women Birthing Justice Collective and a Collaborator with the Black Mamas Matter Alliance, promoting research, education and community-based services to positively transform the birthing experiences of black families. Dr.Sayida supports community doula efforts as a co-director, doula mentor and trainer for the Frontline Doulas and the Sankofa Birthworkers Collective in Southern, California. Dr. Sayida is the Founder and Executive Director of the non-profit organization Diversity Uplifts, Inc., focusing on fostering diversity and supporting diverse communities and the providers who serve them.
IG: @drsayida
Facebook: DrSayida Uplifts
Website: www.drsayidauplifts.com
Dr. Janiel L. Henry, Psy.D. :
Dr. Janiel L. Henry is the CEO, Founder, & Clinical Director at Women Rise Psychological and Wellness Center, located in Southern, CA. Women Rise is a boutique psychological and wellness center specializing in women's mental health & wellness across the lifespan. Their integrative team offers holistic expertise including psychotherapy, clinical functional nutrition, women's wellness practitioner and doula support, massage therapy, and yoga movement, thereby targeting the whole person. As a licensed psychologist, Dr. Henry works to empower women so that they may not only survive, but heal, grow, thrive, and RISE in every aspect of their lives.
IG: @dr.janielhenry
IG: @womenrisepsyc_wellness
Website: www.womenrisepsychandwellness.com/
Hair Demos and Education:
My Hair, My Health Hair Champion: Linita Hawkins, MS is the founder of LovelyLocs Natural Hair Care Products™ and the owner of LovelyLocs Natural Hair Care. ™ She owns an exclusive, 6 station salon in Moreno Valley. She has authored two books; "Loc Life: Lifestyles of the Loc'd and Lovely!" And Loc Life: Lifestyles of Tenacious Men." She will demo lead a hair demo session in alignment with her company mission: "Our mission is to educate people on these natural ingredients and to promote whole body health and wellness. My mission is to help our people celebrate your natural beauty!"
Shor Denny, MS is the Founder and CEO of Community Now, a nonprofit focused on supplying mental wellness supports and programming to the community. Shor uses her master's in Mental Health and Wellness to create, implement, and advocate for community prevention and mental wellness programming. Shor will educate us in her session called "Breaking down the lie". This program will discuss the history of colorism, good vs bad hair, and how America's social identity has made kinky curly haired people feel inferior and ugly. We will discover the truth behind our hair porosity, which products work on which hair type and why we should feel beautiful and have pride in our natural hair.
Press Coverage:
Westside Story - https://bit.ly/MHMH2022WSSNews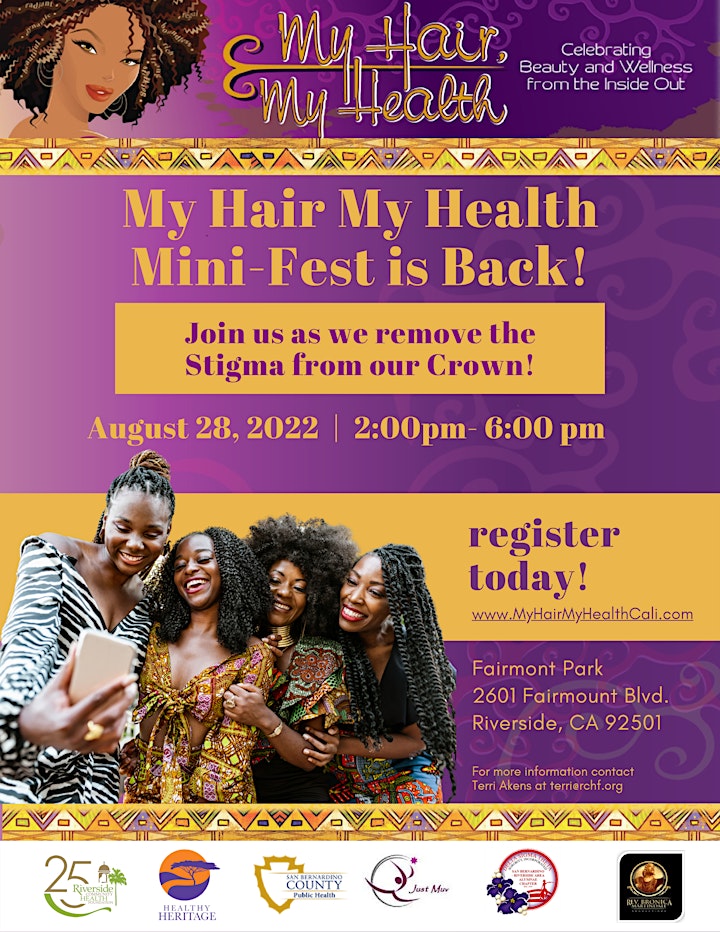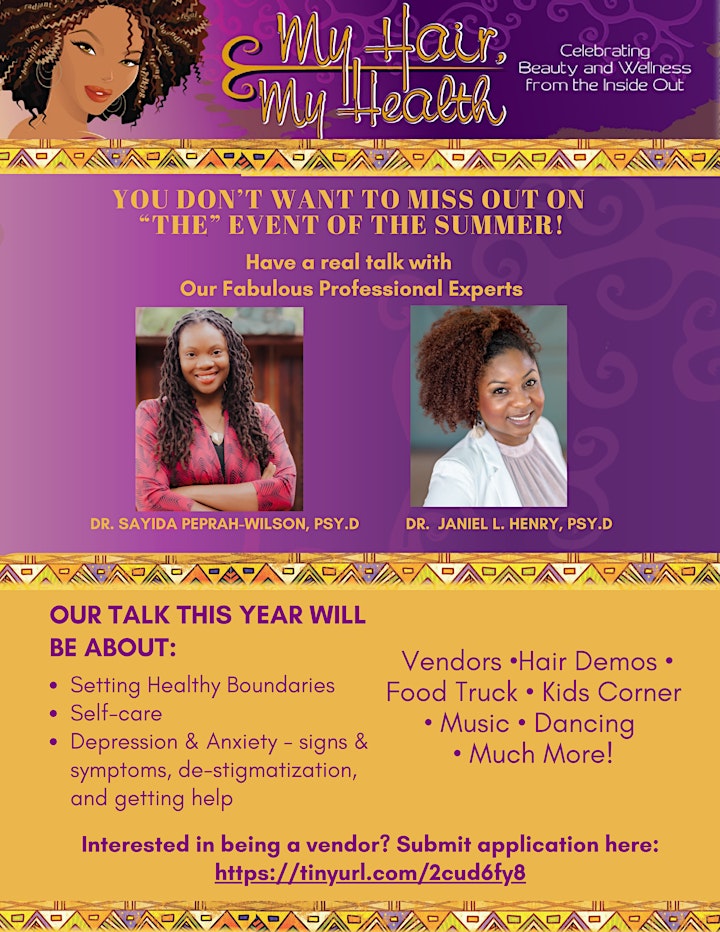 Due to popular demand, we have added a live stream for this year's event! Register today to receive the link to our Live Facebook Stream at the time of the event.
https://bit.ly/MHMH2022Online