Location
Los Angeles Trade Technical College - LATTC
400 West Washington Boulevard
Los Angeles, CA 90015
Learn more about making your home and life more sustainable! A free, outdoor event in Downtown LA for the family!
About this event
Join us on Saturday, May 21st, for an outdoor sustainability festival to learn more about how you can integrate actionable steps into your home and lifestyle!
Interactive activities and learning experiences for all ages in DTLA--bring your friends!
Saturday, May 21st of MyGBCE (My Green Building Conference and Expo) is USGBC-LA's outdoor sustainability festival open and FREE to anyone - from general public to pros - interested in being more sustainable and creating healthier spaces. Join us on this community day for inspiration, art, music, interactive showcases, demos, and education all focused around actionable sustainability skills that you can easily bring into your home and lifestyle. This is an all-ages event with different activities and opportunities available for the entire family to enjoy!
Learn more about:
Greening your home and office
Gardening with native and pollinator-friendly plants
Wildfire defense best practices
Home Composting, Recycling, & Upcycling
Becoming a change maker in your local community with USGBC-LA Member Groups
Join us and experience booths and exhibits from more than 40 of our community and non-profit partners, as well as inspiring businesses, trying to make a better world for us all!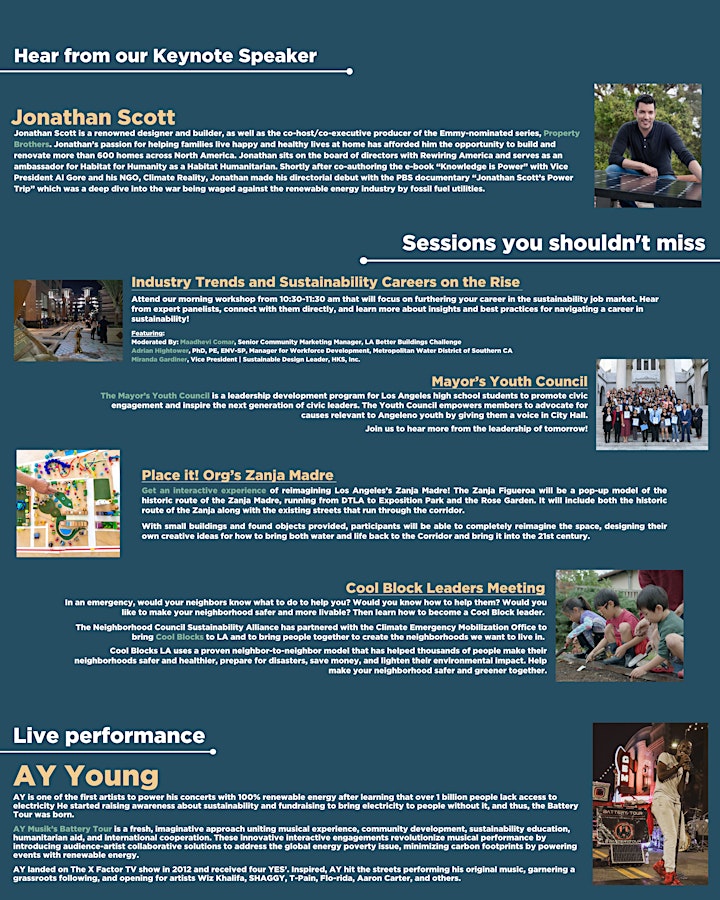 Click here for above image in full screen
MyGBCE is a 2-day event with Day 1 (Fri., May 20) directed to industry professionals, and Day 2 (Sat., May 21) for the general public!
For info on both days, and to register for Day 1, visit usgbc.la/mygbce.
Attended by over 1500 people virtually in 2021, this 2-day conference and trade show provides cutting-edge thought leadership, education, and networking opportunities to inform local government agencies, building industry professionals, and the general public about the principles, practices, and products associated with green building.
This year, we expect even more attendees across our two-day, hybrid event from local government agencies, the building industry, and the public gathering to learn about green building principles, practices, and products.
Day of instructions + tips for a better experience
Parking is FREE, for more information and visual maps on where to park, please click here. Please use the address 2215 S Grand Ave, Los Angeles, CA 90007 (also in the "Resources" tab of the WHOVA app) and not the main LATTC address listed online or on apple/google maps.
COVID protocols - We will be following all rules provided by LATTC for their campus. Masks are required for all attendees while in any inside area, regardless of vaccination status. Masks are optional in outdoor areas. For more information please visit the LATTC website here.
Please bring your reusable water bottles and thermoses to reduce waste.
Summer is almost here so please bring sunscreen and anything you need to stay protected from the sun as parts of the event will be outdoors.
Service animals are allowed. Unfortunately, pets are not allowed.
Thank you to all of our exhibitors and community partners!
Community Partners
AIA-LA COTE
ASLA SoCal
AWA+D
BlueVerde Conservation Awareness
Boyle Heights Arts Conservatory and KQBH 101.5 Community Radio
Building Decarb Coalition
Building Skills Partnership
Climate Action Corps / SEI
CSU, Inc. + Wheelery
Emerald Cities Collaborative
Garden Butterfly
Global Green
LACCD
LA Children's Garden
LA EcoVillage Institute
LA Neighborhood Land Trust + Narrated Objects
LA Promise Fund
Long Beach Community Design Ctr (LBCDC)
Neighborhood Council Sustainability Alliance
Passive House CA
Recycle2Riches
SoCal NOMA
TAWA Compost Food Rescue
The Carbon Almanac Network
The Climate Center
The Niles Foundation
Theodore Payne Foundation
TreePeople
VIBE
Women in Cleantech and Sustainability
Woodbury School of Architecture
Exhibitors
MyGBCE Sponsors: LADWP and Southern California Edison
CalPortland
Clean Power Alliance
CleanRobotics
cove.tool
Energy Code Ace
FastLinkDTLA
Feedback Solutions Inc.
Kimley-Horn
KomfortIQ
MeterLeader
Metropolitan Water District
Optimum Seismic
Pinnacle Inc.
P.I.P.E. (PipeCareers)
SoCalGas
SoCalREN
Suffolk
unbuilt
Volta Charging
Volvo Construction Equipment & Services
** USGBC-LA reserves the right to use any photograph/video taken at MyGBCE, without the expressed written permission of those included within the photograph/video. USGBC-LA may use the photograph/video in publications or other media material produced, used, or contracted by USGBC-LA. By participating in MyGBCE or by failing to notify USGBC-LA in writing of your desire to not have your photograph used by USGBC-LA, you are agreeing to release, defend, hold harmless, and indemnify USGBC-LA from any and all claims involving the use of your picture or likeness.**