"My First Steps" 6-WEEK SERIES

Thursday, October 27, 2016 from 10:00 AM to 10:45 AM (EDT)
Event Details

Kids Dance 411 presents "My First Steps"
Early Childhood Development Program  
Learning Through Dance, Creative Movement, & Educational Play
Our highly-trained instructors shower children with affection as they guide your tiny tots in early social & motor skills through interactive songs, fun dance, tumbling techniques, building blocks, story books, & more!

Designed to fully engage kids attending frequently or even occasionally, this drop-in program is flexible enough for any parent and their unpredictable schedule.
Class Schedule 
Thur  10am  ~  Adventures In Movement 18mo-2yrs
Thur  11am  ~  Fairytale Ballet 3-4 yrs 
Session Dates (2016-17)
October 27th - November 1st, 2016
January 5th -March 9th, 2017
March 30th - June 1st, 2017

June 15th - Aug. 17th, 2017
Pricing
Audit /drop-in to a class for $25 ea.  Click here
Buy an entire cycle of 6 classes for $120.  Purchase above.
Starting in 2017 Buy an entire Cycle of 10 week classes for $200 
Adventures In Movement 18 mo-2 yrs (Thur 10 am)
This class incorporates balance, dance, tumbling, and agility skills. Children will develop a love of physical activity and a sense of pride as they cross new milestones.  Additional fine and gross motor skills are developed during this stage include kicking a ball, building a block tower, rolling, jumping & walking up stairs.  There structured play that allows students to be creative while learning boundaries. The music incorporates words use that helps the little ones engage in the appropriate activities. Additional activities include while learning how to stand in line, understanding special awareness, how to wait their turn, coordination, social skills, discipline and gain overall confidence!  Students are encouraged to wear dance uniform provided at studio.  Classes are 45 min.
Boys:  Dance 411 T-Shirt & Shorts
Girls:  Dance 411 Leotard

Fairytale Ballet 3-4 yrs (Thur 11 am)
In this magical little class, the children enjoy more of the creative elements of dance and movement. Classes are themed with traditional fairytales and storybook character. The children will engage in creative movement, sing along activities, read a story and dance it out in character using ballet technique and elements of drama. They will perform in front of each other, which helps with confidence and self-esteem.  On hand costumes assist in the magic each week! Classes are 45 min.
Boys:  Dance 411 T-Shirt & Shorts
Girls:  Dance 411 Leotard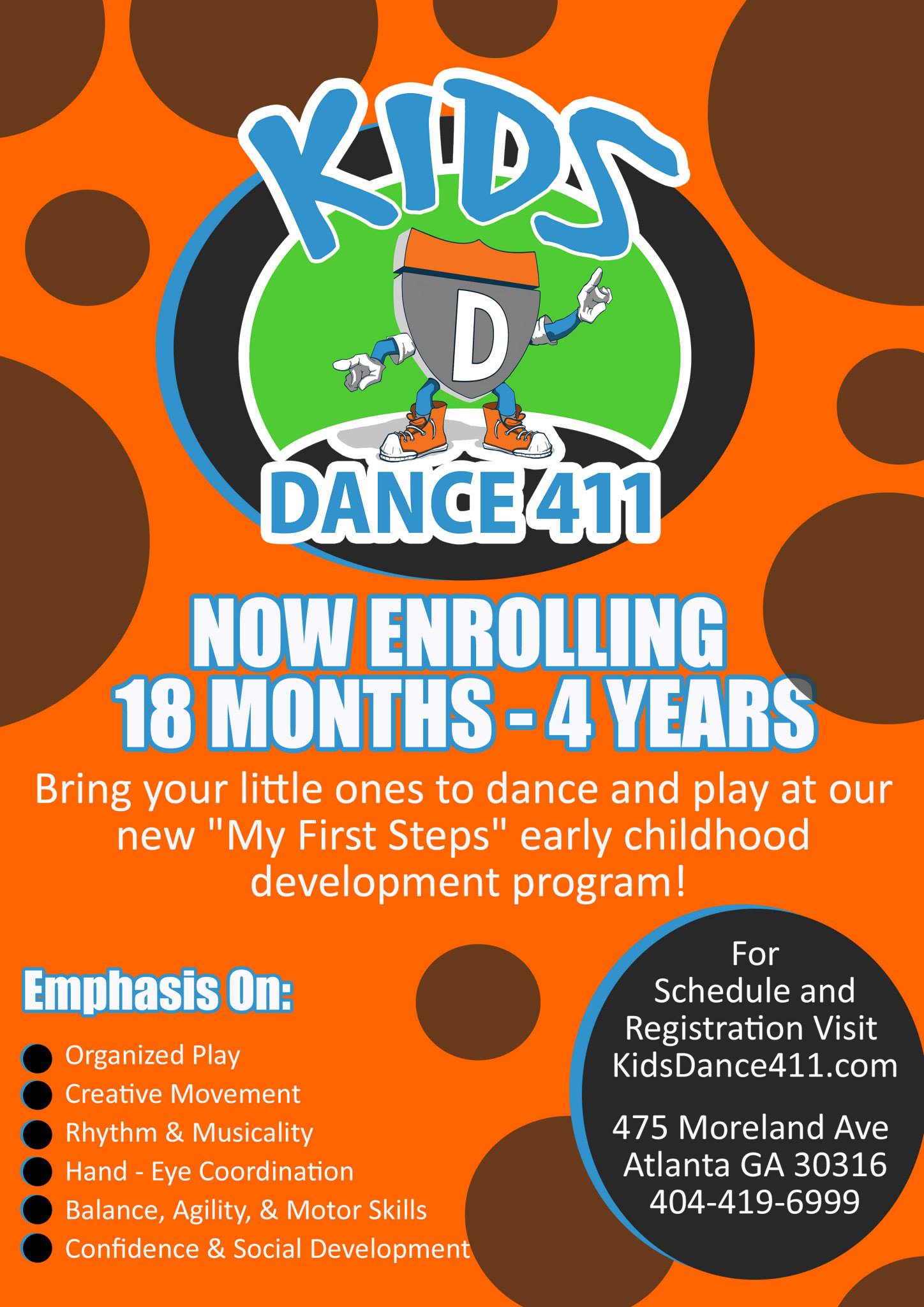 Organizer
Kids Dance 411
475 Moreland Avenue South East  Atlanta, GA 30316 www.KidsDance411.com
404-419-4999
"My First Steps" 6-WEEK SERIES