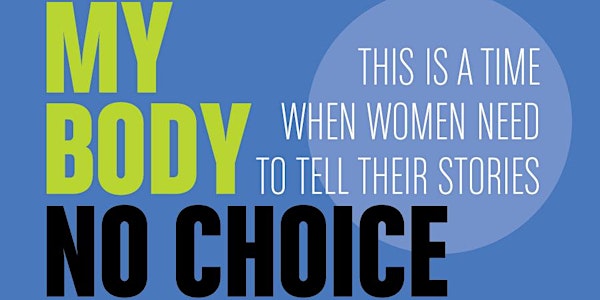 My Body No Choice
What Does Bodily Autonomy Mean? Eight of America's most exciting female playwrights share what choice means to them.
When and where
Location
Black Box Theatre at Edmonds College 20310 68th Avenue West Lynnwood, WA 98036
About this event
My Body No Choice
In June 2022, reproductive rights took a giant leap backwards when the U.S. Supreme Court overturned Roe v. Wade. In the United States, we can drive when we turn 16, and vote when we turn 18. But we no longer have the bodily autonomy to make the choices that will impact us the most.
In My Body No Choice, eight of America's most exciting female playwrights share what choice means to them, through the telling of fiction and non-fiction stories rooted in personal experience; theirs or a friend's. Because this is a time when women need to tell their stories.
My Body No Choice is a commission of Arena Stage in Washington, D.C. This reading is presented in coordination with a full production at Arena that will be Molly Smith's final production as the company's Artistic Director. Monologues by Lee Cataluna, Fatima Dyfan, Lisa Loomer, Dael Orlandersmith, Sarah Ruhl, Mary Hall Surface, V (formerly Eve Ensler), and "Anonymous"
No admission fee. Reservations Required.
This performance is sponsored by Black Box Theatre at Edmonds College and Ballyhoo Theater.
The Black Box Theatre on the Edmonds College campus is a theater space designed to enhance arts, culture, and civic engagement at the College and in Snohomish County. The Black Box Theatre proudly supports local and independent artists of all values, cultures and genres; and provides students a supportive environment to creatively explore ideas. The Black Box Theatre is committed to continue the work related to becoming an anti-racist institution by increasing multicultural competencies and applying equitable principles in daily decision-making and policies, procedures and practices. The Black Box offers a diverse array of innovative and educational programs that spark imagination, foster dialog, build community and inspire action. The Black Box schedule, which varies every academic quarter, includes music recitals, dance and dramatic performances, improvisational comedy, thought-provoking lectures, films, discussions, and more.
Ballyhoo Theatre's purpose is to enrich, educate and entertain our community by providing a superior theatre experience, to provide education in the theatre arts to children and young adults, and to create a safe and inclusive environment. Ballyhoo Theatre's focus is education and inclusion. We celebrate people of every gender, sexual orientation, race, ethnicity, and ability. We strive, always, to address and maintain a space that works towards anti-racism and DEI (diversity, equity and inclusion) and acknowledges when we fall short. We work to create a safe and inclusive space for young performers to be seen and joyously accepted, and to explore, learn and thrive.