Description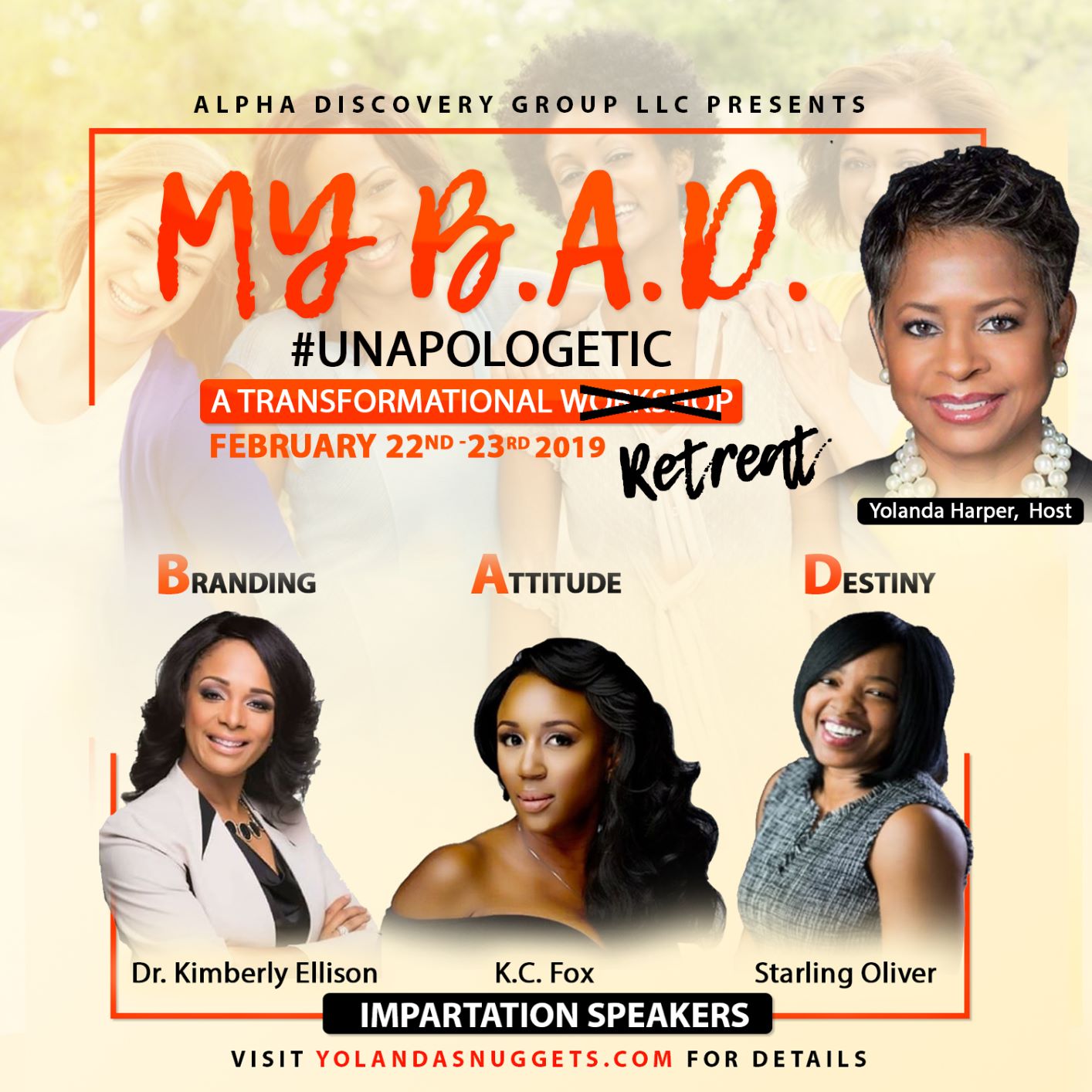 My B.A.D. #Unapologetic
A Transformational Retreat
I knew when I hosted the workshop in Feb 2018 that I wanted the attendees to have an opportunity to take a deeper self reflective exploration into their branding, attitude and destiny…with NO apologies. Thus, the transformational retreat was created. This overnight retreat is designed with that objective in mind.
3 Impartation Speakers + Bonus session
BRANDING with Dr. Kimberly Ellison

ATTITUDE with K.C. Foxx

DESTINY with Starling Oliver

#UNAPOLOGETIC with Yolanda Harper
Tentative Schedule
Friday, February 22nd
Arrivals and Lunch

Impartation Sessions

Dinner & Discussion

Saturday, February 23rd
Morning Prayer & Meditation

Breakfast

Impartation Session

Wrap Up and Departures
Q. What's included in the registration fee?
Overnight hotel lodging at the LeMeridien Dallas by the Galleria

https://www.marriott.com/hotels/hotel-rooms/dalmd-le-meridien-dallas-by-the-galleria/

All meals, snacks and beverages, but feel free to bring your own.

Retreat materials
Q. What type of woman would benefit most from this retreat?
One willing to be open, reflective, non-judgmental and ready to do the work

One able to effectively share and receive in a safe environment

One that needs a meaningful and impactful getaway with a good group of like minded women, that's not a shopping spree or pampering party

One that needs to identify and be honest about past experiences that have shaped the woman they are today
Q. What if I'm not comfortable sharing in a large group?
A. This will be a small and intimate setting with capacity for only 15 ladies.