Join us for a free virtual screening of My Ascension, a documentary to spread hope and fight suicide.
About this event
OVERVIEW
What: Documentary Screening of My Ascension
When: Thursday, May 27th @ 6:30 PM
Where: Virtual - a link will be sent to you prior to the screening
Hosted by: The JEM Foundation, Kid in the Corner, Arizona Psychiatric Society, Carly Fleege, Katey McPherson
Cost: FREE - donations to the JEM Foundation and Kid in the Corner are welcome but not necessary. Our goal is to raise awareness, spread hope, and fight suicide.
DETAILS
Join the JEM Foundation, Kid in the Corner, and the Arizona Psychiatric Society as they host a free documentary screening of My Ascension followed by a panel discussion about the film and the youth suicide epidemic.
About the Film:
A suicide attempt left 16-year-old varsity cheerleader, Emma Benoit, paralyzed, but propelled her on a mission to use her painful experience to help others find hope, and shine more light on the fact that 20 young people die every day by suicide in the in the United States. My Ascension is a feature length documentary that chronicles Emma's inspiring journey and quest to walk again, as she works to bring Hope Squad, a school-based suicide prevention program, to Louisiana. The film also highlights the stories of two remarkable young people who tragically did not survive their attempts, and we learn first-hand from their families, friends, school officials and suicide prevention experts about the devastating effects of suicide and what can be done to prevent it.
You can learn more about Emma, Greg Dicharry (the filmmaker), and the documentary by visiting MyAscension.us.
Virtual Support Room
We recognize that the topic of suicide can be difficult, challenging, and bring up strong emotions. We want to foster a safe and supportive environment for our audience which is why we will have a virtual support room available during and immediately following the screening. A licensed professional counselor will monitor this room and provide support if needed.
Amanda Halamka, MC, CCTSI, NCC, ADHD-CCSP, LPC, PLLC
Hello! My name is Amanda Halamka and I am a licensed professional counselor (LPC). I decided to go back to school because I wanted to legally be able to help people change their lives. I have been a counselor for 6 years and I love every day of it. I am trauma certified, ADHD certified, nationally certified and am always learning how to help my clients more. I believe in awareness, perspective and mindfulness to help clients see where or how they can make changes. I am a direct client and I will always walk beside you in life. Life will always have ups and downs but learned to pivot and adjust along side life is part of our journeys.
We all have a story, it changes every day, AND we get to choose to embrace it and live life....
Post-Screening Q&A Panelists
Denise Denslow - Co-Founder, the JEM Foundation
Denise lost to her son to suicide and faced many obstacles getting her son Jake basic mental health care. Due to that struggle, Denise and her husband Ben created The JEM Foundation and the Arizona Coalition for Insurance Parity (ACIP). ACIP's focus was to enact state legislation to ensure that health insurance companies cannot discriminate between physical health and mental health. After a long, almost four-hear battle they were successful, and on March 3, 2020 Jake's Law was signed into law by Governor Doug Ducey. Her passion is to end the epidemic of suicide and educate the public about suicide prevention and awareness, provide individual and family support, and end the ignorance that many with mental illness face every day.
Francine Sumner - Founder, Kid in the Corner
Kid in the Corner is a grassroots organization started by Zach's family and friends shortly after he died by suicide. During his journey, Zach often said that although he was fighting so hard to conquer his mental illness, he felt alone, like nobody cared. None of the kids at school or youth groups or extracurricular clubs ever asked him where he had been after he'd been gone for weeks. No one inquired about how he was feeling or reached out with an offer to listen. It was as if mental illness had made Zach invisible. After a two week stint in the hospital, he felt deflated that he hadn't gotten even a single voicemail message. He believed he didn't matter. We firmly believe that we can change the story for other kids in the corner. We pledge to fulfill Zach's legacy by shining a light on mental illness through education, awareness, and contagious kindness. We will continue the work that Zach began - to help the kid in the corner, whomever they may be, by offering access to the best resources and information, consistent kindness campaigns, peer to peer outreach programs, and family and community support opportunities.
Katey McPherson - Educator & Youth Mental Health Advocate
Katey McPherson brings experience in school leadership, prevention, and organizational change with 25 years as a secondary school teacher, guidance counselor, and PK-12 school administrator. Katey's educational career focus is on student and teacher social-emotional needs and wellness, youth mental health initiatives, social justice, and digital citizenship/social media responsibility.
Dr. Jasleen Chhatwal - President, Arizona Psychiatric Society
Dr. Jasleen Chhatwal is the President of the Arizona Psychiatric Society and Chief Medical Officer of Sierra Tucson. Dr. Chhatwal is a board certified psychiatrist with experience treating complex mental health disorders in inpatient, outpatient and residential settings. Having experienced the loss of a loved one to suicide, she is committed to treatments that build resilience, increase connection and support suicide prevention efforts. Dr. Chhatwal is intentional in treating the whole person, using psychotherapy, allopathic, neuro-therapeutic and integrative, evidence-based treatments. She believes each individual has a unique, authentic story, and is grateful to all those who have entrusted her with their stories.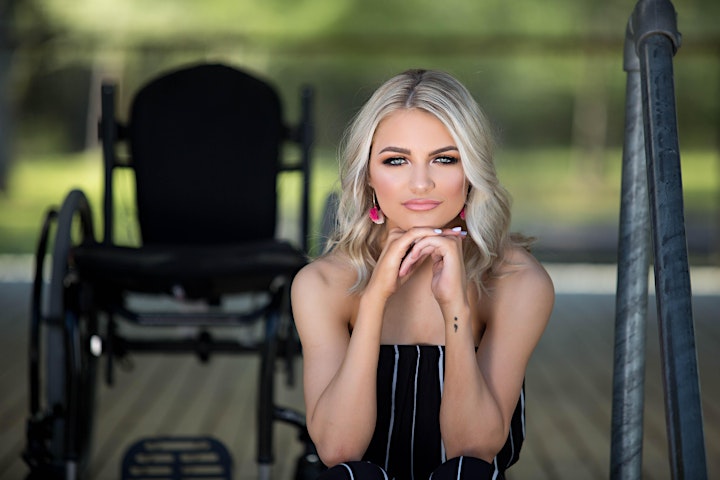 About Emma Benoit
Emma Benoit became extremely passionate about suicide prevention after surviving a suicide attempt in 2017, the summer before her senior year in high school. At the time, she was a popular varsity cheerleader with a supportive family and lots of friends, but on the inside, she was filled with depression and anxiety, and had never told a soul about it. Her attempt resulted in a spinal cord injury that left her paralyzed but helped her find faith and purpose; and propelled her on a mission to use her painful experience and miraculous recovery to help others.
A few months after her attempt, Emma started the website liferejuvenated.org and a blog to share her story and recovery journey, in an effort to help other teens who are struggling. In early 2018, Emma began working on a documentary film called My Ascension, which is scheduled for release in 2021, that chronicles her recovery journey and advocacy work, while addressing the youth suicide epidemic.
Emma serves as an Ambassador for LivingWorks, the world's leader in suicide prevention training and in December of 2020, Emma was a featured guest on Jada Pinkett Smith's hit show "Red Table Talk"; and she has also been featured on numerous other news programs and podcasts.
Emma is an uplifting speaker who has shared her powerful story and message with thousands of people at in person and virtual conferences and events including: LivingWorks and California Department of Education Youth Summit, National Federation of Families for Children's Mental Health Conference, LSU School of Social Work Conference, Arkansas Youth Mental Health Conference, Hope Rising Suicide Prevention Summit and the Hope Squad National Conference.
Emma is a 2018 graduate of Dutchtown High School, whose strength and motivation are rooted in her strong faith and supportive family.
If you are interested in booking Emma for your in person or virtual event please email team@MyAscension.us
About Greg Dicharry
My Ascension Director and Producer
Greg Dicharry is a filmmaker and mental health advocate who in 2019 received Mental Health America's top honor, the Clifford Beers Award, for his work in youth mental health. In 2008, Greg developed the MY LIFE program, which is one of the nation's leading programs for youth who experience mental health, substance use and/or foster care- related challenges.
In his spare time Greg produces and directs mental health related documentary films to reduce stigma and help others find recovery. In addition to My Ascension he co-directed and produced the 2018 Award winning film Suicide the Ripple Effect.
Greg was introduced to the world of mental health while living in Hollywood pursuing his dream of working in the entertainment industry. It was there he experienced his first manic episode while directing a music video and was hospitalized and diagnosed with co-occurring bipolar and substance use disorders. He spent the next 10 years in and out of denial about his diagnosis, which resulted in over 12 forced hospitalizations, a one-month stay in Orleans Parish Prison's psychiatric unit, two stays in drug rehabilitation and many hopeless depressive states.
In 2004 Greg became committed to recovery and completed a Certified Peer Support Training Program. Soon after was hired to oversee that same program and trained over 100 individuals to work as peer support specialist. He also started 12-step recovery groups at the Arizona State Mental Hospital Forensic Unit and at two juvenile detention centers in Arizona.
Greg and MY LIFE youth have made over 60 youth mental health related presentations to more than 7,000 people and have produced 25 MY Fest youth festivals in 5 states to reduce stigma and raise awareness about mental health and other issues facing youth. MY LIFE events have attracted over 60,000 attendees and reached thousands more via social media and news coverage from Fox, ABC, CBS, NBC affiliates, and numerous major radio networks.
In recognition of his work, Greg was awarded Mental Health America's top honor, the Clifford Beers Award in 2019, a Substance Abuse Mental Health Services Administration (SAMHSA) Voice Award, the Howie the Harp Award for Advocacy in the Arts Award, National Council Reintegration Award, National Federation of Families for Children's Mental Health Appreciation Award and Federation of Families for Central Florida – Exceptional Leadership Award.
If you or someone you know needs help - call the National Suicide Prevention Lifeline 1-800-273-8255 or text the Crisis Text Line - HELLO to 741741