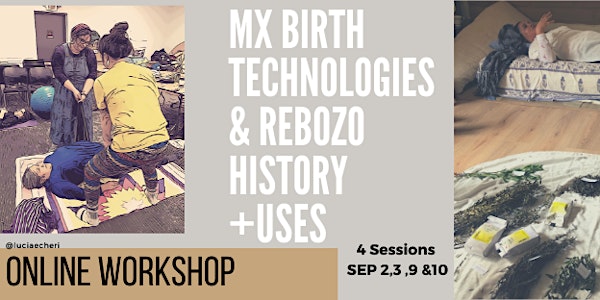 MX Birth Technologies & Rebozo history +uses
We will learn Indigenous Birth traditions and Rebozo history, to reconnect and reclaim our innate power during pregnancy, labor & postpartum
Refund Policy
Contact the organizer to request a refund.
Eventbrite's fee is nonrefundable.
About this event
** Please note, payment plans are available to anyone interested in this workshop! Just email EcheriWoods@gmail.com and we can figure out something that works for you. Space is limited, but I want this work to be accessible -Lucia Echeri **
We will learn the differences between what is a true indigenous rebozo vs. a colonial rebozo; which are clear and proven. We will learn the medicinal vs. spiritual use of the rebozo, as well as non-invasive techniques, and other techniques that require a broad knowledge of the body's anatomy. As well as your emotional and physiological state.
The training that will be provided will sensitize us all to use ancestral and traditional therapies with respect, honor and free of cultural appropriation:
PLEASE NOTE - this class is fluid and is meant to be driven by both the instructor and attendees. Below are some topics that may be addressed but it not a comprehensive list.*
IMPORTANT - All are welcome to this event, but it will be centering BIPOC communities. If this context doesn't feel like a good fit, then this workshop may not be for you.
Some of the topics that we will learn are:
Stories and contexts
Humanized and Intercultural Birth
Emotional health
Healing our birth story
Indigenous birth positions
Mind, soul and body empowerment
Frio y calor (cold & hot)
Postpartum care
Breath-work
Foods
Herbal Baths
Herbs and oils
Faja-Binding
Closings
Placenta management
Care for your baby
Rebozo Purhepecha
Lucia's Story and the story of her grandmother
Stories, and actual situation of the rebozo
Daily uses of the rebozo
Types of rebozos, how a backstrap loom works,
Cultural Appropriation and problems
The energy & symbolism behind the rebozo
Evidence: Intuition + Science
Self-care and client-uses of the rebozo: physical and mental
Use during Pregnancy & labor (non invasive techniques)
When not to use it
Use during postpartum and beyond
Closing the body: cerrada
IMPORTANT: Attending this workshop will also give you 20% off to buy a rebozo on our Shop, and 50% off for our upcoming in-person workshops where we'll practice hands-on techniques (dates and locations to be confirmed).
DATE AND TIME:
1st Session ******September 2th 7:00 pm -9:00pmCST ****
2st Session ******September 3th 12:00 pm-2:00pm CST ****
3st Session ******September 9th 7:00 pm -9:00pmCST ****
4st Session ******September 10th 12:00 pm-2:00pmCST ****
Duration; 2 hours per session (8 hours total) plus manual, & some Extra pre-recorded material
Cost-Sliding scale:
EARLY BIRD $150 to $ 300 before July 29th
REGULAR AFTER JULY 29TH $200 -$350
This is not a Workshop on Traditional Midwifery/ Doula certification.
My work centers the stories and wisdom of Indigenous People, if you are not an Indigenous, black person or true ally this works may not be a good fit for you.
To complete your registration please fill out the following Google form by clicking on the link below:
https://forms.gle/NjmwDAiMxfEbegXd8
One week before the start of the workshop you will be sent the link to be part of the Facebook group where we can get to know each other better and share information in that same week you will be sent a welcome email and the links to the zoom.
Thanks for your support!