Building Deep, Transformative, Multicultural Worship Gatherings
About this event
THE FINANCIAL INVESTMENT:
Early Bird Group Rate (5+): $135
Early Bird Individual Rate (register by August 13th): $149
Regular Group Rate (5+) (after August 13th): $175
Regular Conference Rate (after August 13th): $205
This is an engaging, inspirational, and practical cross-cultural learning event for leaders and influencers in faith communities.
"Clarity comes from engagement, not thought." - Marie Forleo
Do you find yourself stuck in your own head when it comes to knowing how to do multicultural ministry? Do you feel like you are the only one at your church who really wants to dive into creating a multicultural worshipping community? Are you unsure at times of how to actually create a diverse gathering? Well, it's time to get out of your head! Multicultural community doesn't just happen by thinking about it. It doesn't come to fruition only from your head, but it is realized with the action your hands and heart.
Come spend two days with us in Gaithersburg, Maryland to gain not just information, but transformation and connection. Spend time together with others from around the country who want to DO multicultural ministry, not just talk about it. Learn from practitioners in the field who will show you how to build the practice of diverse community and not simply the performance of it.
WHAT WILL YOU LEARN:
PRACTICES
Our focus is to create multicultural worshipping community and experience on-site. We won't just show you, but you will be a part of the community. You will experience diverse communion with others and embody a multicultural experience that you can go and share within your own context for the upcoming ministry year.
RESOURCES
You will leave with the resources and relational connections that you need to be a successful multicultural leader going into the next ministry year. Music, preaching tools, visuals, sounds, creative work, organizational leadership. We will show you all of it.
CONNECTIONS
Sometimes you just need to know that you are not alone. You need to know that you are not crazy, and that there are others in this work of diverse ministry who share the same heart as you. You will have opportunities to actually talk to, worship with, and learn from others who are leaning into the call of diverse ministry.
WHO IS IT FOR:
Individuals or Ministry Teams in Faith Communities looking to grow in diverse leadership competency and diverse ministry strategy.
Faith Leaders in Multicultural Communities
Faith Leaders who are building multicultural organizations (non-local church)
Faith Leaders who plan to plant multicultural churches, communities, or organizations
Faith Leaders who are transitioning from monocultural to multicolored or multicultural in work and ministry
Faith Leaders who are committed to do multicultural work
Faith Leaders who want to focus on this 1 skill, do it deeply, and celebrate their results
Pastors, Ministry Directors, Ministry Leaders (Volunteer and/or staff), Senior Org leaders, Managers, College Students, Faith-based business owners
Core Teaching Team
The MWLN's core teaching team is made up of local and global practitioners from a diversity of cultures and backgrounds who are in the trenches day in and day out, leading worship and pastoring in multicultural environments. They serve churches from small to large, and also lead para-church ministries and businesses. Together, they bring more than 50 years of experience in multicultural ministry and connection.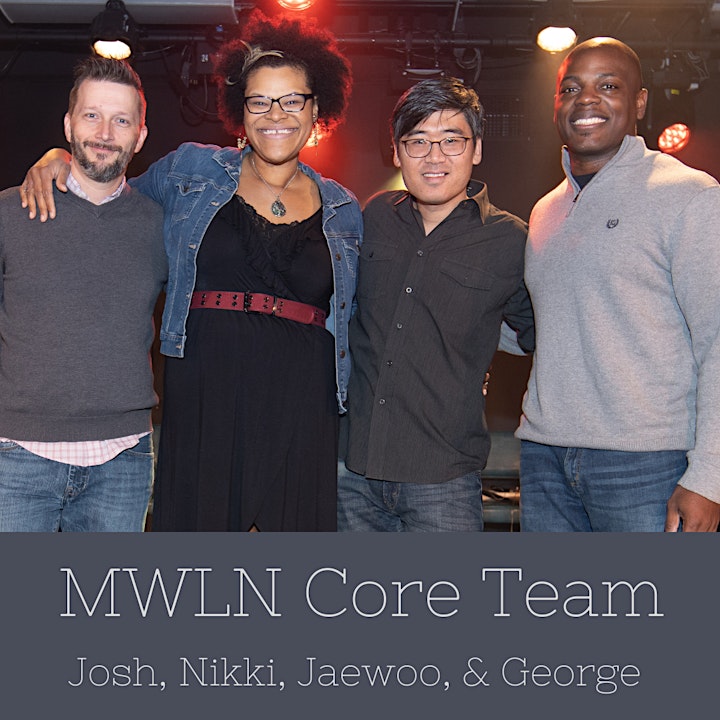 Nikki Lerner - Culture Coach, Artist, Speaker, Diversity Consultant, and host of the Culture Coach Podcast. Co-Author of Worship Together: In Your Church As In Heaven (Abingdon Press) - based in Columbia, MD
Josh Davis - Founder and Director of Proskuneo Ministries; Co-Author of Worship Together: In Your Church As In Heaven (Abingdon Press) - based in Clarkston, GA
Jaewoo Kim - Worship Leader, Strategist, PR/Development for Proskuneo Ministries; Author of Gladly Uncomfortable Worship - based in Clarkston, GA
George Hopkins - Cultural Historian; Lead Pastor of SoWeBo Community Church - based in Baltimore, MD
Organizer of MWLN Annual Gathering: The Art & Practice of Multicultural Community