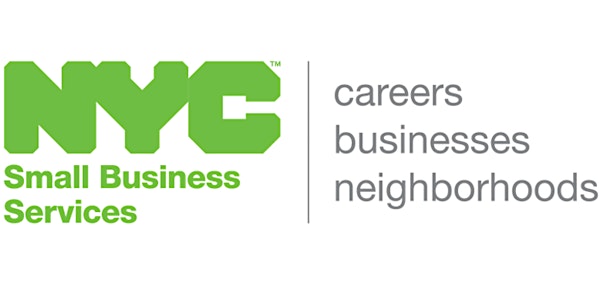 M/WBE Contract Legal Svcs: Legal Consultation Clinic (Ltd Appts) Oct 13
NYC MWBEs who find legal services to be cost-prohibitive - sign up for our free legal business consultation clinic to meet with an attorney.
About this event
Operating and growing a successful small business in the NYC area means making important decisions on a daily basis. The NYC Department of Small Business Services (SBS) understands that not only can legal matters and legal language be intimidating, but so can the costs of engaging legal counsel. Having some basic knowledge about applicable laws and legal situations can help you weigh pros and cons and guide you through those decisions, saving time and money and avoiding possible negative situations. Through SBS' M/WBE Contract Legal Services program, you can connect with attorneys who can provide you with that knowledge and initial advice through its free workshops/webinars and legal clinics.
SBS is providing FREE legal business consultation clinics for M/WBEs who find hiring legal counsel to be cost-prohibitive. At these clinics, accepted 30-minute appointments will allow you to bring a question about:
Contracts
Prime-Subcontractor Agreements
Lease Agreements
Joint Venture Agreements
Other Business-related Legal Documents
Questions About Specific Business Issues Requiring Legal Counsel
This clinic will take place virtually on Thursday, October 13, 2022 from 1:30 – 5:15pm (EST). You will need to pre-register on this site to identify preferred time slots as well as inform us of your specific legal issue/question and if it will require reviewing of a document by the attorney prior to the clinic appointment. Via Zoom and breakout rooms, you will be able to meet confidentially with an experienced attorney for up to 30 minutes to discuss your concern and/or question related to your business. You will not be accepted for an appointment if your request will seemingly require more than 30 minutes to address - thus we strongly recommend that you narrow your issue to ONE question. Available slots are limited and this pre-registration will end on October 6 to allow for pre-registration/application review by the attorneys and determination of acceptable appointments.
Once you complete the pre-registration here, please also EMAIL any document related to your business issue to mwbecapbldg@sbs.nyc.gov. Make sure you include your name and company name in the email, so that it can be matched to your pre-registration from this site. The participating attorneys will review all submissions in order to determine acceptable business concerns for these clinic appointments. There is very limited space available. Those selected for appointments at this October Clinic will be contacted separately to confirm your appointment time. Those not selected for this Clinic will be eligible to pre-register for our next Clinic in December.
PLEASE NOTE: Closer to the date of the event, you will receive a separate email confirming if you have been accepted for the clinic. The confirmation will also contain instructions, the Zoom registration link that will allow you to access the clinic, and the time slot for your appointment. This will be sent to the email address you supply on this registration. Please use the email address that you used on this Event Brite registration for the Zoom registration as well.