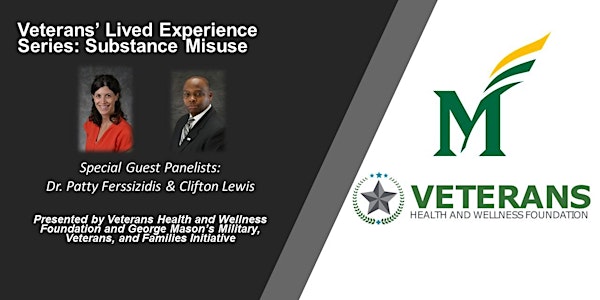 MVFI/VHWF Veterans' Lived Experience Series: Substance Misuse
Presented by Veterans Health and Wellness Foundation and GMU Military, Veterans, & Families Initiative
About this event
Veterans struggle with alcohol and drug use problems at higher rates than non-veterans. Some of these struggles are linked with higher rates of PTSD and other disorders. In this installment of the "Veterans' Lived Experience" webinar series, Mason's MVFI and the Veterans Health and Wellness Foundation are partnering to bring you one veteran's story of struggle with substance misuse, as well as resources and help from Dr. Patti Ferssizidis, a licensed clinical psychologist with expertise in substance use disorders prevention and treatment.
Once registration is complete, you will receive an automatic confirmation email with the zoom log in. We encourage you to save it to your calendar, but reminder emails will go out two days prior to the event and an hour prior.
This series will feature panelists, Dr. Patty Ferssizidis and Clifton Lewis.
Dr. Ferssizidis is the Assistant Director for ADAPT, A Division for Advancing Prevention and Treatment, at the Center for Drug Policy and Prevention where she currently leads workforce development and quality improvement initiatives. Dr. Ferssizidis is a licensed clinical psychologist with clinical and programmatic expertise in working across healthcare and community systems to promote and support evidence-based substance use and mental health programming.
Clifton Lewis is the Executive Director for U.S.VETS — Washington D.C. Mr. Lewis has more than 16 years of experience in the social service/nonprofit field assisting vulnerable populations. His roles include serving as an integral member of The Community Partnership team as a Housing Subsidy Coordinator; a supervisory, clinical and assessment role with the Family Tree Healthy Families Program and a Program Coordinator with the Young Fathers Responsible Fathers Program. Mr. Lewis holds a Bachelor of Arts Degree in Tele-Communications from Morgan State University.
For questions on the webinar, please contact Keith Renshaw (krenshaw@gmu.edu).
For issues with registration, access to the event etc, please contact Lesley Irminger (lirminge@gmu.edu).
Please note, this event will be recorded for the sponsoring organizations website. We encourage interaction, but do note if your camera is on your may be recorded. We ask that all participants please fill out THIS Consent Form. Thanks for your support in sharing our important series with others who may benefit from our discussion.