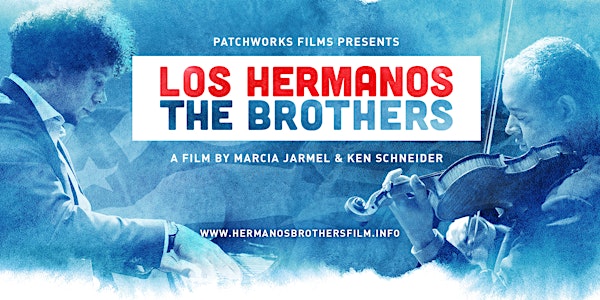 MVFF - Private Zoom conversation with directors and John Santos
Conversation with John Santos and film directors Marcia Jarmel & Ken Schneider. Q & A to follow.
About this event
Watch LOS HERMANOS/THE BROTHERS at the Mill Valley Film Festival and join directors Marcia Jarmel & Ken Schneider of PatchWorks Films in a private Live Zoom conversation with Latin Jazz maestro John Santos. Q & A to follow.
In LOS HERMANOS/THE BROTHERS virtuoso Afro-Cuban-born brothers—violinist Ilmar and pianist Aldo—live on opposite sides of a geopolitical chasm a half-century wide. Tracking their parallel lives in New York and Havana, their poignant reunion, and their momentous first performances together, the film offers a nuanced, often startling view of estranged nations through the lens of music and family.
Learn more about the film and music at : www.hermanosbrothersfilm.info
Purchase Mill Valley Festival tickets: http://bit.ly/MVFF-LHTB-tix
Suggested watch time: Saturday, October 10, 7 pm. Zoom conversation starts at 8:30 pm.
RSVP to join the conversation here: https://lhtb-mvff-convo.eventbrite.com (We will send a Zoom link the day before the event.)
Questions? contact us at info@patchworksfilms.net.
We hope to see you there!
About John Santos
Far more than a master percussionist, internationally renowned, multi-Grammy-nominated San Francisco native John Santos is a prolific Afro-Latin bandleader, composer, teacher, writer, producer, and cultural activist. A 2012 San Francisco Latino Heritage Arts Awardee, he's been at the center of the Bay Area's music scene for nearly 50 years. He has worked with acknowledged masters including Cachao, Dizzy Gillespie, Tito Puente, Bebo Valdés, Max Roach, Eddie Palmieri, Dee Dee Bridgewater and Omar Sosa. He has produced a steady stream of critically-acclaimed, peer-respected recordings on his Machete Records label since 1984 and has travelled the world as a teacher and lecturer since the mid-eighties. He served on the Smithsonian Institution's Latin Jazz Advisory Committee and is an Advisory Board member of Oaktown Jazz (Oakland, CA), Living Jazz (Oakland, CA), and the Afro-Latin Jazz Alliance (NY). He is also a Trustee of SFJAZZ. Mr. Santos is on the faculty of San Francisco State University, the College of San Mateo and the California Jazz Conservatory. He has taught at Jazz Camp West since 1986. His new CD (August 2020), Art of the Descarga, is on the prestigious Smithsonian/Folkways label. November 12th, 2006 was proclaimed John Santos Day in San Francisco by Mayoral proclamation.
www.johnsantos.com | fokways.si.edu
PatchWorks Films makes heart-centered documentaries raising nuanced questions about the issues of our times. Their award-winning films have been broadcast around the world, and screened at museums, festivals, and in schools, organizations, and community settings. For more information, www.patchworksfilms.net.