Muzzle Up! Dispelling the stigma of dogs wearing muzzles
Actions and Detail Panel
Muzzle Up! Dispelling the stigma of dogs wearing muzzles
Sun, July 24, 2016, 10:00 AM – 4:00 PM PDT
Description
In the world of dog behavior, one of the most essential pieces of safety equipment we have is the muzzle. Unfortunately, their appearance and the judgments associated with them prevent their usage, sometimes with tragic consequences. Dogs wear muzzles for a plethora of reasons.

This workshop will cover the how-to's of muzzle training, including working through common trouble spots, as well as incorporating tricks, games and activities so that dogs feel comfortable and happy wearing a muzzle. We'll also discuss how to tailor your dog's muzzle training for specific scenarios like the veterinary office and leash walks.

Imagine a fearful dog gaining confidence and weaving around agility poles while wearing a muzzle. Or a shy dog running toward the muzzle from across the room in order to place her snout in the basket, eagerly anticipating her reward. These aren't just pipe dreams; training makes them possible for dogs of varied breeds, backgrounds and temperaments. As dog owners, want our dogs to trust us. We want our dogs to feel comfortable in our presence. We don't want our dogs to be scared of us. When done the proper way, muzzle training can increase the trust in you and your dog's relationship, because in every dog's training plan, trust is not only the foundation, it's the terminal behavior.

*Trainer CEUs Available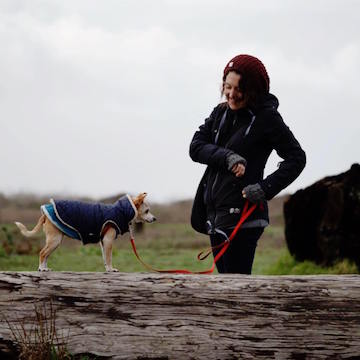 MAUREEN BACKMAN MS, CTC, PCT-A is the owner of Mutt About Town, which offers private dog training services in the San Francisco Bay Area, specializing in work with fearful dogs. Maureen's particular strength is combining her knowledge of counselling along with her studies in animal learning and behavior to help humans understand how to communicate and work with their dogs. She is strongly committed to using only force-free training methods.

Maureen is the founding director of The Muzzle Up! Project. Through partnering with veterinarians, businesses, rescues and trainers, not only in San Francisco but across the world, Muzzle Up! aims to educate the public about dog behavior, safety, and why we don't need to fear muzzles.

She graduated with honors from Jean Donaldson's prestigious Academy for Dog Trainers, is certified in training by the Pet Professional Guild, and has a master's degree in rehabilitation psychology from the University of Wisconsin-Madison.

https://muzzleupproject.com/
http://muttabouttown.com/
FAQs
Where can I contact the organizer with any questions?
Jen Walker
Programs & Development Manager
Santa Cruz County Animal Shelter
2200 7th Ave, Santa Cruz, CA 95062
831-454-7235
www.scanimalshelter.org

Maureen Backman, MS CTC PCT-A
Mutt About Town, The Muzzle Up! Project
muttabouttownsf@gmail.com
415-294-1356

Can I bring my dog?

Service dogs are welcome.

I'm a trainer. Will I be able to receive CEUs for this event?
Yes. Details available closer to event.