Description
We are thrilled to announce a new edition of MUV Talks coming in July! This time it will be dedicated to our 'Leaders of tomorrow'.
As in every MUV Talks, we'll be inspired by seven speakers PLUS we'll have drinks, pizza and great networking.
MUV Talks is a non-profit event. It consists of seven talks for seven minutes, from a diverse set of people with different experiences and points of view (from researchers and scientists to entrepreneurs and investors). It's point of difference is the energetic and friendly buzz that originates from this style, and our unique approach to networking which welcomes people to break out of their bubble in a non-confronting way - perfect for Kiwis who aren't always the best at that.
Our goal is to create an environment where passionate people can gather together to get things done; to learn, network and share knowledge.
Introducing our awesome speakers!
Meet Rachel Ji

Rachel Ji is an internationally acclaimed young entrepreneur from New Zealand. Her company youthxco is aimed to empower the youth by spreading positivity as well as donating a portion of profits to organizations which further support youth. At 17 she has been featured in The Huffington Post, Success Magazine and various national press; also spoken in front of hundreds of entrepreneurs at the New Zealand's Entrepreneur's Festival on her mission to impact and inspire. Furthermore, she sits on the advisory board for hatchpad and contributes for large publications such as ThriveGlobal, influencive, business.com, stuff.co.nz to name a few, writing about youth entrepreneurship, marketing and more.
She is passionate about changing the world, and serves as a catalyst for change within young people by adding value in all shapes and forms. Her business thrivo.nz greatly stresses the importance of Gen Z, and aims to helps businesses market to better engage and appeal to the most unique, entrepreneurial and diverse generation of consumers
Meet Adriana Avendaño Christie

Adriana Avendaño Christie is a newly elected member into Auckland Council and a former Design Thinking lecturer at AUT - Auckland University of Technology. For the past three years she has been co-running The Pallet Kingdom, a social enterprise that mitigate pallets from going into landfill through creating art and furniture. Adriana believes its time for young people to stand up and voice out what is needed in our world, the decisions we make in the present affects our future.
Meet Jacques Cantin

I'm a 17 year old student who has taken the leap into the startup and innovation space. Starting various little companies and projects over the past few years - including product development, services and events - all essentially revolving around the betterment of others. Most recently developing the Lifeskills forum (as a part of the Young Innovators Collective) and LaceBox. I've always been passionate and driven for innovation in any work I do, and this has translated into how I have taken on many leadership challenges throughout my life - and hopefully far into the future!

Meet Hannah Lees

Hannah Lees is an alumna of the Teach First NZ leadership development programme. She now works with the organisation to help grow a community dedicated to tackling educational inequality in Aotearoa. After teaching English in secondary schools, Hannah is now undertaking postgraduate research in decolonising education settings. She is also an advocate for youth citizenship and is developing civics education workshops for schools serving lower decile communities.
Meet Brothers In Arms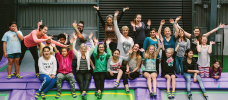 Brothers in Arms has been serving the young people of Auckland for ten years with over 400 volunteer mentors. BIA have mentors with diverse ages, backgrounds and cultures— and all have a passion for Aotearoa's young people but more simply put, they are people who are willing to be a positive adult in a young person's life. They work with children aged 7-15, both male and female from around Auckland.
The idea is simple. BIA facilitates the formation of real relationships between volunteers and young people where they are deeply needed. These relationships build over time as each member safely grows to know each other. They express continuity through everyday shared experiences, and a closeness is formed as they observe one another and come to wisely trust the others values. BIA calls these 'mentoring relationships'.
The maori concept of tuakana-teina sums us up pretty well. An older or more expert tuakana (brother, sister or cousin) helps and guides a younger or less expert teina (originally a younger sibling or cousin of the same gender). In a learning environment that recognises the value of both parties, the tuakana–teina roles may be reversed at any time.

Meet Zoe Timbrell

Zoe is the Co-founder and General Manager of OMGTech! A Charity set up 2 years ago to help connect all NZ kids to the technologies that will shape their futures. Through her work she enables our most disadvantaged communities to play and explore with future technologies.
Over the past 2 years OMGTech! has had over 4000 students participate in one of there STEAM based programmes.
OMGTech! is on a mission to support our communities to understand how technology will be a part of all our futures and empower us to be creators instead of consumers.

Meet Liss Wheeler

Passionate about mental health, sexual health and providing a better future for the young people in our society. I've done volunteer work for Youthline, been an advocate for peer sexuality support in high school and gotten involved with pretty much any opportunity I could find that involved the aforementioned areas. Most recently I've been working on a Co-Design project to create a new mental health service which enhances the idea of youth supporting youth. The final prototype of this service is called 'Paired Up'. As you can see I'm incredibly passionate about helping youth; its inspiring and you never know where its going to take you.
Meet our awesome MC: Colart Miles

Colart Miles is a Co-Founder of Velox Innovation. He is a well known innovation coach and a specialist in accelerated delivery practices such as Agile, Kanban and Lean. Colart also plays a central role in the local startup ecosystem including Startup Weekend, Flux Accelerator and Lightning Lab. Colart is pursuing his passion for helping kiwi organizations to speed up innovation and to find new futures.

Colart's approach to life is intense, insightful, compassionate and highly productive.
Thank you to our amazing partners!

--
Refund Policy: No refunds will be granted within 5 days of the event or if food and drink have already been ordered. Apologies for any inconvenience this may cause.
Media Permissions: By attending this public event, you grant MUV | Events for Entrepreneurs permission to photograph, video record, and audio record the event and to use these photos, videos and recordings in our website and Social Media channels.