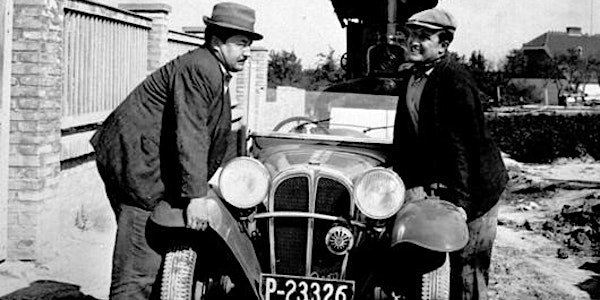 Mutual Inspirations Festival Launch - Film and Beer Night!
Join us for the launch of the Mutual Inspirations Festival as we bring you the comedy Heave-Ho! while enjoying a delicious brew.
When and where
Location
Embassy of Czechia 3900 Spring of Freedom Street Northwest Washington, D.C., DC 20008
About this event
The Embassy of the Czech Republic will launch the Mutual Inspirations Festival, highlighting actors / writers Jan Werich and Jiří Voskovec, with a film and beer night featuring the duo's slapstick comedy Heave-Ho! (Hej -rup!). Werich plays Jakub Simonides, a factory owner duped into losing his company to his competitor Mr. Worst of the Canned Milk-Trust. Voskovec plays Filip, a laid off factory worker. Join us for a cold brew while watching one of the most famous comic duo's of the twentieth century!
Heave-Ho | Hej-rup!
Director: Martin Frič, 1934, 100 min., Czech w/English subtitles
In the film, Jakub hires Filip as his assistant, not realizing that he has already lost his company. The two eventually meet up with Marta, a barmaid and spirited leader. When Jakub inherits an abandoned building, Marta encourages him to employ the masses. The building becomes a collective dairy that just might become Mr. Worsts' worst nightmare. The film includes the song "Heave-Ho! We Want to Live!" written by Jaroslav Ježek that becomes almost a mantra for the film. About the Director: Martin Frič directed over 100 films from 1929-1968. Some of his most notable films include Christian (Kristián, 1939), Eva Fools Around (Eva tropí hlouposti, 1939), The Blue Star Hotel (Hotel Modrá hvěsda, 1941), The Poacher's Foster Daughter or the Noble Millionaire (Pytlákova schovanka aneb Šlechetný milionář, 1949), among others.
About the Festival: The Mutual Inspirations Festival (MIF) is an annual initiative spearheaded by the Embassy of the Czech Republic, focusing on the mutual inspirations between Czech and American cultures and featuring each year an extraordinary Czech personality who has greatly influenced and inspired others through his or her work. Now in its 13th year, the Mutual Inspirations Festival 2022 celebrates the lives of writers/actors Jiŕí Voskovec and Jan Werich.
Running from September – November 2022, the festival brings inspiring events to the Washington, DC community and beyond.
For more information about the festival, please visit www.mutualinspirations.org.
Event Details:
Date/Time: Sept. 6, 2022, at 6 pm
Venue: Embassy of the Czech Republic
3900 Spring of Freedom Street, NW
Washington, DC 20008
RSVP required
Embassy Policy: By registering, you are acknowledging that an inherent risk of exposure to COVID-19 exists by attending this event on the premises of the Embassy of the Czech Republic. You and any family members and guests voluntarily assume all risks related to exposure to COVID-19 and agree not to hold the Ministry of Foreign Affairs of the Czech Republic and the Embassy of the Czech Republic or any of their diplomats, staff, contractors, affiliates, employees, agents, or volunteers liable for any illness, injury, or death. The Embassy of the Czech Republic disclaims and excludes any and all liability for any loss, injury, or damage, alleged to have been suffered by or as a result of or otherwise on its premises.
Masks are recommended. At its discretion, the Embassy may take your temperature upon arrival. No large bags are allowed. Small purses may be checked as you pass through security for entrance. RSVP confirmation and photo ID required.