Description
5K / 10K / 50K / Half Marathon / Marathon Trail Run
Start Times:
5:30 am - 50K & Full Marathon
7:00 am - Half Marathon
8:00 am - 5K & 10K
Help save a great American icon, the wild horses of America, the American Mustang. Mowdy Ranch is the second ecotourism ranch established in the United States by the Bureau of Land Management of the U.S. Department of the Interior to help save the great American Mustang by promoting awareness and encouraging support and adoption of these beautiful animals. Mowdy Ranch is proud to announce the Second annual Mowdy Ranch Mustang Run, a trail run through thousands of acres of beautiful southeastern Oklahoma hills. A race for all fitness levels will be offered. Whether you are a beginner walker or a serious runner who competes for personal bests, we have a race for you. Each registered participant will receive:

• The Mustang Run Finisher's Medal
• Commemorative Mowdy Ranch Mustang Run T-shirt and Bandanna Map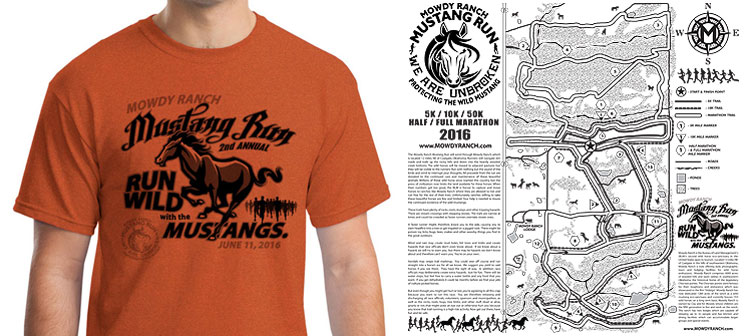 • Bandanna printed with the Race Course Map
• Chip-Timed Race for Runners and Those Tracking Personal Goals
• Free Downloadable Race Photos
• Award Divisions for Runners and Walkers
• Hydration Stations with Water/Sports Drinks & Food Along the Course
• Free Food & Drink at Finish Line
• Spaghetti Dinner Night before Race for all Contestans
• Free parking & camping spots
• Last but not Least, a Truly Inspirational and Unforgettable Experience

The Mustang Run will wind through Mowdy Ranch, which is located 10 miles NE of Coalgate, Oklahoma. Runners will navigate well marked trails up the rocky hills and down into the heavily wooded creek bottoms. The most of the wild horses will be moved to adjacent pastures but some of the horses are reluctant to move and will be on the race course. All of the horses will be visible to the runners so bring your camera. We offer you a chance to run among nature with nothing but the sound of the birds and wind to interrupt your thoughts.

All proceeds from the run are donated to the BLM for the continued care and maintenance of these beautiful animals. Millions of these wild horse once roamed this country, but the press of civilization now limits the land available for these horses. When their numbers get too great, the BLM is forced to capture and move horses to ranches like Mowdy Ranch where they are allowed to live and run free for the rest of their lives. Unfortunately ranches willing to take these beautiful horses are few and limited. Your help is needed to insure the continued existence of the wild mustangs. Thanks for your help. We hope to see you at the ranch.

NOTICE:
Chip Timing will END at 3:00pm but the finish line
will remain open until the last runner crosses.

ON RACE DAY you can Register with CASH ONLY.
PACKET PICKUP: Friday 5-9ish at Lodge, Saturday 4:30-7:45am at START LINE.

Registration cut off is Monday June 6th.
TO GUARANTEE SHIRT, MEDAL & BANDANNA
YOU MUST REGISTER by MAY 28th.
Any extra shirts, medals or bandannas will be given out on a first come basis.
Everyone will still get a FREE Sandwich and Beer at the end of the race.
THANK YOU
MOWDY RANCH MUSTANGS
WAIVER, RELEASE, DISCLAIMER
IF YOU ARE LOOKING AT THIS WAIVER, YOU ARE CONSIDERING THE SECOND ANNUAL MUSTANG RUN.
RULE NUMBER 1 – IF YOU'RE A WUSS - JUST STAY HOME!

Wherefore the aforementioned party of the first part in consideration of the ….enough of that crap, let's talk straight. If you love to run on trails, then you'll love our trail run. But like any trail our trails have plenty of rocks, roots, stumps and other tripping hazards. There are stream crossings with stepping-stones and narrow bridges where you might slip or fall down. The trail is narrow at times and could be crowded as faster runners overtake slower ones. A faster runner might, therefore, knock you to the side, causing you to slam headfirst into a tree or get impaled on a jagged root. (Typical trail runner stuff really.) On the trail you might encounter poison ivy, ticks, bugs, bees, snakes and other creepy crawlers that may not want to share the great outdoors with you. (Wipe with the wrong leaf and you'll take the "monkey butt" to a new level.) Wind and rain may create mud holes, fell trees and limbs and create hazards that race officials don't even know about, so watch out, you're on your own. Vandals may swipe trail markings. If you get lost, don't bitch, we won't charge you for the extra miles. You could veer off course and run straight into a horse's ass for all we know. We suggest you yield to said horses if you see them, they have the right of way. There will be water stops, but feel free to carry a water bottle and any food that you want. If you get lost and dehydrated, it could be months before we find your pile of vulture-picked bones. (You gotta love this disclaimer!)

But even though you might get hurt or lost, you're agreeing to all this crap because you want to run this race. And by signing this humorous but well written document you are therefore releasing and discharging the land owners, Mowdy Ranch LLC and Clay and Kit Mowdy, and all race officials, volunteers, sponsors and municipalities, as well as the rocks, roots, bugs, tree limbs, and other stuff, dead or alive, gnarly or not, that might poke an eye out or otherwise hurt you because you know that trail running is a high-risk activity. When you agree to run, you are certifying that you are physically fit, responsible for your own actions and have sufficiently trained for an event of this nature. In other words, you won't sue any of the people or groups responsible for this race if you get hurt. Let's leave the lawyers out of this. We know they're a part of life, so is pooping, but not on our run, OK? And if you are under 18, then your parent or guardian signs and agrees to this for you. OK, we are almost done but this is the important part. This trail has known hazards that we have warned you about but there may also be unknown hazards of which we may not know and therefore can't warn you about. Get it? So be careful, you are accepting all these risks; known and unknown. We wrote all this in plain English instead of Shakespearean legalese – so you have no excuses. And last, if you're a whiner, please refer to Rule Number 1.
Visit our website at: www.MOWDYRANCH.comContact Mowdy Ranch for more information at 580.927.5093 or email mustangs@mowdyranch.com