Description
GRAB A MUSTACHE AND JOIN THE DASH
The Start/Finish line will be at the Langdale Farmers Market Shed and run on the Rails to Trails. An exact route will be posted shortly. There will be a 5K and a 1 Mile Fun Run. Registration will include a Mustache Dash event shirt.* This is a rain or shine event and refunds will not be issued.
Packet pickup will be in the lobby area of the Valley Sportsplex (130 Sportsplex Drive, Valley, AL 36854) from 3:30-8pm et on Friday, January 13. The registration packet will include your event shirt, race number and lots of other goodies. It is best for you to pick it up on Friday so that you will already have your race number ready to go for Saturday! However, if you are unable, you can also pick up your packet Saturday morning starting at 8am et at the Langdale Farmers Market Shed, near where the race will begin.

Please contact Amy Nolen at omysue@gmail.com if you are interested in sponsoring the event!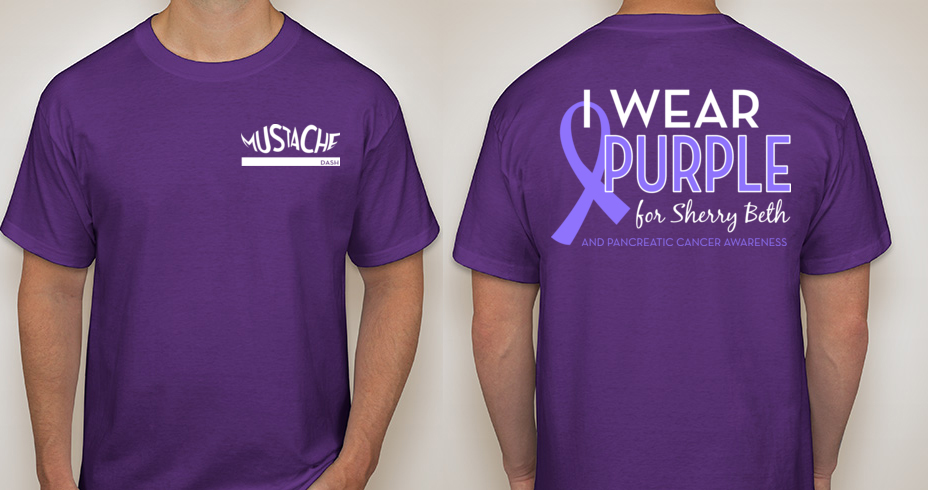 If you would prefer, download and mail in the registration forms!
Sponsorship Opportunities are also available!

5K Race map: https://www.raceentry.com/maps/user/view/25330
1 Mile Fun Run Map: https://www.raceentry.com/maps/user/view/25331
Updated: January 5, 2016
*Sizes only guaranteed if you register by Dec. 16, 2016
FAQs
Do I need to be an experienced runner to do the 5K?
No way! The Mustache Dash event is all about a fun day with friends and family. You can run, walk, crawl, or cartwheel if you wish whether you do the 5K or the Fun Run.
What is included with my registration?
Each registered participant will receive a swag bag complete with a custom event t-shirt, a purple ribbon temporary tattoo, mustache chapstick and more goodies provided by community sponsors! All runners will be emailed about 10 days prior to the race with information on date and location for packet pickup!
Is The Mustache Dash a charity?
The Mustache Dash is a charity event benefiting Sherry Beth Clark, a pancreatic cancer patient. We are not a registered non-profit organization. For more information about Sherry, visit https://www.facebook.com/groups/PrayersAndSharesForSherryBeth/
Can children participate in the 5K?
On one condition, if you are prepared to be one of the coolest parents on the planet! If they can cover (running, jogging, walking, or strolling) the three miles of The Mustache Dash course, they can absolutely participate in 5K! If a shorter 1 miles course is better, the Fun Run is the option for you!
Small children being pushed in a stroller or pulled in a wagon do not need to register. Any participant who will be on foot on the course needs to register and receive a race number!
Can I run with my dog/cat/turtle?
Animals on leashes are welcome to participate. As per city ordinance, dogs must remain on a leash at all times. Don't forget to bring your own baggies to clean up after your pet along the trail.
How do I get my swag bag?
Details on when and where the packet pick up will be are posted to the city event page during the week of the race as well as emailed to all registrants approximately 10 days before the event. We tentatively plan for it to be on Friday, January 13.
Can someone else pick up my packet for me?
You bet! As long as you send them with a printed or electronic copy of your confirmation email!
Is The Mustache Dash timed?
The Mustache Dash 5k is not a time chip event. We will have a race clock and will be tracking at least the first wave of runner for results/awards purposes, but we can make no guarantees about the accuracy of results. We suggest self-timing for anyone desiring a completely accurate finish time.
Are there refunds?
Refunds are not available. If for some reason you can't make it to race day, at least come to the packet pick up, pick up your gear, and say hi to us!
Can I transfer my registration to another person?
Registrations are non-transferable.

What happens if there is bad weather?
A little rain won't stop the Mustache Dash 5k! Rain or shine we will be there!