Mussel Mania – Restoring Blue Collar Bivalves for Cleaner Water
Description
Please join us for Mussel Mania - our second CRC Science on Tap event.
The CRC is working hard to protect our local watersheds - just like mussels!
Come have a few beers, try a few mussels prepared in a variety of yummy broths, and hear Dr. Danielle Kreeger talk about how she is restoring the hard-working, under-appreciated, but awesome freshwater mussels who clean our local waters.
The $25 cover includes your first beer, a variety of mussel appetizers, and of course a fascinating talk by freshwater-mussel expert Kreeger. Who knew mussels could be so interesting?
Sligo is located at 113 W. State Street in Media. We'll be upstairs. Bring your mussels-and-beer-loving friends for a fun evening with CRC.
Freshwater mussels are the underdogs of the aquatic world – rarely noticed, poorly understood, and unappreciated. They are the most imperiled animals in North America. This is a problem for water quality because each adult mussel filters gallons of water every day, removing and transforming pollutants. Beds of thousands to millions of mussels can function like nature's kidneys. Fortunately, science has given us tools to begin restoring mussel beds, and a new "Mussels for Clean Water Initiative" is being launched this year.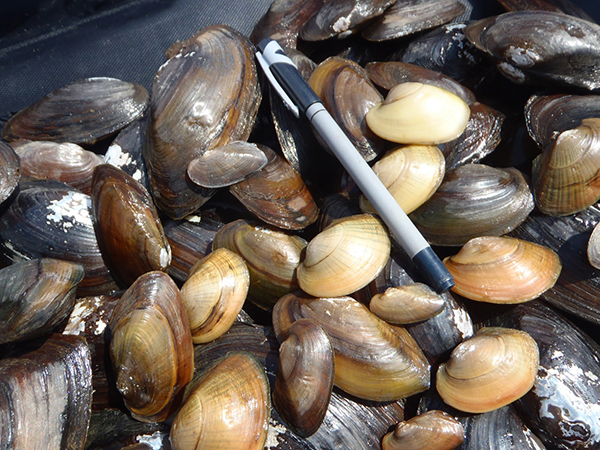 Bio. Danielle Kreeger is an ecologist with >35 years of experience working as a research scientist and educator. She is the science director for the Partnership for the Delaware Estuary, which coordinates the National Estuary Program that protects and restores natural resources in the lower Delaware River Basin. She also serves as associate research professor at Drexel University where she has taught and trained students since 1994. Danielle's research interests are broad, covering climate adaptation, bivalve shellfish, and wetlands. She previously worked as a scientist for the Plymouth Marine Laboratory in the United Kingdom and associate curator for the Academy of Natural Sciences in Philadelphia. Her academic training was as a Nittany Lion (B.S., Marine Biology, Penn State), Blue Hen (M.S., Marine Studies, University of Delaware), and Beaver (Ph.D., Fisheries and Wildlife, Oregon State).