Description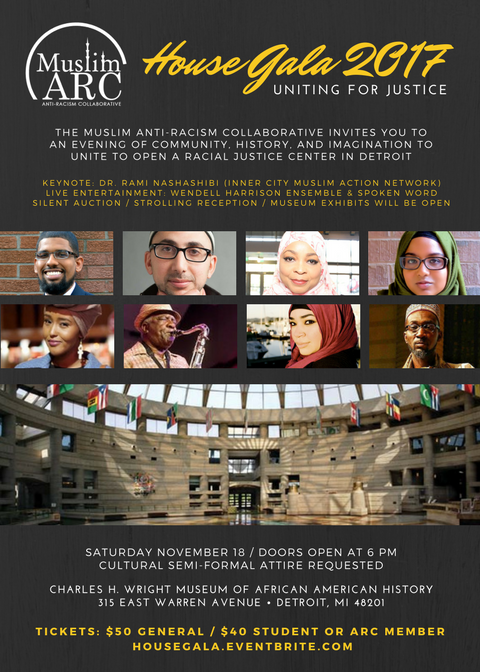 The Muslim Anti-Racism Collaborative invites you to an evening of community, history, and imagination to unite to open a racial justice center in Detroit.
After 3.5 years as a virtual organization, the Muslim Anti-Racism Collaborative (MuslimARC) is becoming brick and mortar inshaAllah, God-willing, with the purchase of a house in NW Detroit!

The house needs some love and funds to rehab before we can open our doors for operation. Join us at the historic Charles H. Wright Museum of African American History in Detroit on Saturday, November 18th to help fulfill our #DreamOfDetroit in creating this home for MuslimARC and the racial justice community in Michigan and beyond.


MUSLIMARC GALA 2017: UNITING FOR JUSTICE
---
Doors open at 6 pm. Cultural and/or semi-formal attire is requested.

Museum exhibits will be open. The gala will feature a strolling reception with delicious food, live entertainment, silent auction, and various photography/art activities.

Joining us for the evening will be speakers Mark Crain (Dream of Detroit), Namira Islam (Muslim Anti-Racism Collaborative), Margari Hill (Muslim Anti-Racism Collaborative), and keynote speaker and 2017 MacArthur Genius award recipient Dr. Rami Nashashibi (Inner-city Muslim Action Network). Entertainment will be provided by Nebula Nabila (spoken word) and the Wendell Harrison Ensemble (jazz).

Tickets will be limited at the door. Reserve your seat before 12 pm on Saturday online. Save the date and invite your friends for this groundbreaking event! If you can't make it yourself, donate to our MuslimARC House crowdfunding campaign: bit.ly/ARChouse.



VENUE
---
The MuslimARC House Gala will be held in the Ford Freedom Rotunda at the Wright Museum.
Founded in 1965, the Charles H. Wright Museum of African American History has for over half a century been a leading institution dedicated to the African American experience. The Wright Museum houses over 35,000 artifacts and archival materials and is home to the Blanche Coggin Underground Railroad Collection, Harriet Tubman Museum Collection, Coleman A. Young Collection and the Sheffield Collection, a repository of documents of the labor movement in Detroit. The museum also features:
• And Still We Rise: Our Journey Through African American History and Culture, the museum's 22,000 square foot, interactive core exhibit, which is the largest single exhibition on African American history in existence
• The Ford Freedom Rotunda and its 95-foot wide by 65-foot high glass dome; this architectural wonder is more than twice the width of the State Capitol dome and just one foot shy of the width of the U.S. Capitol dome
• Ring of Genealogy, a 37-foot terrazzo tile creation by artist Hubert Massey surrounded by bronze nameplates of prominent African Americans in history
• Inspiring Minds: African Americans in Science and Technology, a permanent exhibition focused on S.T.E.M. (science, technology, engineering, and mathematics) concepts for children
ENTERTAINMENT: WENDELL HARRISON JAZZ ENSEMBLE

---
Jazz saxophonist and clarinetist Wendell Harrison has long been known for taking his music into his own hands. Co-founder of the legendary Tribe record label and collective in the 1970's, Harrison went on to establish Rebirth Inc., a non profit jazz performance and education organization in the 80's. Numerous well-known jazz artists, including pianist Gerri Allen, saxophonist James Carter, Eddie Harris vocalist leon Thomas and trumpeter Woody Shaw , just to name a few, have participated in Rebirth's programs. He also created WenHa the record label and publishing company which released many of his recordings, as well as that of his wife, pianist Pamela Wise. Through his solo work and his Mama's Licking Stick Clarinet Ensemble, Harrison has gained more widespread respect for the clarinet, this often neglected, yet versatile instrument. Wendell Harrison received a Bachelors of Science Degree in 2014 from Spring Arbor University, majoring in Organizational Management. Also, in 2017 he received a Masters in Communications Degree from Spring Arbor University. to enchance his administrative skills.
This dynamic performance by Wendell Harrison, "Exploring Jazz and its African Rhythms", features original compositions as well as seductive sounds from Senegal, Caribbean, and New Orleans. The performance will contrast the different expressions of Black life, and also define and illuminate rhythms from the three music styles, Blues, Reggae, and Samba, which tell stories of the African linkage.



KEYNOTE
---
Rami Nashashibi is the Executive Director of the Inner-city Muslim Action Network (IMAN) and a 2017 MacArthur "Genius Grant" Fellow. He received a Ph.D. in Sociology from the University of Chicago and has taught courses at multiple universities since, recently completing a three-year teaching appointment at the Chicago Theological Seminary. In 2016, he was appointed by President Obama to serve on the President's Advisory Council on Faith-Based and Neighborhood Partnerships. Rami Nashashibi serves as an advisor to a number of strategic initiatives and boards across the country. His work with IMAN continues to feature in many national and international media outlets.

SILENT AUCTION
---
We have unique items available to bid on! Silent auction items include:

autographed printed material (poetry by Tariq Touré, children's literature by George Green, a Rafiq and Friends gift set signed by Fatemeh Mashouf, two novels signed by Saladin Ahmed, children's literature by Mark Gonzales, Suhaib Webb's new book)

Mystic Man Beard care box set

two Arabic calligraphy prints

leadership coaching sessions

1 session with a makeup artist

jewelry (earrings and a necklace)

kitchen knife set

GoPro kit

Bluetooth headphones

Bluetooth speakers

iPad stand

portrait session with world renowned photographer Bradford (hotel overnight stay in NY or Florida included) (est. value $5500)




Please bring cash and/or a checkbook if you want a chance at taking home some of these amazing items.



PARKING
---
Cash-only valet service will be available directly in front of the museum for $10. Self-parking is available behind the museum at the Cultural Center parking lot. The Cultural Center parking lot is located on John R. St., south of Kirby St. and north of Warren Ave. Daily parking rate is $7; cash and credit cards are accepted.

Metered parking is available on three sides of the museum on Warren Avenue, Brush Street, and Farnsworth Avenue.
Date and Time
Location
Charles H. Wright Museum of African American History
315 East Warren Avenue
Detroit, MI 48201
Refund Policy